How a Monotype Fonts subscription takes agencies to the next level.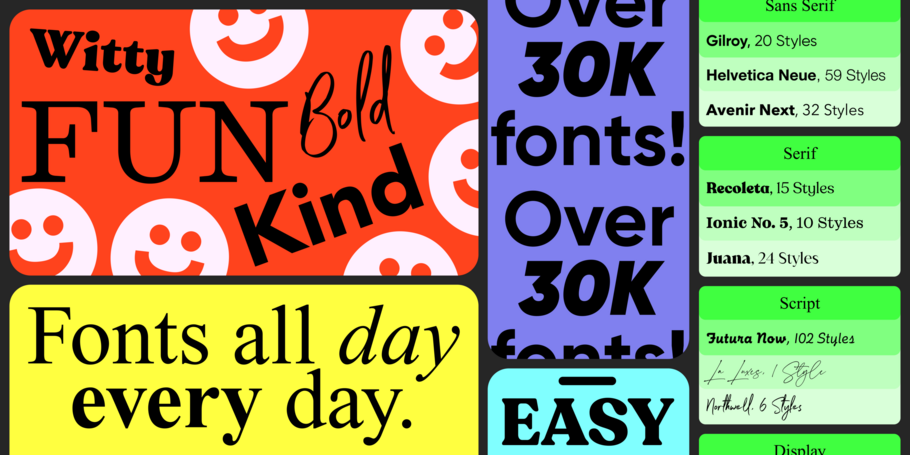 "
With 40,000 fonts at your fingertips, consider your creative exploration supercharged.
"
Everyone knows that small, victorious feeling of finding extra cash in a coat pocket, spare wallet, jacket, or bag. A subscription to Monotype Fonts is kind of like that: full of wins that keep you going, excited, and motivated for the day ahead.
Monotype Fonts benefits, based on roles.
Yes, it's a subscription that offers access to the work of some of the most renowned foundries in the world: Monotype, Linotype, Fontsmith, Comicraft, and for agencies, Hoefler&Co. But when it comes down to it, Monotype Fonts is more than just fonts.
It's access to events, speaking opportunities, and insights into the latest trends. It's the ability to streamline your workflow and increase efficiency for your entire creative team. It's less backlog for business and tech departments. And with that, here's what every agency role can expect with a Monotype Fonts subscription.
Let's start with what's front and center for agencies on a day-to-day basis: Clients. Not only does Monotype Fonts expand the creative possibilities that agencies can show their clients, but it also makes it seamless for them to put real fonts into production, without hassle over licensing. When clients are confident in their agency's ability to deliver great work, it's a win-win for both sides. Plus, there are some bonus points for a client who sees their agency of record getting showcased in events or Brand Talks. More on that later. Now, on to agency roles themselves.
Creatives, get ready to have a field day. With 40,000 fonts at your fingertips, consider your creative exploration supercharged: get prepared to create some of the best brand work of your life.  Plus, Monotype Fonts keeps you posted with the hottest trends from around the world: if there's any upcoming typography news, you'll know about it.
For account managers, collaboration and communication with brands are key. So is selling. Get the brands under your umbrella feeling at ease, knowing they'll be able to use any proposed new fonts, and that they'll stay organized in a cloud-based system. Monotype Fonts can also get brands super excited about the work to come.
From the view of the IT department: Let's face it, life is easier when you have fewer support tickets in your queue. And because everyone has the right font and file format, organized neatly in the Monotype Fonts library, there's a lot less scrambling to find and install the correct fonts.
No more last-minute font purchases. No more requests for fonts to be installed on the users' machines. The Monotype Fonts platform is intuitive, and once the right font is found, it easily syncs from the portal.
We all know that the missing font error can cause problems for the admin or project management teams. When there are fewer problems with missing font files (thanks to everything working smoothly), you can clear up time and solve other technical difficulties.
For business affairs, Monotype Fonts is a dream come true. Eliminate hours spent on securing a correct license, and worry less about whether teams are following the rules. Simple, straightforward licensing is included with every Monotype Fonts subscription, and all plans have unlimited access to unlimited prototyping.
Leadership teams and key stakeholders have money on their minds, and it pays to be judicious about where that money is spent. Purchasing new software or investing in a new tool ought to be a deliberate process. And spending on fonts (and all that come with Monotype Fonts) is worth it in the long run.
The tangle of complications that ensues when an agency buys fonts (which, by the way, they shouldn't be doing) can be a financial nightmare. Spending on a font solution now offers cost savings in the long run: You don't want to run into licensing issues when you have to use a font for a brand's new microsite or app, or re-purchase and install font files for the latest versions.
As a strategic company leader, access to Monotype Fonts gives your team the tools to be their best selves and design freely. Beyond this, investing in people and their opportunity to flourish leads to increased motivation and a team that's ready to do their best work.
What about onboarding? It happens all the time. A new designer or new employee enters an organization, and sure enough, they need access to fonts to start doing the work. The faster this happens, the better, and thankfully, Monotype Fonts is lightning fast: logging in offers access to font libraries in seconds, and everything can sync directly to the new employee's machine.
Monotype Fonts also offers a 20-minute onboarding session for agencies and companies. The feedback we've heard is that if you're tech-savvy, you got it. And if you need support, it's there for you.

A pocketful of sunshine.
Agency leadership can think of a Monotype Fonts subscription as access: Access to events, both in-person and virtually. "Brand Talks" for instance, brings together creatives from around the world and helps inspire new ideas while sharing relevant info on what's hot in the industry.
There are many opportunities to network, showcase work, and even speak. Agencies have used this as a path to get their name out there and connect with new clients and brands. The bottom line? Opportunity is knocking, which can be good for your bottom line. (See what we did there?)
We know change is hard, and it's a lot easier and more comfortable to stay with a method that is "good enough" and still working.  However, consider Monotype Fonts as not just a purchase of another tool or software, but as an investment in your agency and your teams for the future well-being of your business.
Take the next step by becoming a Monotype Fonts agency partner. Opportunity is knocking.
How a Monotype Fonts subscription takes agencies to the next level.
N-3-6299
Agency