Monotype Fonts FAQ for IT.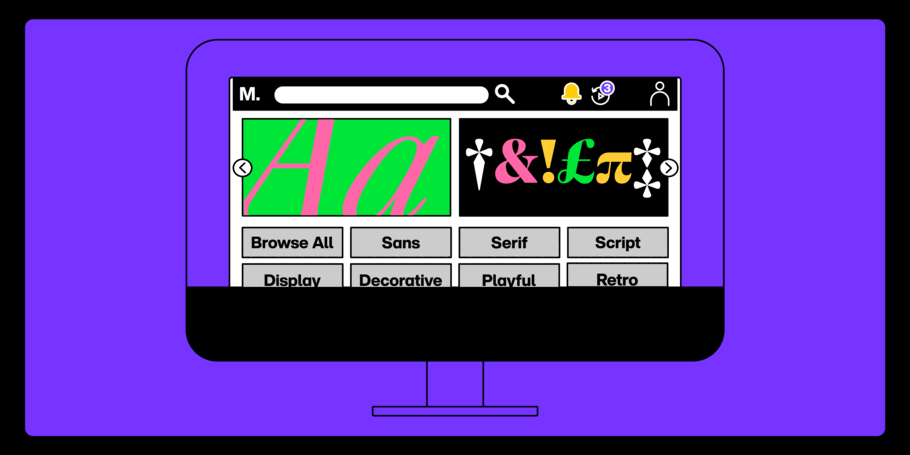 "
Monotype Fonts pulls everything under one roof and brings transparency and control to what can be a murky part of your business.
"
Monotype Fonts was designed with designers in mind, as we like to say. But it's also true that we built it to meet the needs of modern organizations, which also means building for a range of teams, including IT.
What is Monotype Fonts?
With Monotype Fonts we set out to simplify the often scattershot process of buying, deploying and storing type while creating a secure, light-touch environment that's easy to set up and maintain. It includes a library of 40,000+ fonts, innovative search functionality, and simplified administrative features such as permissions management.
Font management is often an IT challenge marked by noncompliant font usage, rogue font purchases, inconsistent processes, and poor visibility into what employees are using. Monotype Fonts pulls everything under one roof and brings transparency and control to what can be a murky part of your business.
Here are some of the most common questions we receive about Monotype Fonts. If you have additional questions, get in touch today and we'll be happy to answer them.

Q: Is implementing Monotype Fonts a resource-intensive process?
A: Like all software, you'll have to invest some time up front to get Monotype Fonts deployed within your organization. However, we try to make it as easy as possible and offer a range of support services to take some of that work off your plate, including general onboarding assistance, SSO mapping, and implementation guidance.

Q: We're already using another font management platform, will it be complicated to switch?
A: Not at all. We have built-in functionality that allows you to easily bulk import fonts from one platform to another. We also offer support services to help with this process.

Q: Do you have SSO?
A: Yes, we are fully compatible with the most widely used SSO tools and functionality.

Q: Are there any basic system requirements?
A: No, Monotype Fonts in cloud-based software, so it is always accessible with no limitations. Designers use our desktop app to sync fonts from the cloud to their local machine, but all font storage and organization remains in the cloud.

Q: Will Monotype Fonts save time for the IT team?
A: Most likely! Monotype Fonts streamlines the entire font management process, including tasks that often sit with IT such as permissions granting. In fact, most administrative tasks require little hands-on maintenance once they're set up, so IT's involvement is usually minimal once implementation is complete.
If your IT team handles the actual licensing of fonts, they will likely see significant time and cost savings since those processes are handled entirely within Monotype Fonts.

Q: Is Monotype Fonts regularly updated to be current with new operating systems, hardware, and design programs?
A: Yes, we are consistently updating Monotype Fonts to work with the latest operating systems, design programs, and processors. For example, we recently updated to take advantage of Apple's M1 processor when it was released, and will continue to ensure MTF is compatible with the latest versions.

Q: Is Monotype Fonts duplicating software that's already in my organization's tech stack?
A: Probably not. Monotype Fonts consolidates several independent font-related tasks that are typically dispersed across a number of applications and teams. Because Monotype Fonts brings font discovery, management, deployment, and licensing under one roof, it actually streamlines the overall process at most companies while minimizing the risk of redundant purchases, tasks, etc., that we often see when the process is dispersed.
While IT may not be the end user of the actual fonts in Monotype Fonts, we want all teams – including IT – to feel confident in the platform and what it brings to your company. And as most IT teams know, any software or purchase creates a vulnerability that needs to be addressed and closed off. Monotype Fonts aims to do that for font licensing and sharing, so your organization's designers can focus on designing and your IT can sleep well at night.

Monotype Fonts FAQ for IT.
C-2-6234
Digital