Change management resources that will simplify the switch to Monotype Fonts.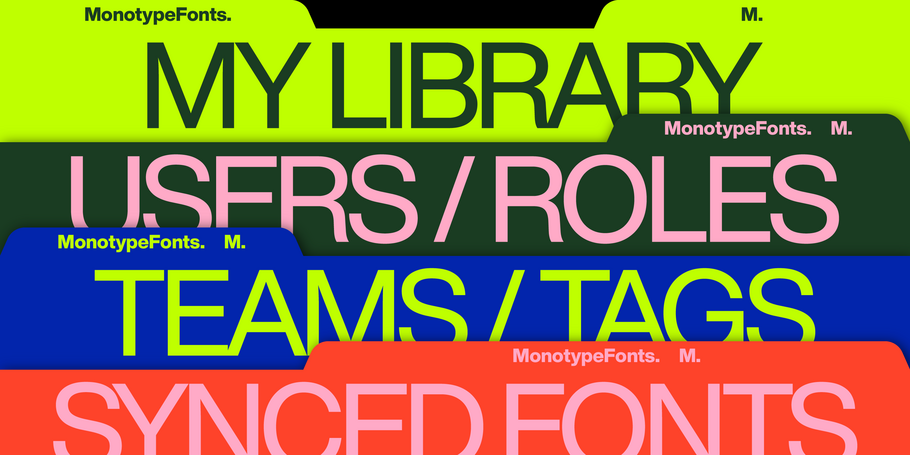 "
Once your organization goes through the onboarding process, you can leave those missing styles, questionable licensing, and your old manual sharing processes in the past.
"
Moving to a font subscription service model? Here are the resources you need that will help you make the transition to Monotype Fonts easier.
Implementing a new font management process can feel daunting, but it doesn't have to be difficult. We've helped hundreds of organizations transition to managing their entire font library with the Monotype Fonts font subscription service. Over time, we've refined the implementation process to be incredibly intuitive and simple. Let's look at some of the most common shifts in process and mindset that new Monotype Fonts users must make, along with the resources that streamline those shifts with as little disruption as possible.
1. Organizing users and fonts for maximum efficiency.
The key to effectively organizing your font usage is to set up teams of users who can access specific lists of fonts. We recommend that administrators group users based on workflow so that those who will need access to the same library of assets are all on the same team. Depending on your organizational structure, this might mean that you divide your users based on external partner status, department, initiative, and/or brand. Grouping users based on shared workload, area of focus, or department allows for a more streamlined way of sharing font lists across a group of users in one click. Here's a comprehensive overview for administrators on adding users, creating roles and permissions, and building teams.
Follow the same logic for font lists by creating lists that include all the fonts for a particular brand or initiative. A single font list can be shared with multiple teams, so we recommend creating fewer, broader lists rather than an abundance of limited lists. Nesting font lists within folders makes navigating the font library much easier and streamlines collaboration. For example, you might consider having a large "brand list" that contains a folder for digital campaigns, with additional folders for each digital project within the "digital campaigns" folder. Check out this guide for creating and organizing font lists and folders.
If you want or need a partner to help define your team and font list strategy, or if you prefer that someone outside of the organization take charge of all user and font management, we have experts standing by to help. Just add a font and user management support package to your Monotype Fonts subscription.
2. Onboarding new users to Monotype Fonts.
The first step to ensuring an effective onboarding process is to designate the key stakeholders who will own onboarding training for each of your teams in the platform. Then, develop well-defined roles that reflect the access levels that your user pool should have. If you have well-established brand fonts and don't plan to deviate from those, you can restrict new users so they can only access fonts from specific lists. If your creative decision-makers should have more freedom to explore and choose new fonts, dial down their user restrictions. Here's an overview of your options when it comes to defining roles and permissions.
If your organization requires a complex role and permissions structure, or if you anticipate needing regular onboarding support due to high turnover or team shuffling, take advantage of our font & user management support service. Our Elite onboarding support tier offers unlimited onboarding support and a dedicated Customer Success Manager (CSM).
3. Learning to use the Monotype Fonts platform.
We've built a robust help center full of tips, tricks, and guides for all users and administrators. Users can find information on how to browse or search for fonts, sync fonts with creative authoring applications, host fonts, set up single sign-on (SSO), and so much more. For visual learners, we even have video tutorials.
Of course, our customer success team is here to help as well. Our Elite-level onboarding support service includes a dedicated CSM and unlimited onboarding support for new users.
4. Adding third-party fonts to the Monotype Fonts platform.
You can add any third-party, non-Monotype fonts to your font subscription service so that you can manage all your fonts in one place. (Here's an overview of how to import and manage third-party fonts.) We recommend uploading all third-party end-user license agreements (EULAs) along with detailed comments explaining the intended use cases of each font. This way, your administrators will understand which lists should include your third-party fonts as well as which teams or users need access to them. Expert font migration assistance is included in our font and user management package if you need it!
5. Retiring and replacing fonts.
We've hardwired the design expertise of our world-class Monotype Studio into our search tools for the most intuitive and seamless font discovery experience. Search for new fonts based on tags, styles, families, and more, then filter based on style, language, or foundry. Need to retire a font but still love the style? Creatives can use the "Similar" font tool to find a new option with a comparable look and feel.
6. Learning to use our helpful font tools.
The Monotype Fonts platform includes access to tools that can save time, improve website performance, and simplify workflows. All these tools have detailed how-to guides in the help center. Here are just a few of the most popular ones:
Subsetting fonts

: Need to speed up website performance? Minimize web font file sizes by eliminating any unneeded languages, glyphs, or character sets. Just follow

this subsetting guide

.

SSO mapping:

For a super simple onboarding experience, map your Monotype Fonts teams to your organization's existing active directory groups.

Here's how to do it.

Syncing and installing fonts:

Users can download the

Monotype Fonts desktop app

to automatically activate fonts in all creative authoring programs, saving up to eight hours a week on font-related administrative tasks!
7. Staying in compliance.
Font license compliance is a typical concern for organizations that use a lot of fonts. The Monotype Fonts platform eliminates that worry. We guarantee compliance with all Monotype fonts you purchase and use through the platform. If you update and change fonts regularly, or if you add a lot of third-party fonts to the platform, consider adding our brand & license protection service. As part of this service, our team will audit your font library quarterly to ensure compliance with all of your EULAs, eliminating any infringement concerns.
The Monotype Fonts platform is designed to be simple, streamlined, and hassle-free. Once your organization goes through the onboarding process, you can leave all your font woes - like missing styles, questionable licensing, and manual sharing processes – in the past. There's a wealth of resources in our help center for self-service on every aspect of using the platform, but if you ever need more help, our support team and studio are here for you, too. Learn more about Monotype Fonts.
Change management resources that will simplify the switch to Monotype Fonts.
C-2-6238
Digital