Monotype Fonts FAQ for creatives.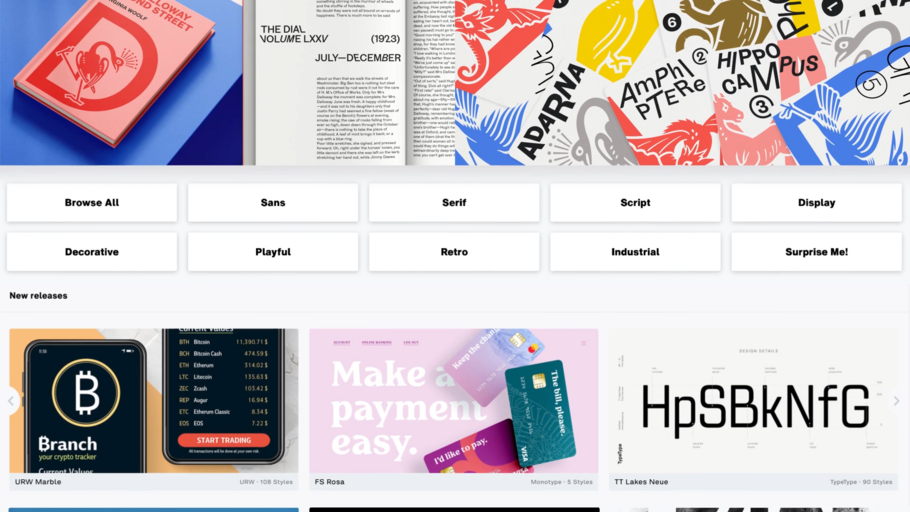 "
Monotype Fonts' powerful search engine will ensure you find whatever it is you're looking for.
"
Fairly or not, creatives tend to bear the fallout from imprecise or non-existent font management strategies. Monotype Fonts is designed to eliminate font-related bottlenecks that disrupt creatives' workflows. Here are some of the questions creatives frequently ask us before purchasing a Monotype Fonts subscription: 
What exactly is Monotype Fonts? 
Monotype Fonts is your one-stop shop for the fonts you need for your design work. It gives you access to an ever-growing library of more than 150,000 fonts from the Monotype library and world-renowned independent type foundries, all available to use for unlimited prototypes and mockups. And all this is combined in an intuitive font management platform that streamlines licensing, team collaboration, and deployment. 
How can Monotype Fonts simplify creatives' lives? 
Having a Monotype Fonts subscription allows creatives to: 
Create unlimited prototypes and mock-ups using over 150,000 fonts from a library of high-quality, award-winning fonts. Choose tried-and-tested iconic designs, or cutting-edge contemporary releases from world-renowned independent studios like House Industries, Latinotype, Mark Simonson, Fontfabric, and Monotype Studios. You only need to pay for the fonts that go into production. 

Find the right font in seconds — advanced search tools such AI tags, filters, and type tester helps creatives find the best font among thousands of good ones. 
Get rid of time-consuming tasks like hunting down and installing missing fonts. Monotype Fonts supplies missing fonts in various creative apps and allows teams to organize and manage all their fonts in one platform. 
Which fonts will I have access to with my Monotype Fonts subscription? 
A Monotype Fonts subscription lets you enjoy unlimited prototyping with our entire library of more than 150,000+ high-quality fonts. You'll have access to the most up-to-date collections from the world's best foundries and type designers. The fonts are ready-to-use, with complete information about glyph and language support, so you know what you're getting right off the bat. 
Monotype Fonts plans come with an allocation of 'production fonts', or fonts that you can deploy commercially. This ensures you only pay for what you need, and in the meantime, you can use any font you'd like for designing mockups and other non-production environments. 
How can I find a specific font/the best font for my needs? 
Monotype Fonts' powerful search engine will ensure you find whatever it is you're looking for. Its advanced search filters sort through the thousands of fonts in the Monotype Library as well as any previously purchased fonts that you have imported. You can find fonts by name or family; or search for your favorite foundries or designer. Moreover, Monotype Tags are built using AI technology that maps specific typographic features to different moods and descriptors, ensuring that you get accurate search results.  
You can further refine your search results using stackable filters, or keep discovering more fonts using the similarity engine. You can filter results by: 
Style (e.g. serif, sans serif)  
Visual properties (e.g. weight, width) 

Typographic features (e.g., Ligatures, Fractions, Shaping, Spacing etc.) 

Language support  

Foundry  

Source (Monotype Fonts or Imported Fonts) 
What if I need a specific font that's unavailable in the library? 
You can contact our support team at [email protected] — we'll be happy to help. 
How can Monotype Fonts make a creative team's workflow more efficient? 
Monotype Fonts is designed to eliminate a lot of the complications creatives often face when working with type.  
Powerful syncing and design app integration delivers the fonts creatives need to the design application they're using and supplies all the missing fonts in their projects. This means they don't even have to download a single font file — all they have to do is click 'sync,' and Monotype Fonts will supply the missing fonts in most major applications, including Adobe Illustrator CC, Adobe Photoshop CC, Adobe InDesign CC, Sketch, Figma,and more. In the unlikely event that our library doesn't have the missing font, the Monotype Studio offers a range of services that can help. 
Unlimited prototyping cuts out time-consuming rework and admin tasks. If a client requests a design change, you won't have to go back to hunting down, costing, and licensing a new typeface. A Monotype Fonts subscription means all the fonts have been paid for, giving you boundless creativity to swap fonts in and out of your mockups. 

Robust collaboration features eliminate administrative bottlenecks. Monotype Fonts ensures creatives have access to all the fonts they need, when they need it. They won't have to waste time searching for fonts across multiple marketplaces, or jump through hoops to get purchases approved. Admins also have control over access rights, simplifying licensing. 

Monotype Fonts simplifies font licensing through detailed subscription plans that ensure your company is only paying for the fonts you actually need and use. These needs are simplified in terms of seats, ad impressions, and page views. 
Which creative design apps does the sync and integration feature work on? 
This feature is available on the following apps: 
Adobe Photoshop CC — Mac & Windows, versions 19 - 21  

Adobe InDesign CC — Mac & Windows, versions 19 - 21  

Adobe InCopy CC — Mac & Windows, versions 19 - 21  

Adobe Illustrator CC — Mac & Windows, versions 19 - 21  

Adobe Acrobat — Mac & Windows, version Pro 2020  
Sketch — Mac, version 70-71  

Keynote — Mac, version 11.1  
What does unlimited prototyping mean? 
Unlimited prototyping means all users are allowed to access and use any typeface from the library for non-commercial use. Creatives are free to use as many fonts as they need for mockups, design proposal pitches, and prototypes.  
By contrast, production fonts can be distributed commercially. Here are some of the ways you can deploy the fonts: 
Desktop 

Web fonts 

Digital ads 

eBooks 
What is the difference between Monotype Fonts and other online font services? 
While other services might offer a font library, Monotype Fonts offers an organized font system that allows admins and creatives to store and use all their fonts from one central place. Monotype Fonts also gives creatives access to over 150,000 fonts — one of the largest font libraries in the market by far. Other competitors might not allow self-hosting, or provide only limited licensing support (meaning licensing responsibility falls on individual creatives), so if a font foundry decides to pull one of its fonts out from another library, your team will have no recourse but to start over– something that will not happen with Monotype Fonts' continuity support. 
A Monotype Fonts subscription means that in case of any issues, help is always on hand.  In case you encounter any issues, you can reach out to a customer support agent via live chat.
Monotype Fonts FAQ for creatives.
N-3-6193
Creative