What designers should know about font libraries.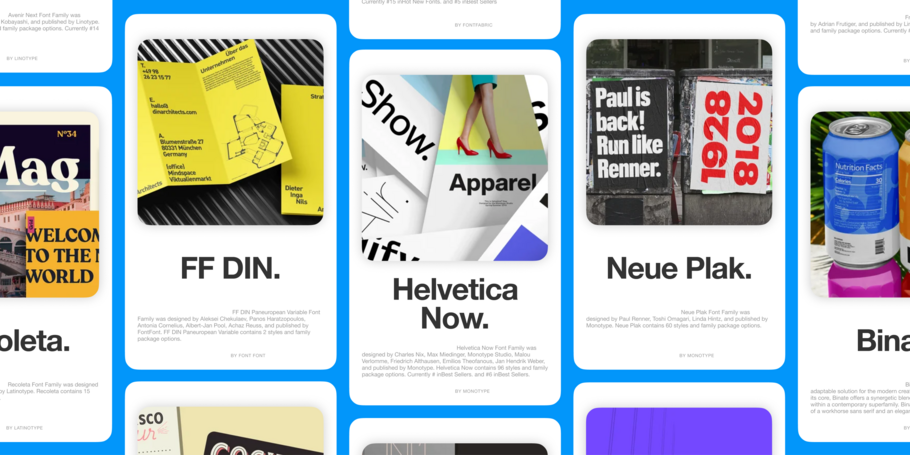 "
Here are key traits to look for when choosing a font library.
"
Choosing a font to represent your brand can be a daunting task — especially when you're trying to balance the needs of your stakeholders and your customers. After all, the font you choose is one of the first things people see when they look at your brand.
Choosing a font to represent your brand can be a daunting task — especially when you're trying to balance the needs of your stakeholders and your customers. After all, the font you choose is one of the first things people see when they look at your brand.
The right font can set the tone, and if done well, can even embody your core brand values and the mood you want your customers to feel when they think about you.
Unless you have a specific type foundry in mind for your project, you're likely going to start your search with a font library. Why, you ask? Font libraries usually offer thousands of fonts, and can be anything from a marketplace, a repository of free fonts, or a subscription service.
The success of your project can depend greatly on how you begin your search. Here's what to look for when choosing a type provider.
A well-designed font library is…
When choosing a type provider, it's important to choose what works for your needs – whether you're designing for desktop, mobile, or print.
Here are the key traits you should look out for when choosing a font.
Compatible.
Due to the inherent cross-functional nature of branding, it's important that your fonts are compatible across multiple devices. If you're creating a copy for your website, you'll want to make sure the font performs equally well on a mobile device, which has a smaller screen size and resolution.
In today's global marketplace, you'll also want to choose a font that works across languages. It's important to make sure the font you select will support the characters required for different languages without any errors. If a font isn't designed to be fully compatible in multiple languages, you may notice a glitch or an incorrect glyph in the type. You don't want to lose out on potential customers due to a font incompatibility, so it's critical to choose a font library that works for all audiences.
Shareable.
Another important facet of your font is that it's shareable. Do you want your entire team to have access to the font? If so, would you prefer to download the fonts to each machine, or would you rather use a cloud-based font management platform? Once you decide on the level of shareability your team needs, you can pick a font library that has the matching download options. If your font library only allows for one user to view or download fonts at a time, this can have a huge impact on resourcing and productivity.
High-quality.
This one might sound obvious, but the truth is that some fonts are higher-quality than others, especially when it comes to on-screen legibility. Think about the last time you read an app on your phone – was the text easy to read? Do you wish the font weight had been bolder? Was there enough space between each letter? All of these details are critical to ensuring your customer wants to keep reading. If your type isn't legible, your customer may give up and close out of your website or app before scrolling further than the initial homepage view.
While all font libraries have a range of fonts, a well-designed font library will offer fonts in multiple weights and style options to support font legibility across devices. Be mindful of text rendering and typographic features, which may not work with certain media sizes. The most important thing for usability is the precision of the design. For example, sometimes a font doesn't translate well from across mediums - think mobile screens to giant billboards. That's often due to issues with optical sizing (which is just one example of higher-quality typeface design). If a font's character shape and spacing affect legibility at certain sizes, this decreases the customer's ability to understand your message. You'll want to make sure that your fonts will work correctly on your site from a technical perspective. Fortunately, a quality font library will include fonts designed with a range of features that ensure your typography always looks sharp.
Searchable.
Being able to find the font that works for you is key. Rather than spend hours searching the internet for a font that works for you, well-designed font libraries are developed with built-in search functionality that allows you to filter your search to find a font that has the typographic qualities and the intuitive keywords you're looking for.
Remember, if you source fonts from different places, it can be challenging to search through your collection. However, if you have a single font portal with search capabilities, you can easily narrow down your search. A well-designed font library will let you search by filters such as mood, ligatures, kerning, or even by foundry if you have a favorite. Some even have the ability to scan typographic features across the existing library of fonts and those that you've imported – saving you time from manually searching through hundreds of typefaces. This search function is especially helpful if your brand is growing its global audience. If you need a font with additional language or glyph support, a searchable font portal will allow you to quickly filter fonts by language.
All-access.
A big benefit of using a font library is the ability to have all the fonts you need in one location. Using a single font library, rather than downloading fonts from individual sites, saves time and money. Instead of having to search on a case-by-case basis, a font library has the benefit of offering a one-stop shop for you to download multiple fonts.
If you find yourself looking for fonts often, having an all-access font library is especially helpful. Imagine working on a seasonal project or creating a presentation for a specific client – you'll want to select a font that embodies the unique set of values to demonstrate your understanding. A font library is an easy way to tap into a brand voice and find the font that matches your creative vision.
Properly licensed.
Before taking the final step of selecting your perfect font, you'll want to make sure that the font you pick is cleared for commercial use. Why is this important? Every font file is a separate piece of software which is entitled to intellectual property protection. That means each font you use needs to be licensed for public use.
Wondering what else you'll need? A separate font license for the different environments you plan to use each font. That means you'll need a desktop license for print or static image formats, a webfont license for email or website use, and a mobile app license for phone/tablet apps, to name a few use cases. Choosing a font from a trusted font library ensures that all the fonts you use have been properly licensed, so you're less likely to run into any legal issues down the line.
A source of inspiration.
An added perk? Well-designed font libraries can serve as a source of inspiration when thinking about how you want to set the tone for your brand. Depending on which font library you choose, you may even have font selections curated by an experienced team, such as Monotype Fonts.
Searching for fonts by the tone you're trying to set for your brand can be a great jumping off point to get your creative juices flowing for a site redesign or a brand launch. Let's say you're creating a webpage to sell a new wellness product – perhaps you decide to filter by fonts labeled 'casual+clean' or 'retro+rounded.' The resulting selection of fonts might be the spark you need to visualize the packaging and color palette. Sometimes, all it takes is one piece for the entire brand design to fall into place.
Take the next step: create your cohesive brand story.
While we could go on for ages about the benefits of font libraries, we'll cut to the chase. A well-designed font library makes your life easier. It improves workflow, team collaboration, project management, and ensures proper font licensing.
Big picture, the right font library can create a sense of harmony for your brand and a feeling of trust with your customers. People like consistency, and are more likely to put their trust in brands that they recognize. Fonts have the power to create a cohesive brand story and leave a long-lasting first impression. That's why it's more important than ever to get your font selection right.
If you're still searching for that perfect font, take a look at the Monotype Fonts library, a high-quality one-stop shop for shareable, searchable fonts.
What designers should know about font libraries.
N-1-6189
Agency, Branding, Functional