4 Ways Monotype customer success services can benefit a creative.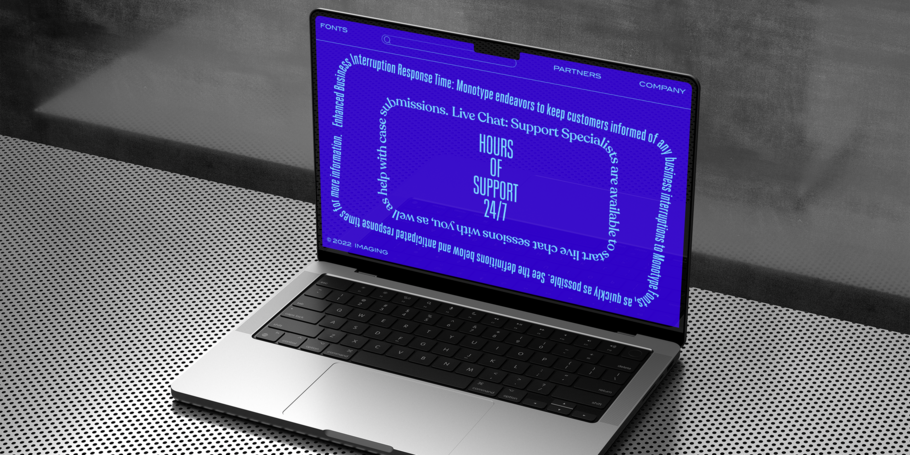 "
Customer success is there for a reason: it's making sure you and your designers can get the most out of Monotype Fonts.
"
Superheroes need sidekicks. Professional sports teams need coaches. And creative teams out there, whether they're top-tier agencies or up-and-comers hungry to be the best, need a support team they can count on — especially when it comes to addressing their specific typeface and font licensing needs.
Typographic decisions are one of the hundreds, if not thousands that creatives make each day. On any given afternoon, they could be choosing a brand's voiceover talent, finalizing the latest pitch deck, or scouring the web for realistic-looking stock photos—all while wondering why a certain typeface isn't appearing correctly on mobile. Monotype Fonts customer success is your ally when it comes to everything Monotype Fonts has to offer. Let's get into the ways we can help.
1. Easy onboarding with unlimited training.
All subscription plans can take advantage of on-demand support from Monotype Fonts, which means that as soon as you are onboarded, you have the ability to get help. 

Elite and premier subscription plans to Monotype Fonts get on-demand live training - 3 months for premier, unlimted for Elite. Have a new team member on board? No problem. Have multiple teams to manage in multiple offices? Also no problem. Monotype Fonts will be able to assist you with as many training sessions as you need.
2. Direction to the right department.
Designers, are you noticing a kerning issue with one of the fonts? Or maybe they're not appearing correctly on the web, even though the files appear to be updated. The Monotype in-house Design Studio can help. Under a premium Monotype Fonts plan for an agency or enterprise, Customer Success Services can connect you directly to the Design Studio to discuss your particular concerns.
Sometimes, creatives are in need of custom fonts or modifications to a typeface. Again, talking to the Design Studio (a paid engagement) is a valuable route to take for this.
3. Finding typeface alternatives.
If there is a font from another library, and your creative would like something similar, we can help. Digging through almost 150,000 fonts can be a lot of fun, but it also can be overwhelming when you're on a tight deadline. Thankfully, mood-inspired tags and filters powered by AI make it easier, but if you'd also like to hand off the job to our support team, we can help. Give us the tools and styles, or references you're thinking of, and we'll come back to you with a list of fonts. Note: this service is available for the elite font/user management only. 
4. Building out a font library.
What do designers do when they're not designing for clients? Read up on industry news, make their kids' lunch, experiment with new font styles, or take the rest of the day off (hey, it happens!) could be on the list. Creating a library based on moods or ideas for future use may be somewhere on the list, too. They'll either find it to be a pleasure, or a pain.
Instead of having designers grab spare time to do this, Monotype Fonts can easily prepare libraries for design teams,  so they'll have easy access when you need them. For example, if it's July, and you think it might be a good time to gather some winter or holiday font ideas for future reference (whether it's client-specific or not) consider the task done.
The sidekick to your team of design superheroes.
Customer success is there for a reason: it's making sure you and your design can feel fully equipped to handle all that comes with Monotype Fonts. Though there are several IT and administrative benefits, the services don't stop there.
Training your team, facilitating connections, finding the best font alternatives, and building up libraries are all areas our team can aid the creative side of the agency. And that's just the tip of the iceberg. To learn more about Monotype Fonts, including all the ways it can fuel creativity and supercharge your creative team, visit MonotypeFonts.com.
4 Ways Monotype customer success services can benefit a creative.
N-2-6233
Creative