The deadly "missing fonts" error and its implications on an agency.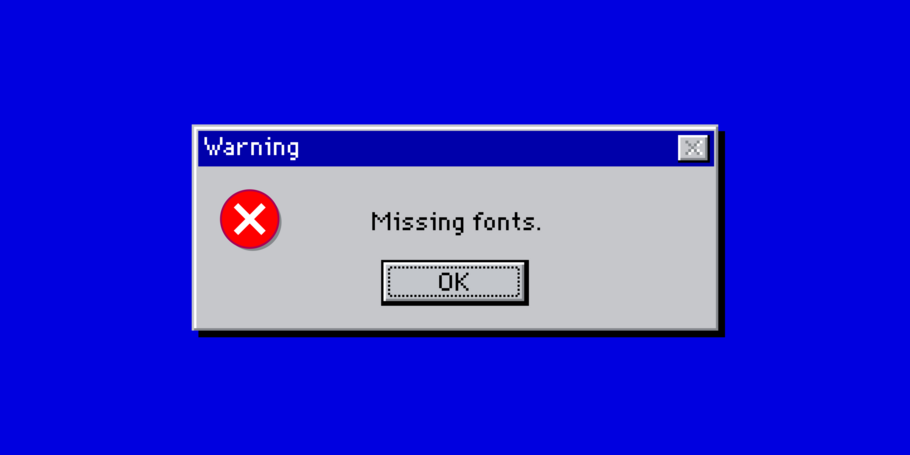 We all know about the spinning rainbow wheel of death, but what about the "missing fonts error"? It can be just as frustrating for designers trying to do their work, which has drawbacks for agency operations as a whole and can damage your client's trust in you.
A missing font error occurs when the font file for a particular project doesn't exist on your computer. From there, all work is derailed until the correct font is found, installed, potentially updated, and synced to your design application.
When it comes down to it, a missing font error brings work to a standstill and takes a toll on schedules, budgets, creative teams' stress levels, and – perhaps most importantly – your client's plans and goals. Let's walk through a typical scenario.
A shower of emotions.
Picture it: you've got a coffee or drink of choice in hand, your favorite playlist in the background as you get ready to crack open a new design file for an exciting project. As soon as it loads, the error is staring you in the face: [fonts not found]. Shucks.
Depending on the project, the scope, the due date, and external factors associated with the work, you may experience a range of emotions: from irritation to outright panic and stress.
The cost of extra time.
Once any emotions subside, it's time to get to work: finding the missing font and seeing if it exists on another computer or in a server somewhere. If there are any particular upgrades or new files for that font, those must be installed as well.
This doesn't help when, as a designer, you've got tight deadlines to meet. Taking the time to find a font eats at the time you have to spend working on a project. In addition, you might have to call an admin, or project manager to see if they know where the font is.
Finally, and this might be the last thing on your mind, you have to ensure the correct licensing is in place to use that font. Taking these steps every time a font goes missing takes up time, and brain power that could have been spent working on a project. The rainbow wheel of death, though frustrating, is easier to deal with … well, in most cases.
The worst-case scenario.
Without a doubt, the searching phase can take the most time when encountering a missing font. If you're lucky, things end there. If you're not, that brings us to the third stage of missing font error implications: the font can't be found.
This means your creative team admins or other personnel have to buy it. When it comes to buying a font, it's important to note that it's not just the font and correct typeface: it's the licensing that goes with it, and the installation onto your machine.
Depending on your team's hierarchy, it can also take some extra time to get approval from the right stakeholders, including clients,  IT, or the finance department to go ahead and purchase the font. When it comes down to it, this is more than just a designer's issue: other agency roles are involved, adding to the inefficiency.
At this point, those project deadlines you started may as well go out the window, giving an impression your agency didn't do due diligence. When this happens with client after client, it's not a good look.
So, why should you care about this?
The missing font error has far-reaching implications.
Any designer will know these implications well enough. What's important is that the entire team understands the severity of this error, how it truly sets a project back, and over time, even damages an agency's reputation. 
Great teams work together and support each other. No issue, no matter how small, should be neglected, especially if it impacts agency and client work. This is to say that "missing fonts" is no minuscule issue.
A possible solution? Try to avoid this error in the first place. Having a font system in place that includes all fonts in one place across every computer: easy login, correct licensing, and auto-updates for each font file seem like a good place to start.
A solution like this gives your creative team the tools to shine and flourish. And, at the end of the day, one less problem to worry about. Not only will it eliminate the chances offer a missing font error, but it can also reduce the stress that comes with it. Who wouldn't be on board?
The deadly "missing fonts" error and its implications on an agency.
SE-1-6242
Agency