7 common problems organizations face due to poor font management practices.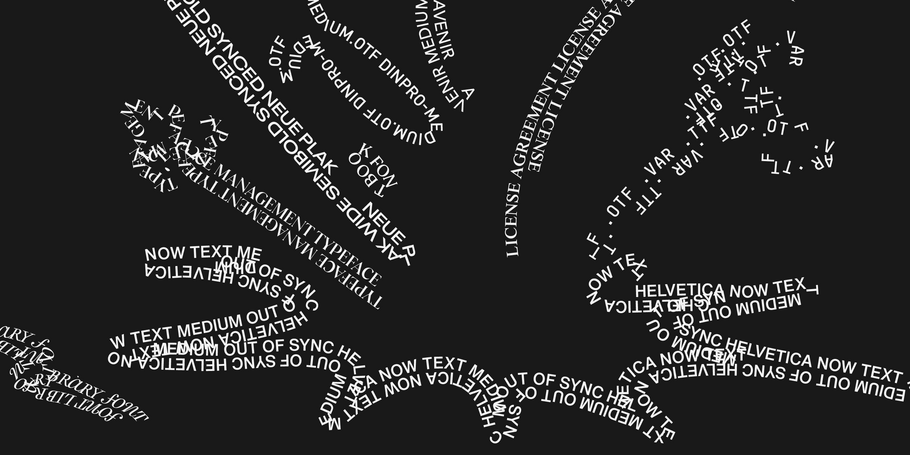 "
Many organizations might not even realize the importance of a font management tool and the issues that can occur in absence of one.
"
Working with fonts can quickly become overwhelming, especially as more projects come along over time. Organizations might find fonts difficult to manage across departments, and employees may differ in the way they access assets.
And though you could find ways to avoid these challenges, if you don't have a reliable system in place, a lack of font management can cause headaches in the future. That's why it's important to consider the potential issues that can arise when you don't have a thoughtful, comprehensive font strategy in place.
If any of these scenarios below sound familiar, it's time to reevaluate your font management approach.
1. Fonts are

left unorganized.
Some teams and offices are better than others at keeping things labeled, organized, and up to date, while others don't have a formalized approach to organizing and storing fonts. A standard set of font management practices makes building assets much more efficient and prevents team members from spending loads of time searching for a certain font. A font solution that offers features such as font lists, folders, and tags keeps your organization's font library nice and tidy. Meanwhile, font folders allow you to organize fonts by projects or groups as well. Whether you are a large enterprise or a smaller design team, a font management tool that nicely divides and sorts your fonts will definitely speed up the design process.
2. Fonts are not stored in one place.
Unfortunately, it is common for fonts not to be stored in one place. Individual teams and offices will often have their own locally stored font library, which makes sharing difficult, and many of us have our own personal preferences when it comes to saving font files. But when it comes to working collaboratively, it is important fonts are accessible to everyone. Consider font managers that offer cloud storage or SSO compatibility. When a font manager offers cloud storage, fonts and projects can be automatically accessed and shared by everyone at your organization. Meanwhile, SSO compatibility makes onboarding new employees much simpler, as administrators will no longer have to update users and permissions every time someone new joins the team.
3. Fonts licensing is complex.
Many of the people using fonts at your organization may find licensing difficult to understand, thus making misuse and accidental infringement more likely. There is often a lot of legal jargon to read through and procurement paperwork to fill out. An ideal font manager should streamline the font licensing process and present the information in a clear, easy-to-understand manner. That way, no matter how many fonts your team wants to use, the approval process is simple, and what you can or cannot do with your fonts is clear.
4. Collaboration is not intuitive.
When everyone is working with fonts in different digital spaces, it can be a challenge to collaborate across teams. Often, team members work independently with their own selection of fonts. This neglects time for valuable feedback and creative conversation. But a streamlined font manager can encourage such participation by providing equal access to fonts and the option to share projects with team members.
5. Branding is inconsistent.
Fonts come in various formats, and not everyone is always up to speed on which font version their company is using. Some employees might use outdated fonts, while others might migrate over to using something newer. And unfortunately, this is likely to result in brand inconsistency and a disjointed visual identity. Look for a font tool that allows you to group fonts together in lists or digital projects to make sure your team is clear on which fonts they should be using.
6. Getting approval for each font is inconvenient.
It's common practice in many organizations to ask for approval before using a font. And while that might be a procedure, it can often lead to inefficiency and workflow interruptions. When fonts are pre-approved and ready to go via a font manager, users know what fonts they can or cannot use in advance, saving the team time and thus increasing productivity.
7. You're spending too much money on fonts.
Buying fonts, especially one at a time, can quickly become expensive. Meanwhile, a limited selection might restrict your creativity and shortchange your designs. Look for font subscription services that include font management tools, so all your font needs are met within a single platform. This will drastically simplify your digital workspace and avoid unexpected costs that come with paying for multiple font services at a time. Over time, the stable cost of a subscription will make it easier to budget accordingly and provide a consistently reliable font management solution to your whole organization.
Good font practices start with a reliable tool.
Many organizations might not even realize the importance of a font management tool and the issues that can occur in absence of one. And even if your organization does recognize its font practices are lacking, identifying which areas to improve can be an overlooked step.
When looking for an efficient and comprehensive font management tool, there are a few things to keep in mind. Firstly, make sure the tool you choose provides access to everyone in your organization. Whether or not you allow access is up to you, but having the option can come in handy when more collaborative projects come your way.
In addition, the tool's ease-of-use is essential as it encourages the use of the tool. The easier the tool is to work with, the more likely it becomes integrated into day-to-day activity. Seamless font management for both creatives and administrators is possible.
The important thing to remember is that there are solutions to each of the common problems organizations face due to poor font practices.  And when a reliable font management tool is integrated, everyone is allotted more time. For designers, that means creating rather than dealing with operational inefficiencies, while administrators can focus on maintaining a steady, productive workflow for their team.
7 common problems organizations face due to poor font management practices.
SE-1-6187
Functional