Here's why leadership should care about company fonts.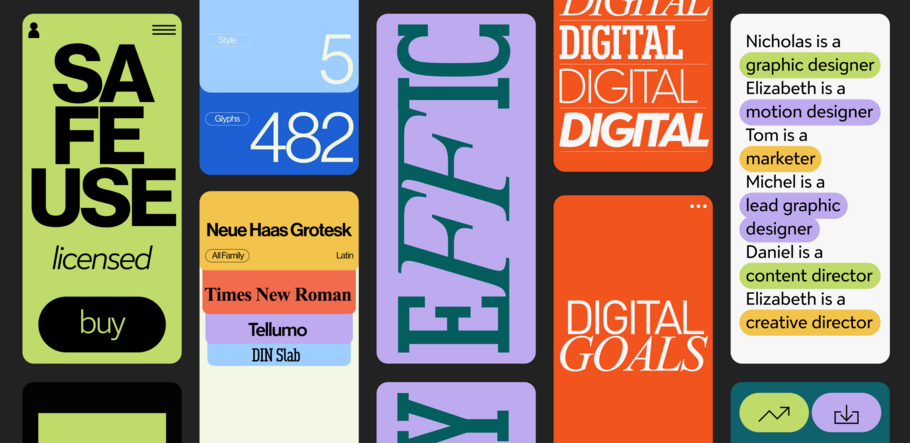 "
Brands in healthcare, finance, retail, tech, and countless other industries rely on powerful, consistent branding.
"
You've been there before: there's a new tool or system that could be useful for your organization or company, and now it's up to you, and the rest of the leadership team, to decide whether it's worth it.
As a key stakeholder, there's a lot to consider when adopting a new system or software: and it pays off to be judicious about company dollars. We're here to tell you, frankly and practically, that when it comes to optimizing the way your organization handles fonts, Monotype Fonts is well worth it.
If saving thousands of dollars, streamlining licensing, and maximizing efficiency throughout your organization are on your list, keep reading.
Save on cost (and make your CFO smile).
The number one objection when it comes to signing up for a font subscription, or any sort of font management solution, is cost. Though the short-term solution of buying a font may be cheaper up front, it's exactly that: a short-term solution. Monotype Fonts can save money in the long run. Let's break it down.
If you're a corporation with a team of in-house designers, then streamlining fonts and ensuring proper and consistent use will save you money. There are several accumulating costs associated with keeping your font libraries up to snuff, and they add up fast. These include purchasing the licensing, re-licensing for new uses, licensing for shared users, and purchasing and installing character updates, to start with.

If it's a team member's responsibility to manually track all of the above, mistakes can accidentally happen. Forgetting to renew a license, for example, for a font that's being used, could send lawyers to your door.  If there's an error somewhere, you don't want that penalty coming out of your budget. And if there's a security issue, say, someone shares your font files without the correct licensing –either intentionally or unintentionally—you have extra work on your hands
When you can automate the entire licensing to-do, it's one less headache to worry about. An internal calculation through our team found that a 50-person design team using 50 fonts per year could save $100K by using a Monotype Fonts subscription, (when you take into account employees paid, extra time spent, licensing fees, etc.). Purchasing a one-time, yearly subscription that covers licensing, auto-updates font files for whoever needs them, and is inherently risk-averse leaves less room for error, and more money in your budget.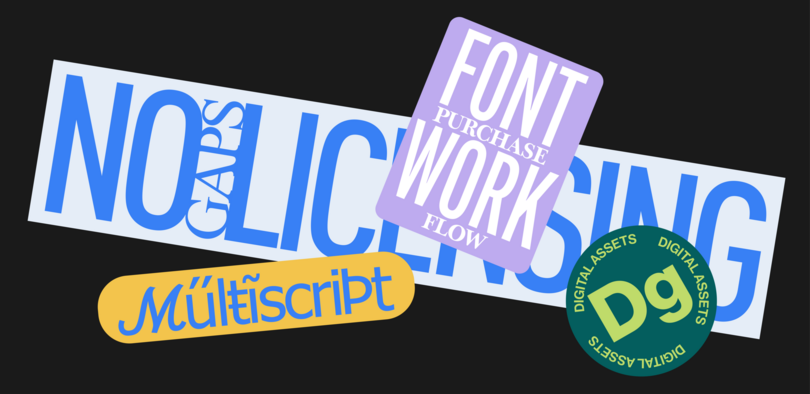 Spend less time (and again, less money).
As soon as a new project kicks off, the clock is ticking, and the creative teams, especially designers, can feel the pressure. One of the biggest time sinks is finding, sharing, and installing fonts –among all the other tasks that need to get done. In organizations that have legacy systems and multiple systems for filing, it only makes matters more difficult.

Time is money, and in a controlled study, Monotype Fonts found that streamlined font sharing saves up to 8 hours of extra time spent by your hardworking employees (and around $2,000 in employee overtime, according to a Monotype review.) With Monotype Fonts, you can spend less time (and far fewer open browser tabs) searching for fonts. The built-in search tool finds fonts like a typographer would, with the ability to filter by mood, language, style, foundry, and more. This includes the fonts you've uploaded or imported independently. Wowee.

You can easily "sync" fonts to a design program of choice, whether directly through Monotype Fonts or through a simple plugin. Sharing fonts is also seamless, as you only need the email address of the external collaborator, freelancer, or vendor to gain access to the cloud-based libraries in seconds. This replaces the more common practice of emailing fonts back and forth, and removes the permissions approval process from IT's backlog, where it normally sits."

To top it all off, fonts will always remain auto-refreshed. If your agency is doing this manually, it can take time or even fall by the wayside, and cause inconsistency across client work among several designers. Installing Monotype Fonts means your font files are always kept up to date with their latest versions. All creatives (not just some) have access to the latest iterations, and best-quality fonts, with no conflicts across work.
In contrast, when updated fonts are re-installed and updated individually on everyone's machine, you can say goodbye to client work for an afternoon. Going automatic is a game changer. Think of it like an instant refill, that you don't have to pay for, because it's included.)
Increase the creative team's value.
Brands in healthcare, finance, retail, tech, and countless other industries rely on powerful, consistent branding. Typography is part of that, and your creatives deserve the best. No matter what industry you're immersed in, equipping your creative team with the tools to succeed and truly exhibit their talent adds immense value to your organization.
Streamlining workflow is going to open the door for creatives to do their best, and clients will feel and recognize this. Allowing brand leaders to enforce guidelines correctly also is a major marker of an elite agency or creative team. When life is easier on the license management side, you can save yourself the cost of updates (or legal trouble). And finally, access to the largest library of typography, with timeless classics to iconic trends is what your designers (and clients) crave, and deserve access to.
After all, typography is a major communicator of a brand. It holds the keys to understanding your brand story and can be a reason your brand (or your client's brand if you're an agency) shines through and makes a statement. Bringing your creative team the best of the best not only levels up the team: it levels up your business. 
So, are you in?
To recap: Monotype Fonts saves major costs and time, and adds immense value to your creative team and business as a whole. This includes thousands of dollars, depending on how many fonts you or your clients use. No leader wants to have the weight of a major licensing issue on their shoulders, or have to incur costs on this-font-or-that because proper updates weren't made. And tiny level-ups add to major cost-savings. To learn more about what Monotype Fonts can do, visit MonotypeFonts.com
Here's why leadership should care about company fonts.
N-2-6239
Strategic