How consumer user experience expectations have changed and what this means for type usage.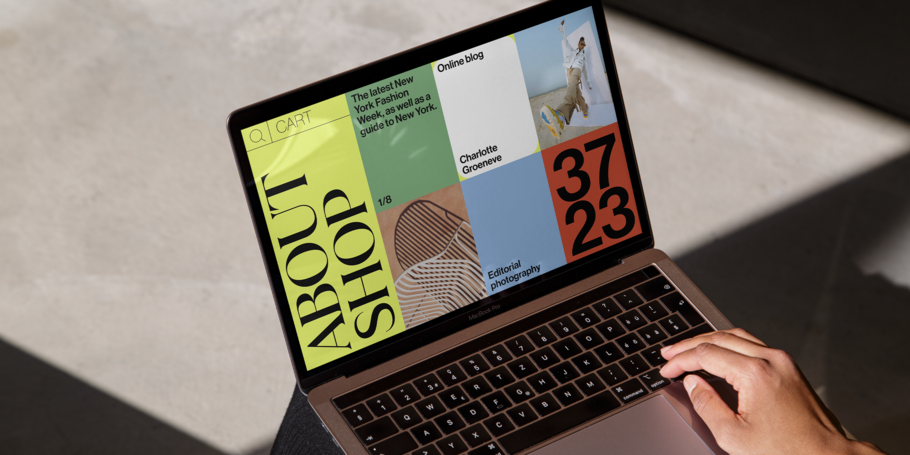 "
Today's users behave differently online and expect more from brands.
"
In case you missed it: there have been some major world and culture shifts lately! At the risk of attributing everything to the COVID in the room, the global pandemic has sparked lasting feelings of isolation and a deeper reliance on digital experiences.
Climate change has also accelerated consumer interest in biodiversity and sustainability. Finally, police brutality ignited civil rights movements and brand attention towards diversity, equity, and inclusion initiatives and activism. Read on to understand how these shifts influence consumer expectations around design, user experience, and the ways they relate to your brand.
The pandemic shifted everyone's digital expectations. 
Between lockdowns, "Zoom school," and large portions of the population shifting to remote work, time at home and with screens has increased greatly over the past few years. We became attached to rectangular devices in all shapes and sizes, and for many, interactions with screens became the only interactions of the day. And for many, it accelerated comfort with communicating with brands digitally. Before the pandemic, messaging with a brand was ranked fifth in customer service channel usage, now, it's second. In response, the wisest brands shifted from being cold, hard, information givers, to finding ways to relate, empathize, and seek solidarity with their customers. 
The design domino effect was this: companies found ways to sympathize with the world's daily struggles through gentler messaging and softer design. For the first time, "regular everyday consumers" outside of the design community started to recognize that the information we see in digital spaces is often made with the same templates, the same formulas, the same typefaces. Brand managers and creatives noticed the lack of variety, lack of distinction and humanity in the shape of our digital things.
The pandemic pushed brands to launch more apps and new services.
Before the pandemic, many brands didn't have a comprehensive digital experience because the "experience," such as it was, was relegated to look-and-feel. The great thing about digital is the interaction level, the way we move the mouse, respond to menus, animations, and answer questions. Taking all of that into account, brands have begun to make their voices more nuanced and more individualized than ever before. A prime example of this in design is the implementation of variable typefaces and how they can adapt to all kinds of scenarios.
There may be arguments on whether working from home leads to more productivity, but removing commutes and office time has made many people hyper-efficient and in turn increased their expectations for quick or even instant responses and experiences. People are willing to take more risks in the spirit of speediness: getting things delivered instead of shopping in store, even if it means loosening perspectives on security of personal financial information. In turn, companies have had to buckle down on personalization, privacy, and security measures. While variable type hasn't reached maturity, variable fonts afford brands the chance to speak in many voices, provide more targeted UX, and "personality profiles" so to speak. 
Pandemic doom drove a collective desire for entertainment and escape.
In the space of about two years, we have jumped from shopping online to walking into virtual shops and trying on clothes that are visualized as pixels. Feelings of anxiety, isolation and increased time at home have accelerated consumer comfort with new technologies and virtual experiences. Need proof? Just look to the metaverse, an area seeing a huge amount of investment and creative exploration. The boundaries between "real" and "virtual" are evolving, and brands are expected to design experiences that deliver in these spaces:
Multiple factors are leading to a brand activism boom.
Let's bring it back down to earth. As mentioned earlier on, we're all a little bit more cognizant of causes like sustainability, diversity, equity, and inclusion; and in turn brand activism is booming. It's not news that people care more than they used to, but what's notable is that consumers are more influenced by brand activism than brand purpose. Customers are seeking affinity with brands that seek justice in our world, and that goes beyond a brand's mission. People want to see brands actively involved in solving societal problems.
Going a few levels deeper, consumers care about what a brand inherently means: what they live by as guiding principles, and brand principles are defined from the top. Guiding principles are not just 'ideals,' consumers can see through that. They must be genuine, life-affirming values that are felt in every brand touchpoint. A real-life example from Monotype's Executive Creative Director, Phil Garnham, "Only this morning I subscribed to a new sustainable laundry product due to the excessive plastic waste created by top supermarket brands," shared Garnham, "It was advertised on social media. It wasn't the visual aesthetic of the ad that appealed to me – it was about the fact that I could do better, save money, it was digitally efficient and had an element of 'worldly goodness' so to speak." The native content in a space he was already frequenting (Instagram), coupled with the convenience of the digital experience and the ability to do "worldly good" was enough to get Garnham to click 'subscribe.' A real-life use case showing why being mission-driven matters. 
So, how do trends and consumer expectations relate?
It's not limited to their perspectives on hair parts and denim styles, Gen Z's tone and expectations are rubbing off on all demographics. Having come of age in a turbulent time, this generation is arguably the first to demand more from the companies they align with and buy from. What we're seeing is a ripple effect of conscientious consumers conditioning a broad shift in corporate leadership. 
With trends and consumer expectations, it's not easy to pinpoint a cause-effect scenario, it's a real whirlpool, and cultural influences also define expectations and ignite trends. A true chicken or the egg situation: some things happen by happy creative accidents and others are born from necessity — the almighty creative brief. On one hand, consumers are conditioned to what exists, but they also appreciate an element of surprise when it comes to design and branding. Take for example the Habito mortgage company highlighted in this 2022 Type Trends report, whose unexpected branding featuring a dreamlike color palette and cheeky messaging helped differentiate the company in a sea of sameness. Superunion's rebrand of Hermes as Evri also stands out with a never-seen before "living logotype," featuring custom variable type by the Monotype Studio with over 190,000 permutations.
Obviously not every brand has the capacity to commission a living, breathing logo built on variable type technology with thousands of variations (nor should they), but there are phases of digital maturity when it comes to design and UX that are helpful to keep in mind. At the low end of the digital maturity spectrum, we see brands using open-source tools, free fonts and existing templates for their websites or apps. This doesn't necessarily mean it's a low budget approach, and if done well, it doesn't have to be noticeable so long as the experience offers clean, clear functionality. At the high end of the digital spectrum, we see nuanced brand making like in the Habito or Evri examples. 
So, what's the baseline to stay competitive?
Digital growth of the past few years has clearly defined and fostered expectations around a brand's interactive experience. The most progressive brands have defined subscription models that meet you at the frequency you need them, and they do so with empathy. Generally, thanks to the democratization of technology and availability of design and web tools, most design and UX is consistently strong now across the board. One trend we have noticed is a new universal style is emerging: flat design in modern online brands, almost reverting to the minimalist startup style of five years past. Many companies are going for clean geometric styles with type. 
Companies that go beyond the status quo are those that visualize their unique place in the competitive set with hand-crafted web and app experiences, experiment in emerging spaces like the metaverse and use carefully thought out elements like custom type and surprising branding and human tone of voice. A common piece of all of these success metrics? Well-thought out type choices. Whether you're choosing a font for your brand or campaign from a library, modifying an existing font, or commissioning a custom typeface, make sure it represents the message well and is up to the technical task. 
That said, there is no baseline, the baseline is set by the market you operate in and also the brands that exist around that market. As a creative or brand manager, the only benchmark you should measure by is making the most engaging and innovative design experiences you can offer your customers. If you can create something new, or put a twist on something that makes it feel new and unique, the brand will stand out. Upleveling that, build in an extra layer of meaning with creative narrative and personalized messaging that meets your customers. That's when you know you have nailed your creative brief and achieved your (or your client's) expectations in making the brand's story shine.
How consumer user experience expectations have changed and what this means for type usage.
SE-1-6218
Agency, Functional