4 Ways a Monotype subscription reduces risk.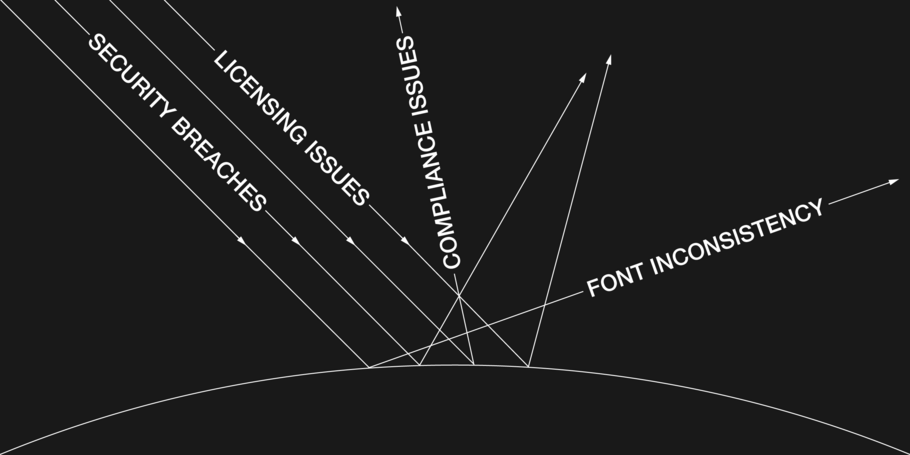 "
Monotype Fonts license agreements are also tailored to your unique needs.
"
Like all software, fonts can introduce legal and technical risks to your organization. Find out how the Monotype Fonts platform reduces those risks.
Fonts are software, with the same risks that corporate leaders have long recognized in more straightforward software implementations. Yet in many organizations, there is no person or team dedicated to tracking, monitoring, and updating font licenses. That's because it's often unclear who should take charge. The creative team that uses fonts? The IT department? The procurement team? With nobody at the helm, individuals may make one-off decisions that could lead to security breaches, branding security problems, and font licensing issues over time.
The good news is that there's a simple way to reduce the most common risks associated with fonts: managing them with the Monotype Fonts platform. Here are four ways the Monotype Fonts font subscription platform reduces risk exposure:
1. Monotype Fonts reduces the risk of security breaches.
Downloading free fonts is risky; while rare, those font files may include malware or viruses. Even if your brand uses commercial fonts, you still need to be wary of the font files. Here's why: if your brand guidelines specify the use of certain fonts but don't outline a clear process for acquiring them, your creative team may simply download what they need from the first search result they find online. If that turns out to be a site offering pirated fonts, there's a risk that the font software download will also include malware.
A legal font subscription eliminates these risks. Monotype Fonts guarantees the legitimacy of its font software, for one thing. Monotype Fonts also manages the font distribution process, eliminating any need for font users to find and download files from outside the Monotype Fonts platform.
2. Monotype Fonts helps your brand maintain font consistency.
Font inconsistencies are a common problem for brands. Without direct, easy access to the correct font files, you can't be certain that the right people are using the right fonts in the right places. Employees may download counterfeit versions, slightly different versions than what's specified (think Helvetica Neue vs. Helvetica) or accept an emailed folder of font files from a colleague that lacks the proper licenses. Over time, these inconsistencies can contribute to a confusing brand identity as well as licensing risks. This can lead to lost revenue as studies have found that companies with consistent branding can see upto 33% increase in revenue.
Managing your font library with Monotype Fonts creates a single source of truth for your brand. Deploying fonts through Monotype Fonts guarantees your creative team and partners will always receive the correct, properly licensed versions, always tracked against brands, projects, or campaigns. Controlling the distribution and deployment mechanisms ensures that you can trace the licensing history within all creative assets.
3. Monotype Fonts reduces license compliance issues.
Font license breaches are common because it's so easy to use a font for a purpose that's outside the scope of the license. If your organization purchased desktop licenses for Helvetica, for example, you aren't licensed to use that font on your website. Many license breaches occur during distribution; it's incredibly common for colleagues to share font files with each other via email or a shared folder, which can be a violation of the end user license agreement (EULA). Even underestimating your monthly or yearly website pageviews can result in a breach of your EULA! Organizations that use many fonts will find it even more difficult to stay on top of licensing and distribution.
Monotype Fonts simplifies font licensing in a few ways. All fonts in the Monotype Fonts inventory (including Monotype-owned and -licensed fonts) are covered under a single license agreement, eliminating the need to manage licenses from multiple foundries. Any third-party fonts your brand uses can be added to the platform so you can manage all your fonts in one place. Monotype Fonts license agreements are also tailored to your unique needs to ensure all licensing reflects your actual use. If your organization only creates web content, for example, all your licenses will cover web font usage. And if your needs are broader, unlimited enterprise licenses will allow you to use fonts everywhere you need them – on the web as well as in print, logos, mobile apps, epublications, and more.
4. Monotype Fonts offers unmatched support.
Few foundries can offer custom support services like Monotype Fonts to solve a wide range of font-related technical problems, from file size issues to font rendering issues. And if you ever run into a legal problem with fonts, Monotype Fonts can support you through that, too. As an industry leader, Monotype Fonts has associations with the top foundries and the ability to fully release and settle on their behalf. It also offers brand & license protection as an additional service that allows it to resolve font misuse issues on your behalf by working directly with the IP owner.
The future of Monotype Fonts includes even stronger risk mitigation.
The way people use and distribute fonts is analogous to the person-to-person sharing mechanisms used to illegally distribute music and film in the 1990s and 2000s. At that time, it was easier to share music and video files between friends than to license or buy an authorized copy. Today, many font users find it easier to email font files to colleagues or download illegitimate font software than to access fonts the right way. Imagine a world where creatives never need to bring fonts directly into any digital asset management (DAM) tool or creative authoring program; instead, those programs can communicate directly with Monotype Fonts to identify a user's license rights and provide the required fonts on demand. In this world, all distribution risks are eliminated. With Monotype Fonts, our long-term goal is to do just that: to minimize the number of touchpoints required to fully implement fonts in everyday workflows and ultimately reduce risks and save time for organizations like yours.
4 Ways a Monotype subscription reduces risk.
N-2-6207
Strategic