Fonts simplified
for L'Oréal.
Establishing a long term relationship, L'ORÉAL x Monotype's new framework contract simplifies the process of working with your fonts.
Working together has become simpler.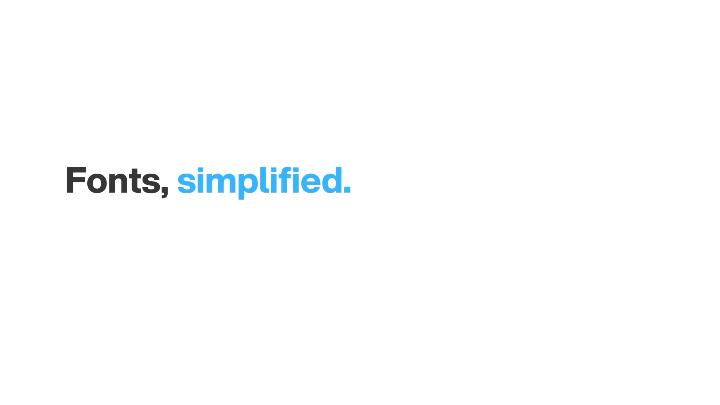 Every single L'Oréal brand would have access to thousands of exclusive fonts designed by the Monotype Studio, alongside typefaces from many of the world's premier font foundries.
---
To learn how your L'Oréal brands can benefit from it, email us at [email protected]
L'Oréal | Fonts without borders.
With brands from all cultural origins, L'Oréal has built a rich portfolio of diverse and complementary logos. Connecting with a global audience of this size means servicing multiple physical and digital touchpoints and a wide range of languages from around the world. Monotype can help unite all of this under one font strategy without sacrificing brand consistency for years. 
The city of Dubai partnered with Microsoft and Monotype to create a typeface that reflects Dubai's energetic nature in both Latin and Arabic.
The SST font tackles a central challenge of branding – universality. The SST superfamily supports more than 90 languages including Japanese, Thai and Arabic.
L'Oréal | Le Studio.
Fonts are the essence of branding. With more than 100 years of culture and heritage, we have chosen to offer our expertise in the service of iconic brands around the world. We design and build an infinite diversity of typefaces that respond to unique visual voices that captures the essence of your brands.
Designers and studios might be deeply familiar with Neue Helvetica, but it's the product of a pre-digital era. Here are four reasons why it's time to switch.
The H&M custom font family speaks stylishly across all brand communications— from large in-store graphics to smaller type for their website.
L'Oréal | Font solutions.
We take the guesswork out of licensing so you can focus on enriching your collection of brands. With the world's largest font library and our cloud-based font management solution, you can embrace new segments and geographies and respond to new consumer demands. 
Creatives are the primary users of the fonts, but licensing approval typically runs through other departments. Here are a few key concepts all designers should understand.
One of the most frustrating disruptions a designer encounters is when fonts are missing for a project.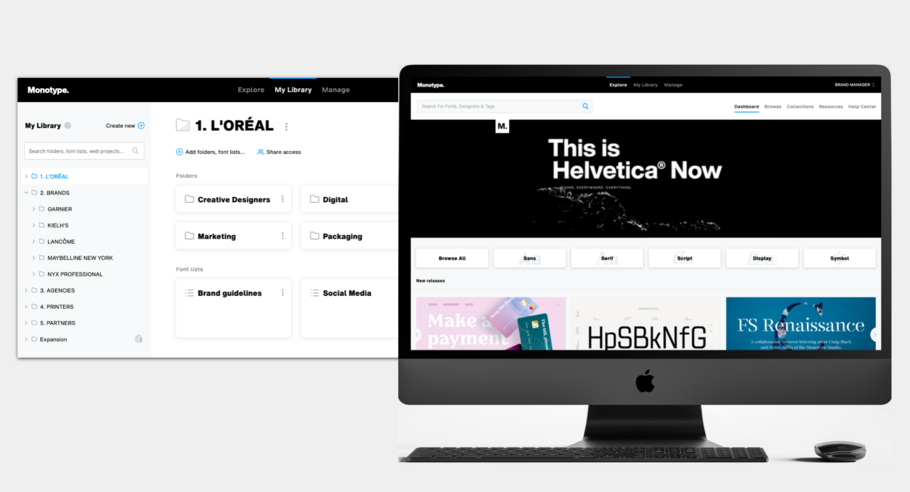 Our cloud-based service, organises all your fonts in a central location that makes it simple to license, deploy, and manage fonts across the business.
Your creative teams are free to access and use any font from the Monotype library, including new releases and a comprehensive range of global languages, empowering them to discover, design and prototype endlessly without having to review individual licenses.
L'Oréal | Sustainable Business
We know about L'Oréal commitment to strive towards an even more responsible and sustainable business model. Thoughtful visual design, and especially the use of clear, legible type, enables brands to drastically reduce their use of paper and packaging in favor of digital formats people can access through a mobile app or website.
Monotype can help you find a path forward.
Today, it is a moral imperative that companies and agencies prioritize sustainable, environmentally friendly principles and practices. More and more consumers are demanding that brands act responsibly when it comes to environmental concerns. But what role does visual communication play in this topic, and how can type and design contribute to good sustainability practices?
Learn how variable fonts can help brands looking to distinguish themselves in the modern marketplace.