What's a store for? Rethinking retail in the lockdown era.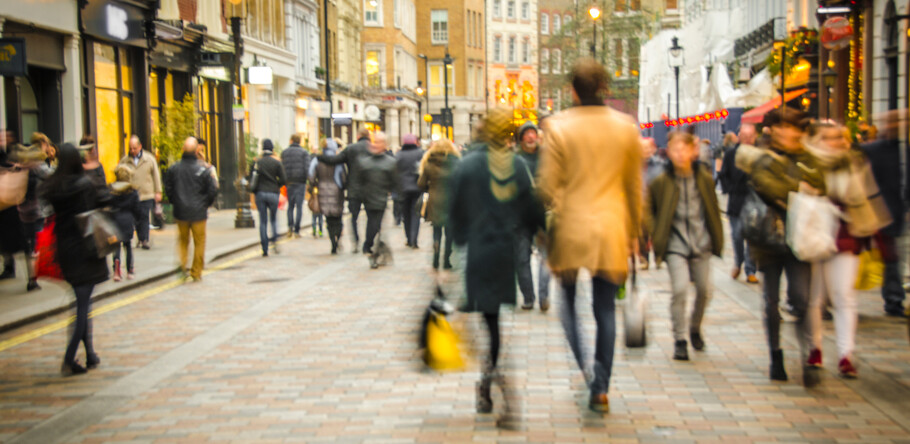 "
Casual browsing in stores may cease to exist, so brands need to consider reshaping their digital environments to mimic the brick-and-mortar experience.
"
If there's anything we've learned from the first half of 2020, living through and operating a business amidst a global pandemic is anything but predictable. Between self-isolation practices, extended stay-at-home advisories, and a rapidly evolving understanding of how the virus spreads in public places, COVID-19 has fundamentally and irreversibly changed how people shop.
Non-essential stores have closed. And the customers who visit the essential brick-and-mortar retailers now enter with an objective: get what you need as quickly and efficiently as possible while interacting with the fewest number of people.
As a result, U.S. online retail is up 68% year over year. People who shopped online prior to the pandemic are doing more of it, and late adopters may be trying (and liking) it for the first time. As economies begin reopening and the option for in-store shopping returns, customers may decide they don't want to return to their old habits for fear of getting sick (even if a vaccine becomes available) or because they simply don't need to shop in physical locations anymore. Instead, shopping online for groceries, clothing, drugstore items, and entertainment may replace store and mall visits for the long term. And this is only accelerating the decline of traditional retailers who are stuck in the mall model.
This begs the question, what's a store for?
The fallout of physical retail as we know it.
If it's not obvious already, there won't be a return to the pre-COVID-19 "normal" for retailers. New shopper behaviors will change how retail operates and exists. Right now, stores are focusing on redesigning their spaces for a more sanitary, streamlined, and contactless experience.
Fast Company predicts customers will be less inclined to casually browse. Instead of making stores places where people may want to test out products and explore the merchandise, brands will make stores places where customers can pick up a product they ordered online (curbside-style), return or exchange items, or get assistance from an associate.
"
If it's not obvious already, there won't be a return to the pre-COVID-19 "normal" for retailers. New shopper behaviors will change how retail operates and exists.
"
This isn't necessarily a new concept. Services like Postmates have normalized courier pickup and delivery, more stores offer the option to buy online and pick up in-store with order fulfillment, and grocery stores do delivery. The difference is that a higher portion of the business will come through these kinds of avenues.
For Starbucks, the pandemic has accelerated plans to shift the store model to include more order-fulfillment "pickup" stores without seating, in some cases replacing cafés where people can relax. While this strategy to meet customers' evolving preferences was planned for a three- to five-year rollout, new demands make this move (worth billions) a necessity.
Many customers no longer want to sit and socialize or work as cafés reopen, either because their routine and habits have changed during the pandemic or they aren't comfortable in a crowded café setting. The company said the pandemic forced it to rethink its idea of being a "third place" for its customers, separate from work and home. Now and likely going forward, many customers just want to get their coffee and go.
Fast Company also reports that retail employee-customer relationships will become even more important. Customers may call stores to talk about products and then associates may pick out a selection for the customer to try at home. Personal shopping may become more popular, with having associates make recommendations, rather simply filling online orders.
"
Starbucks said the pandemic forced it to rethink its idea of being a "third place" for its customers, separate from work and home. Now and likely going forward, many customers just want to get their coffee and go.
"
Providing safe environments will also be a priority. Retail employees will end up absorbing the responsibility for regularly sanitizing products and surfaces. Visible safety precautions may ease some of the worries consumers may have about returning to more physical shopping. According to research from e-commerce payment company Fast, 89% of shoppers remain anxious about shopping in physical spaces, The top worry for 63% of survey respondents is being too close to other people, 40% are most concerned about store cleanliness, with 34% leery of touching point-of-sale terminals and 32% of handling cash.
Stores may also redesign their spaces so customers can more effectively practice social distancing, removing displays as well as creating markings on the floors. Apparel retailers are grappling with the move to open or close their fitting rooms. And of course, stores will have to limit the number of customers inside.
As companies rethink their physical spaces, many brands are leveraging or implementing new digital channels to keep sales flowing. For example, Pepsi and Frito-Lay launched DTC websites where customers can buy snacks straight from the source. Consider all the point-of-purchase impulse sales these brands are now missing out on. The solution was to take the experience online.
Many brands are also funneling more dollars into their digital platforms, such as building out better websites for ordering products for delivery or in-store order fulfillment. We've seen local businesses like breweries and wine bars build out new online ordering platforms to replace taproom sales. Other brands are continuing to invest in the mobile experience.
Arpan Podduturi, head of product for Shopify Retail, a platform that helps small to medium-sized companies sell products online through POS software, says, "The way that we look at it is we are trying to enable retailers to make sales beyond their stores, so in a tough retail environment, they can continue making sales even again when store traffic is low, and when consumer traffic returns, they can grow sales."
The role of design.
As people—and brands—continue sprinting toward digitally immersed experiences, a humanized online presence will make a big difference. That can come through design details that feel warm, rustic, honest, or handmade (e.g. warm colors, hued photography with more maximalist features and real people, and charming serif fonts) or by molding the user experience to have more of a personalized element. Less of the transactional meeting-of-needs and more of the personal and emotional.
In-store casual browsing may cease to exist, so brand websites could consider reshaping their digital store experience to mimic the in-store experience, like store windows and interactions with sales associates. We might see more live chats or video calls with humans instead of bots, or more content on websites and social channels curated by sales associates.
Other brands may step up personalization to make the experience hyper-specific to a shopper based on browsing data and preferences. A brand's ability to predict which products are more relevant to a customer or a personal sales interaction could be the difference between higher average order value (AOV) and items per order (IPO) than not.
The brand experience online should feel connected to the brand experience in the store. While the objectives of each platform may shift—online for browsing and buying, in-store for appointments, pickups, and returns—a unified type strategy can bring it all together for a seamless user journey. No matter where they're engaging, it should be clear to your customers that it's you and what the purpose of the platform is. A disjointed approach can leave customers feeling confused.
We're heading into uncharted territory for brands and customers. The only way to find out what works in this new retail reality will be to try out many approaches. It's up to brands to succeed and fail, and keep iterating to find a way that connects to their customers—not just from a place of need, but from a place of emotion.
What's a store for? Rethinking retail in the lockdown era.
SE-2-3121
Agency, Branding, Functional