Where digital and physical meet: The future of retail.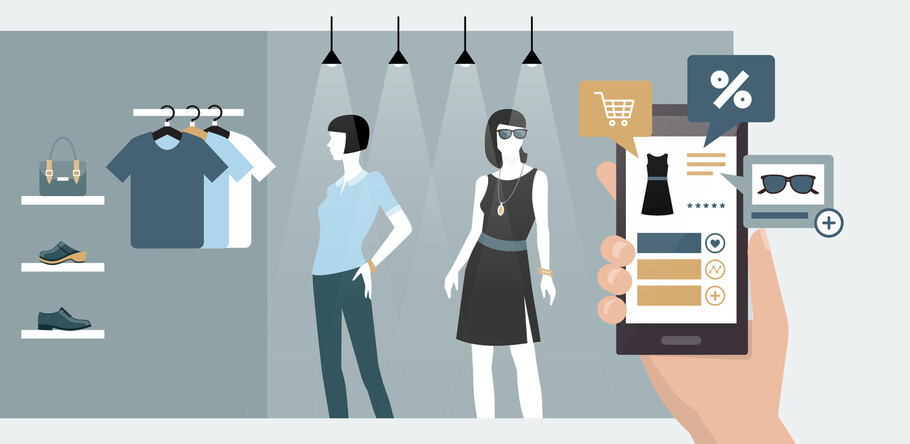 "
Retailers must continue to think about how their mobile experience can work in tandem with the in-store experience.
"
The concept of brick and mortar stores has been a hot topic for the past few years. Are they dying? Are they thriving? Whatever you believe, one thing is certain—they're changing, with an eye toward digital.
From meeting customers where they are on mobile to creating custom digital interactive displays, modern retailers are embracing the idea that digital experiences will enhance the traditional in-store experience, and overall, drive customer engagement and sales.
In-store and in-app in tandem
According to a study from Yes Marketing, over half of consumers use mobile retail apps while shopping in person. Of the 1,000 consumers surveyed, 65 percent use apps in-store to redeem coupons, 57 percent use them to find coupons, and 46 percent use them to locate items on sale. In other words, consumers are using their apps to supplement the in-store shopping experience, not replace it.
This study suggests retailers have a major opportunity to elevate their customer's experience by blending the two halves of their business. While customers clearly value coupons and sales, the study also shows they value local events and additional services in-store. Through a seamless multichannel strategy (e.g. retail apps, website, events, services, etc.), retailers can incentivize in-store shopping trips and drive more mobile users to visit brick-and-mortar locations.
"
Of the 1,000 consumers surveyed, 65 percent use apps in-store to redeem coupons, 57 percent use them to find coupons, and 46 percent use them to locate items on sale.
"
For example, Anthropologie could use its mobile app to present users with exclusive sale information as well as promote an in-store holiday event, both of which the retailer already presents via email campaigns. App usage also allows for greater personalization and customization based on location and user history. Nordstrom Rack could use its app to further promote its free in-store tailoring service and schedule appointments—even for online purchases. This is an opportunity to educate as well as assist the user throughout the buyer journey and funnel—not to mention enticing the shopper to visit the store again where they might make another purchase.
Retailers can use apps to enrich the in-store experience. From point-of-purchase moments like scanning an item to find a true price, offering coupons, or building loyalty through events and services, retailers must continue to think about how their mobile experience can work in tandem with the in-store experience.
Delightful digital experiences
It's important to note that shoppers still find value through in-person shopping trips. Sixty percent of the Yes Marketing study respondents said they shop in stores because they want to see items in person.
Many shoppers also value visually appealing stores and displays, which retailers can enhance with digital elements. CNN reports that major retailers like Nike, Macy's, Sephora, Reformation, and American Eagle are adding augmented reality, interactive touch screens, and other technology to their brick-and-mortar locations. "These retailers hope the new technology will draw younger shoppers and reduce the hassles of shopping in stores. They also have a financial incentive to push customers to buy in store, rather than online. Sales in stores are more profitable because retailers avoid paying shipping fees."
Blended customer experiences from the digital to the physical are becoming the norm. Technology can make in-person shopping trips easier, more engaging and more fun. For Sephora, that means using an AR-enabled mirror to let users virtually try on makeup. For Reformation, that means displaying only one of each item in its showrooms, and have shoppers use tablets to request items they want to try on, mimicking the online experience. The selected items are delivered to the fitting rooms, which feature different lighting options designed for selfie-taking. American Eagle focuses on eliminating some of the pain points of shopping and gives customers more information about their products. The retailer is testing interactive tablets in fitting rooms that allow shoppers to request different sizes and styles, receive product recommendations, and view purchase totals—all without having to leave the fitting room.
For an increasingly tech-savvy audience, bringing digital technology into the brick-and-mortar world isn't a gimmick. It helps retailers connect with younger shoppers and enrich the experience with thoughtful, convenient services. Technology can help get more shoppers into stores, drive impulse buys, and of course, improve engagement and loyalty—all core goals of any retail brand.
Maintaining brand consistency through a blended customer experience
Shopper behaviors are changing, which means retailers must adapt to remain relevant. Finding new ways of engaging customers through the multi-channel journey isn't just nice—it's a necessity. From mobile apps to in-store displays to digital fitting room services, it's important to keep the brand experience seamless so customers may jump from one touchpoint to another with effortless recognition.
That means having a unified design strategy from color to typeface to photography to iconography/graphics, all of which anchor the customer throughout their journey. Each touchpoint should feel like a cohesive part of a family. And, for large-scale global retail giants (e.g. Nike, Zara, Adidas, H&M), typography should not be an afterthought.
When so many access points exist, retailers should be mindful not to lose their brand (nor become overly repetitive to the point of redundancy) in the pursuit of providing the digital experiences customers want.