Avenir Next World is the expansion of the world-renowned family designed by Adrian Frutiger and The Monotype Studio.
Offering support for more than 150 languages and scripts, including Latin, Cyrillic, Greek, Hebrew, Arabic, Georgian, Armenian and Thai, Avenir® Next World contains 10 weights, from UltraLight to Heavy, as well as two entirely new styles: Avenir Next World Black and Avenir Next World Extra Bold.
The complete family enables a geometric sans pairing option for global brands looking to design consistently beyond borders, an imperative in an increasingly digital marketplace.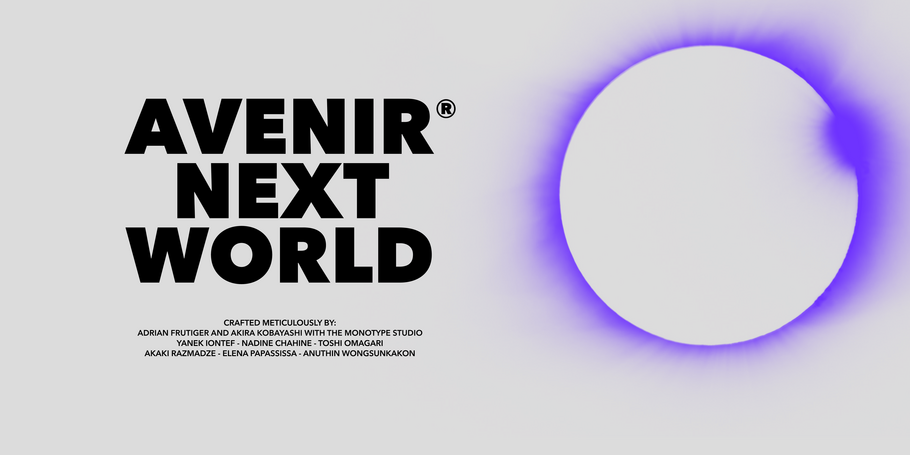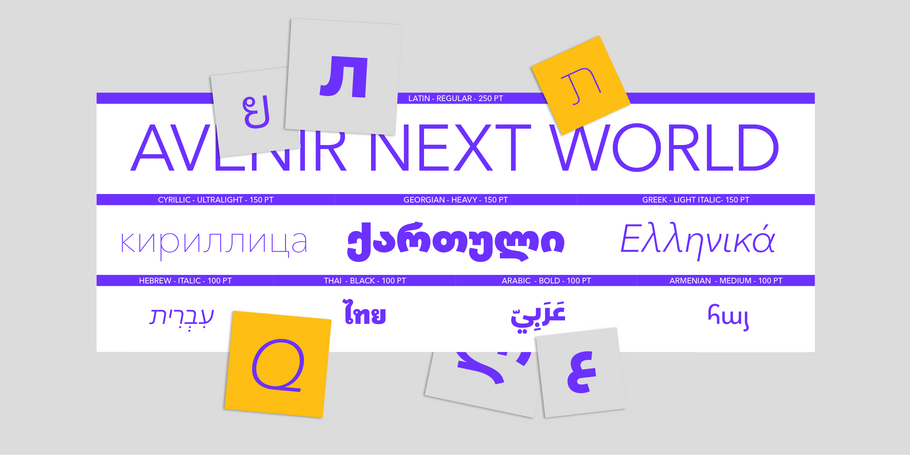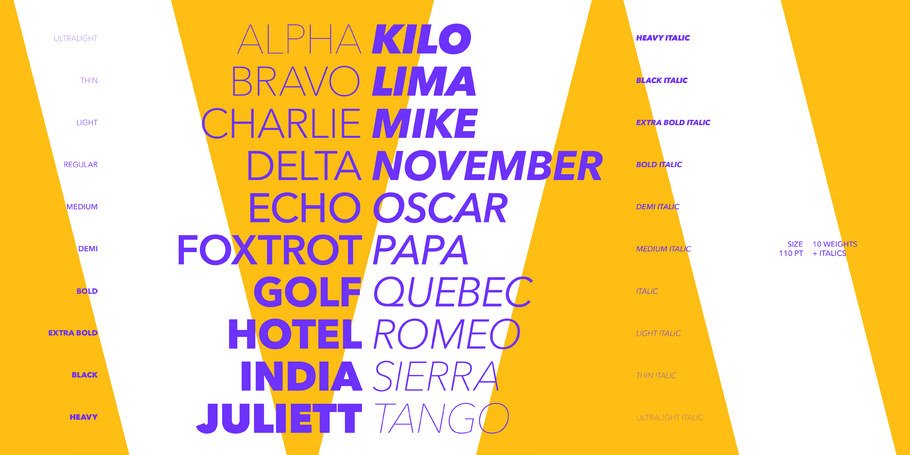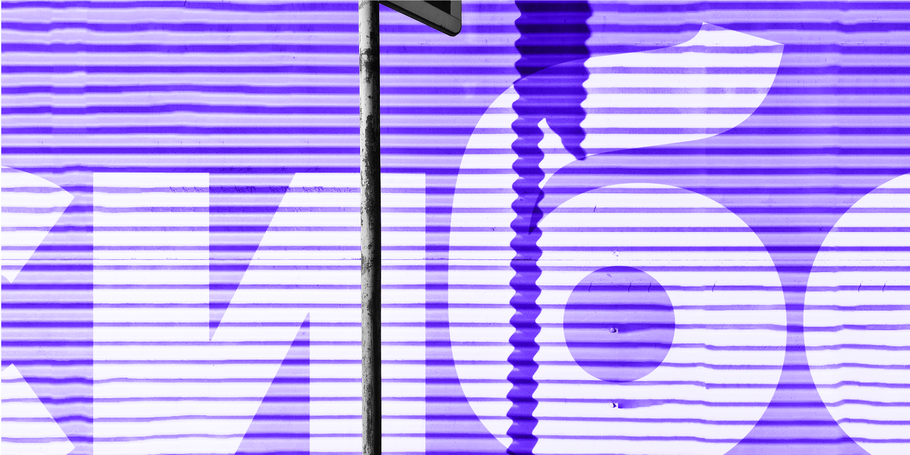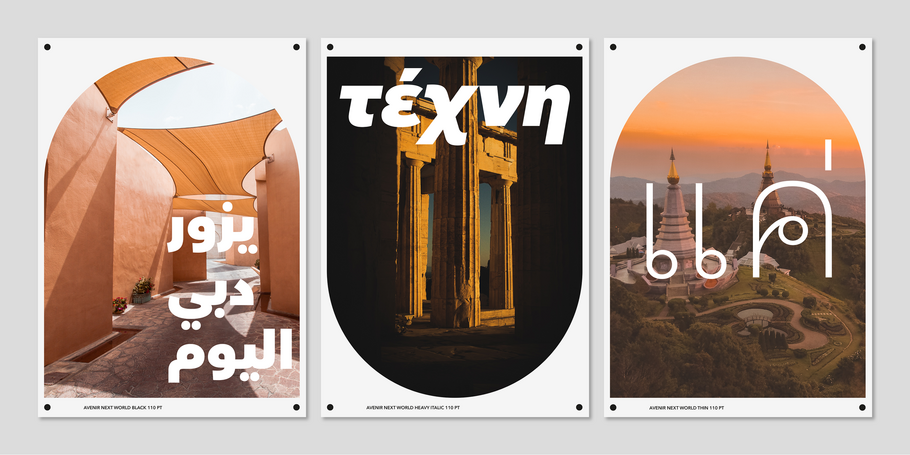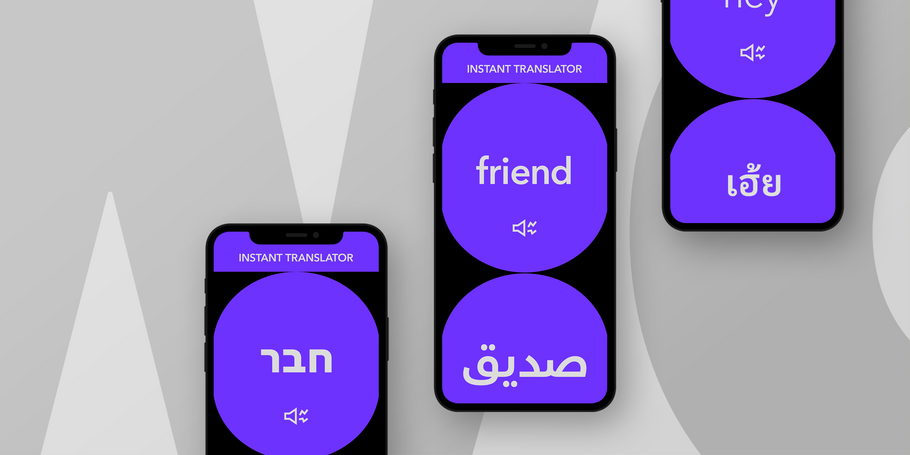 Designers
Akira Kobayashi.
Akaki Razmadze.
Anuthin Wongsunkakon.
Elena Papassissa.
Yanek Iontef.
Nadine Chahine.
Foundry
Classification
About Avenir Next World
Avenir is one of the world's most famous fonts, originally designed by Adrian Frutiger in 1988. In an interview with Linotype, he said he felt an obligation to design a linear sans in the tradition of Erbar and Futura, but to also make use of the experience and stylistic developments of the twentieth century.

In 2002, Akira Kobayashi, Monotype's Creative Type Director, worked alongside Frutiger to bring Avenir Next to life, modernising the family and providing a technical standard that allowed it to be used successfully by brands in both print and on a growing set of digital screens.
Nearly two decades later, brands are operating increasingly in new regions, and delivering a consistent identity on a global scale has never been more important. Akira's deep familiarity with existing iterations of the Frutiger designs meant he was uniquely qualified to direct the addition of new languages to the family, alongside noted designers Yanek Iontef, Nadine Chahine, Toshi Omagari, Akaki Razmadze, Elena Papassissa, Anuthin Wongsunkakon and the Monotype Studio.
Designers

Akira Kobayashi.
Creative Type Director Akira Kobayashi has three decades of experience, with an extensive background in Japanese typeface design and a deep understanding of calligraphy. After studying at Musashino Art University in Tokyo for four years, Akira Kobayashi accepted his first job at phototypesetting manufacturer Sha-Ken Co., where he was involved in the lengthy and intricate process of designing Japanese fonts.

Akaki Razmadze.
Akaki Razmadze is from Tbilisi, Georgia. During his studies, he completed an internship at Monotype (Bad Homburg, Germany), where he worked to develop Georgian versions of various Monotype's typefaces; among them were Helvetica, Meta and so on.
Several Georgian typefaces designed by him, which are distributed for free, are very popular in Georgia. His first typeface Archy can be found on book covers, posters, TV programs, various advertisements and so on.

Anuthin Wongsunkakon.
Graphic designer and type designer based in Bangkok. Buzzed in type design arena under guardianship of legendary Tony Dispigna in New York. His fonts have been used in magazines, book covers, consumer products, record covers, as well as identity for a worldwide company.
He also was a writer and contributor for Thai magazines such as Image, DNA, Freeze and art4d. His typographic work has been recognized by the Type Directors Club, New York. He also teaches graphic design at Chulalongkorn, Bangkok University, and is a visiting lecturer at Rangsit University.

Elena Papassissa.
Dr Elena Papassissa is a London-based type designer with specialist expertise in Armenian script, and a graphic designer. Since 2013 she has been collaborating with international type foundries, type designers, and graphic design studios in London.
Elena is a member of the ATypI and the AGBU Young Professional (YP), a non-profit organisation involved in promoting worldwide the Armenian identity and heritage.

Yanek Iontef.
Born in the USSR, Yanek Iontef moved to Israel at the age of 16 and studied graphic design at Bezalel Academy of Art and Design, Jerusalem. He worked as a graphic designer in London and Tel Aviv.
Since 1995 he has taught typography and type design at the Bezalel Academy in Jerusalem and Shenkar College of Engineering and Design in Ramat Gan. He currently works in Tel Aviv as a freelance designer specializing in type design, corporate identity and editorial design. An award-winning type designer, he also has his own type foundry, producing a range of Hebrew and Latin fonts.

Nadine Chahine.
Dr. Nadine Chahine is an award winning Lebanese type designer. Nadine's research focus is on eye movement and legibility studies for the Arabic, Latin, and Chinese scripts. She has numerous awards including two Awards for Excellence in Type Design from the Type Directors Club in New York in 2008 and 2011. Her typefaces include: the best-selling Frutiger Arabic, Neue Helvetica Arabic, Univers Next Arabic, Palatino and Palatino Sans Arabic, and Koufiya.
Continue reading.
Stand out amidst the digital noise.
With seemingly every business in the world launching apps, online services, and other digital properties as they cope with disruptions from the COVID crisis, many brands are likely wondering how they can stand out from all the sudden digital noise.
Prioritizing the mobile experience.
Retail customers are scattered across a wide range of touchpoints and react with them all interchangeably. However, they're all linked through the mobile experience.
The role of design in online experiences.
As people—and brands—continue sprinting toward digitally immersed experiences, a human, personal online presence will make a big difference. Here's how can design help make that possible.