Shorai™ Sans: An intellectual-looking sans serif opening new horizons in Japanese typography.
"
We pushed to make the Heavy weight significantly heavier than an average Japanese sans serif, and we pared each form down to its essence which revealed a true simplicity. This is what we have now – it is a sans serif for a new generation.
"
Akira Kobayashi, Creative Type Director.
New from the Monotype Studio, Shorai™ Sans is a geometric sans serif, from Creative Type Director Akira Kobayashi, Type Designers, Ryota Doi, Yukihiro Nakamura and Tao Di, and Chief Typographer and Production Manager, Robin Hui. Shorai has an impressive weight range, from ultra-light to heavy bold, with one of the heaviest weights currently known in Japanese sans serif families. Shorai is available to all Monotype Fonts customers and can also be purchased at MyFonts. 
The name "Shorai" is derived from "Matsukaze," which means "the sound of the wind blowing through pine trees." In the tea ceremony, it is the sound of a tea kettle boiling. Its poetic name hints at the balance of subtle traditional hand-drawn brushstrokes with clean, geometric outlines.
Well-proportioned, contemporary, and uncomplicated, Shorai is a modern workhorse with international range. Historically, matching appearances of Japanese and Western text has been a major challenge in Japanese typography. But as a Japanese sans serif based on elements of Avenir® Next, Shorai is a perfect companion to Latin typefaces. Shorai will allow designers and brands to create harmony between languages in global communications.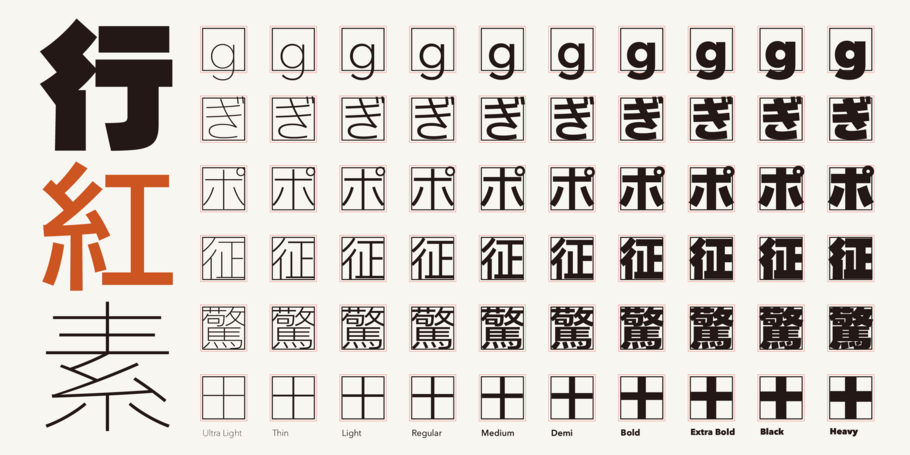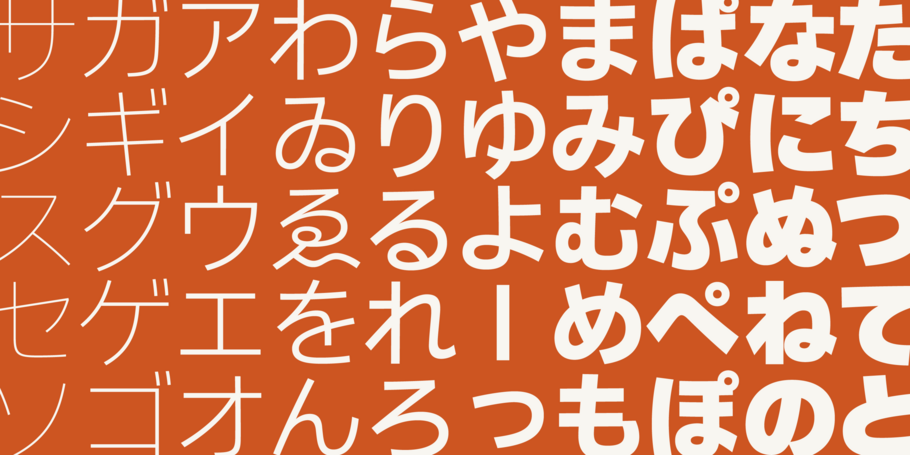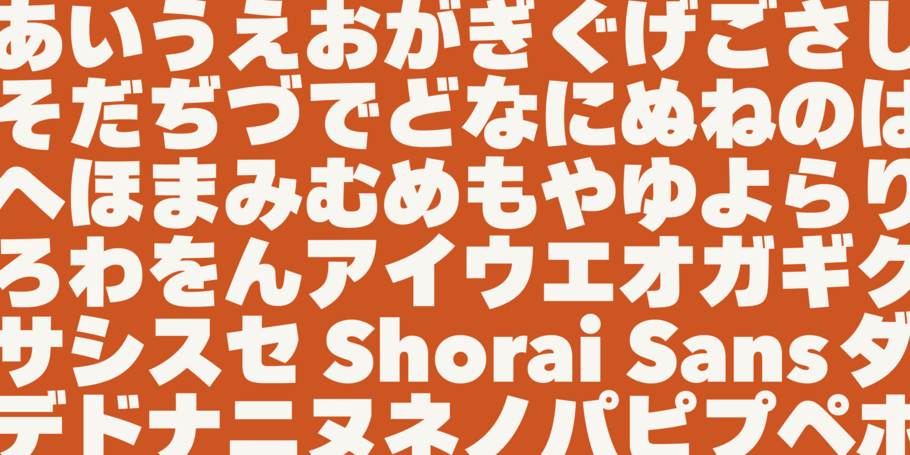 Shorai bridges Eastern and Western worlds, not only for creatives working on global projects, but also with the robust team of designers behind the typeface.
Mr. Yukihiro Nakamura is a legendary type designer in Japan. Mr. Nakamura was responsible for a seismic shift in the '70s when he designed two sans serifs that challenged preconceived notions about Japanese sans serif fonts. Monotype designers in Japan, Hong Kong and Germany joined forces with Mr. Nakamura in the making of Shorai. Shorai's simplified letterforms and vast weight ranges will open similar new horizons in Japanese typography. 
"I can say what we did was basically to push the boundaries and move forward in an experimental way," says Creative Type Director Akira Kobayashi. "We tried to make the Heavy weight much heavier than an average sans serif Japanese, and we pared each form down to the essence so that the inner forms look uncomplicated. This is what we have now – it's a sans serif for new generation."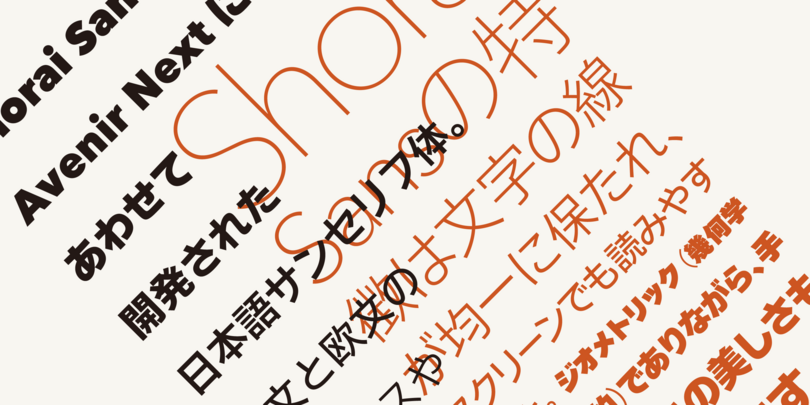 With most conventional Japanese sans serifs, almost all of the stroke beginnings and endings are visible even in the heaviest weight. In contrast, most stroke endings of Shorai are blended into adjacent strokes to achieve uncomplicated inner forms. The static Shorai font family has ten weights ranging from Ultra Light to Heavy. The Heavy variation is one of the heaviest designers can find among currently available Japanese sans serif type families. The mid-range weights of Shorai are an ideal choice for bodies of text as well as public signage. The variable font enables wide expression, allowing designers room to play while providing brands a practical toolkit with a range of static fonts.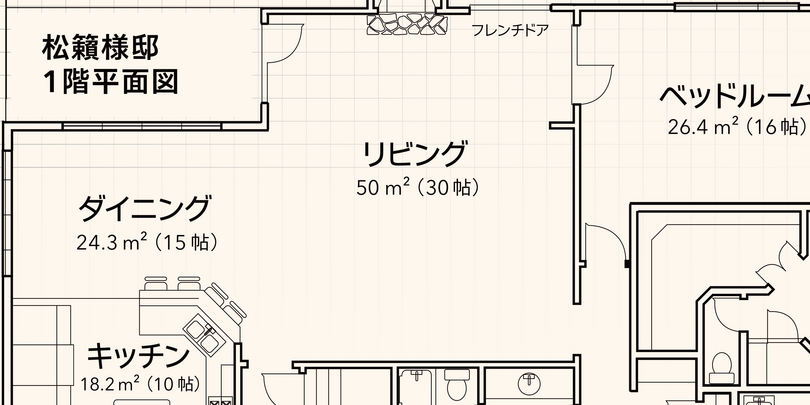 When the basic 400 kanji were completed, there was a global meeting of the minds across generations and cultures. Monotype typeface designers and engineers from Japan, Hong Kong, and German offices, along with Mr. Nakamura, gathered in Hong Kong for a week to create a calligraphy system together. 
"Mr. Nakamura's ideas are always novel, surprising, and exciting," says Type Designer, Ryota Doi. "This typeface, the result of a collaboration that spanned generations, is geometric, yet somehow conveys the movement of the human hand. Shorai Sans depicts a future with people." 
Shorai® Sans. Down to the essence.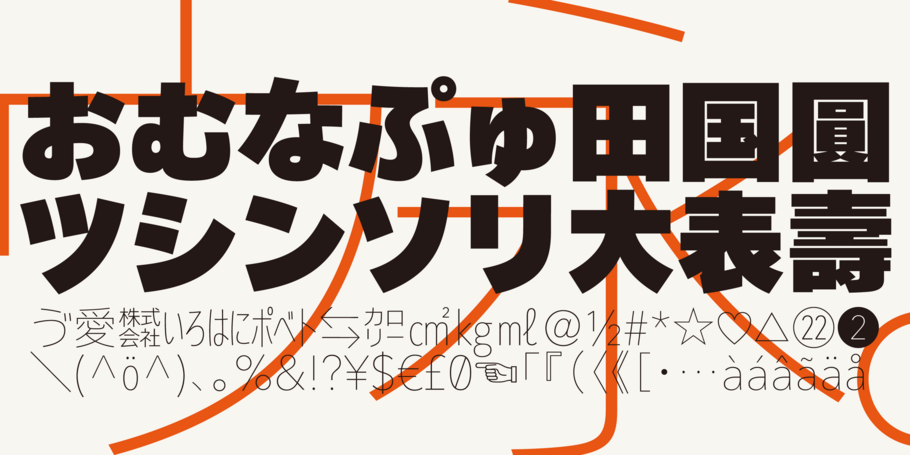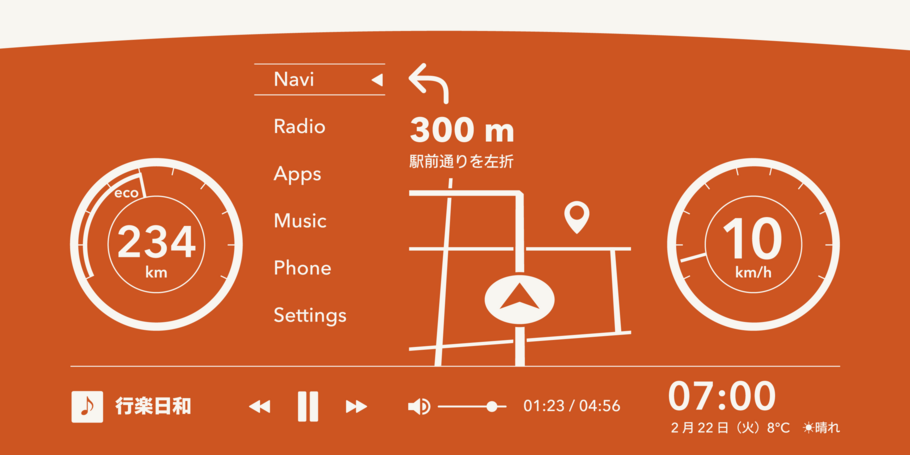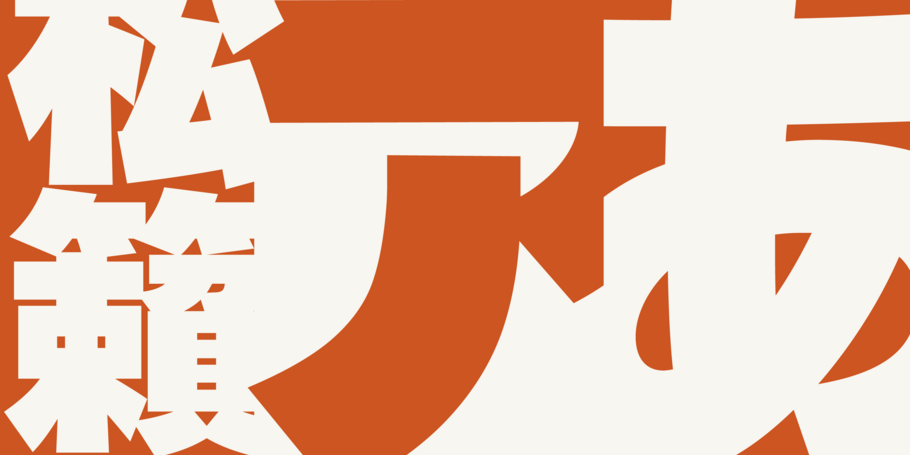 Purchase Shorai Sans. 
You can try Shorai on Monotype Fonts for free today, click here for more. All weights are also available for purchase from MyFonts.  
Akira Kobayashi, Ryota Doi and Yukihiro Nakamura designing Shorai Sans.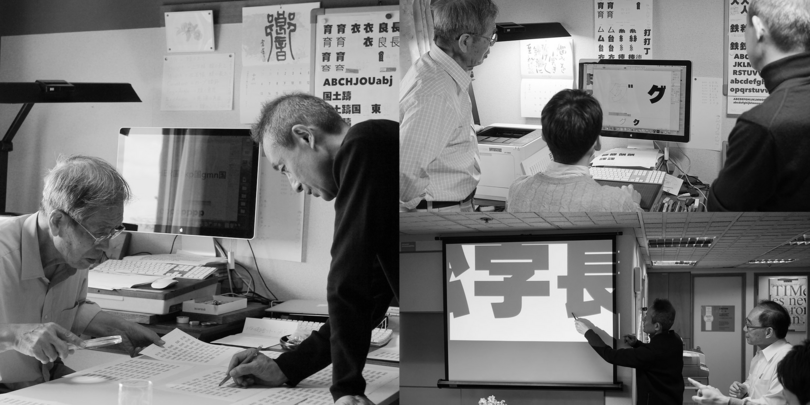 Shorai Sans.
FS-1-5461