Musings from the metaverse: early NFT lessons for the type industry.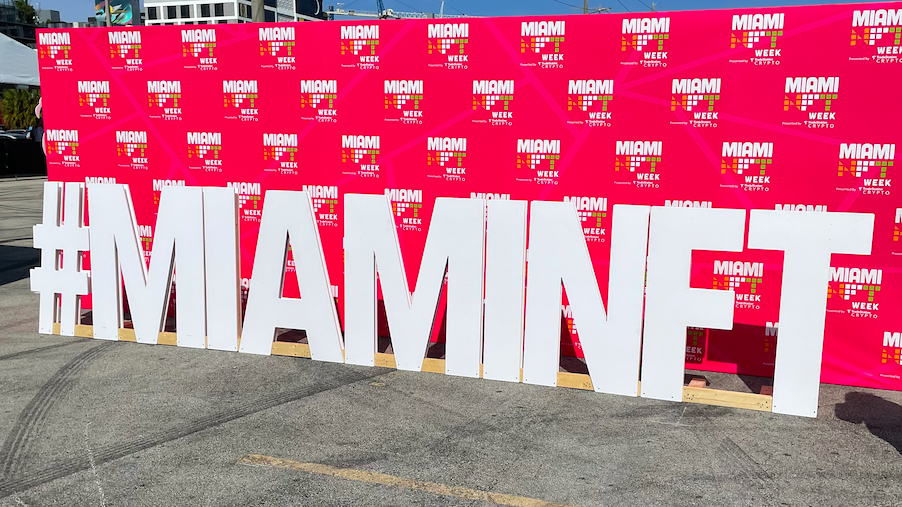 "
NFTs have the power to create a self-sustaining community where people inspire one another and foster a sense of belonging. 
"
We recently attended NFT LA and Miami NFT Week, where we mingled with investors, designers, artists, and blockchain builders. The discussions illuminated exciting potential for the type industry to expand its reach into new environments like NFTs, the budding metaverse, and Web3. As Monotype embarks on its first collaborative NFT project, we were keen to learn more about these new worlds from the people who are already immersed in them.
Here were the major insights we took away from both conferences:   
The metaverse is physical too. 
Some may envision the metaverse as a dystopian existence lived in a digital world devoid of physical contact and immersion in nature. But if these conferences are any indication, "mixed reality" – or a combination of the digital and physical – is the future. Estée Lauder gave away more than 100,000 NFTs in the metaverse Decentraland that upgraded avatars with a "golden glow." After the giveaway, the brand encouraged users to experience the product in real life with a discount.
Physical engagement was part of each experience, from swag and giveaways to partnerships between metaverse locations and traditional brick-and-mortar spaces. We expect to see metaverse participants determining how and what they tokenize, how they infuse their brand into mixed reality, and how mixed reality improves the experience of physical products. For the type industry, we envision future in-person events reserved for NFT holders, physical giveaways tied to digital ownership, and more creative ways to immerse people in a mixed reality.
Text is critical, and people get it. 
Conference attendees were either enthusiastic about fonts (the creator crowd) or immediately understood why text would be an important element of functioning mixed reality. Even though this audience is not the traditional buyer or power user of type, they still understood the value of type.   
Community is key. 
At their core, NFTs offer a digital token with some form of utility. Some of that utility may be an investment into a piece of art, in the same way a traditional art collector would buy and hold onto a painting or sculpture. But for many NFT projects, the utility has something to do with access or community value, offering buyers access to new products, experiences, and one another with their purchase. There are NFTs now circulating around sports franchises, golf enthusiasts, and entire gaming worlds. There was a panel of esteemed "NFT Kids" sharing their work – the youngest was 9 years old. When you buy an NFT from her, you're investing in her future, and trusting that she will build new value.  Owned communities have the potential to shape products and create value. Discord has disrupted social media by allowing people to opt into curated, exclusive dialogue with others who share the same passions and values. This creates a self-sustaining community where people inspire one another and foster a sense of belonging.  And when membership includes a financial incentive through shared ownership, communities will often come together to promote the launch of each other's work. The typography community is already enthusiastic and engaged in real life; we're optimistic about the power of this community in owned online spaces as well.  
The drop is just the beginning. 
There are many people who scoop up NFTs with the expressed intent of flipping them for a quick profit. However, the most successful projects are those that focus less on the drop and more on the roadmap. A roadmap lays out the future evolution of a project for potential buyers, demonstrating both credibility and long-term value creation. The most famous NFT project to date, the Bored Ape Yacht Club, has a floor price now in the millions thanks to a roadmap that linked club membership to an NFT purchase. You may be surprised to learn that it took three months for them to sell out from their drop - at $100 per piece.
The versatility of type as both an art form and a utility, with endless potential related products and experiences, has ample runway for these kinds of roadmaps.  
Authenticity matters. 
Security was a hot topic at the event. As with all bubbly movements, participants must be vigilant against scammers. We identified three primary differentiators that build trust in a project:
A fully "doxxed" team.  In the meta world, many people identify themselves only with avatars and curated usernames. Good projects include transparency about the team that's behind them.
Reputational risk. Another strong indication of a legitimate project is one that's managed by a person or organization with a good reputation. Few creators would risk their hard-earned reputation on a scam!
A Web2 brand. Interestingly, at this nascent stage of growth, people value brands that have a strong Web2 footprint. That's not to say there are not successful Web3-only brands; there are, but that Web2 presence indicates longevity.      
Partnerships are everything. 
Interbrand's 2020 report noted the rise in "unexpected partnerships," and we expect this trend to continue in a big way across verticals and untethered audiences. A good example of this was at the "big game" to end the NFL season; Rocket Mortgage's commercial spot included a QR code that drove to online shoe store StockX's website. NFTs have poured even more fuel into this partnerships ecosystem, with individual creators teaming up with one another, digital brands, and Web2 entities to create dynamic, unique projects that capture attention from a cross-section of consumers.  
Something big is coming. 
We're excited to share that we're collaborating with James Sommerville's new collective, KnownUnknown, on an NFT initiative centered around Helvetica, the world's most famous typeface. The project includes partnerships with 25 artists who will continue to create for the community beyond the initial drop. Sign up to stay in the loop on our progress.