Punctuation series: The dagger and double dagger.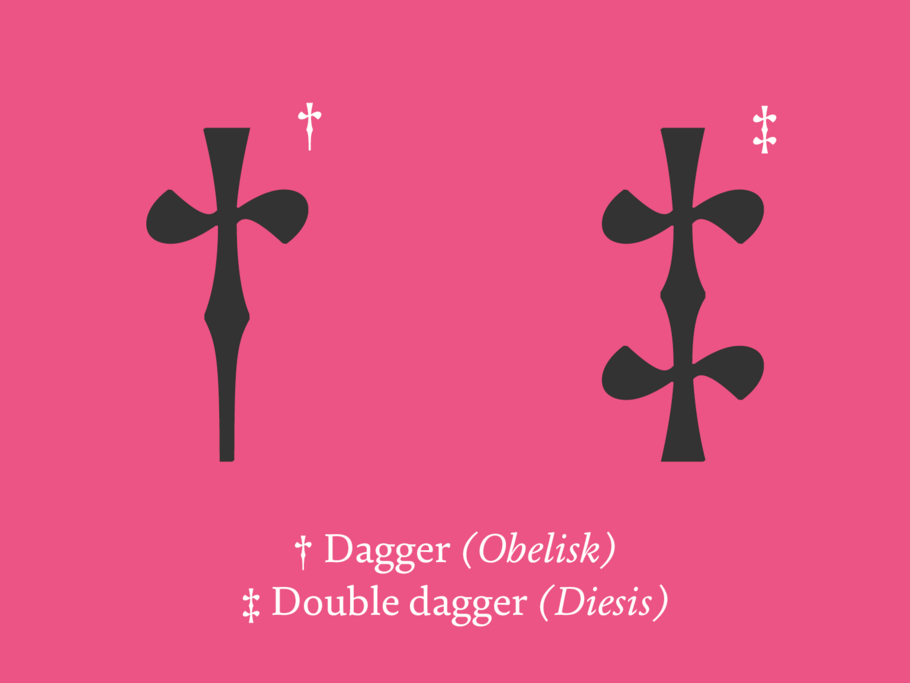 The dagger is an unusual character that many people don't know exists but when I was designing FS Brabo it was one of my favourites. There is the dagger and the double dagger also known as the Obelisk and the Diesis. They are lesser known punctuation characters but have a surprising array of different uses.
The most widely known use for both is within footnotes after the more common asterisk (*).
*This is the first footnote
†This is the second footnote
‡This is the third footnote
The dagger also has a more morbid use to indicate death when placed immediately before or after a person's name: †King Henry VIII. And when inserted beside a year it symbolises the year of death (the asterisk can be used in the same way for the year of birth): †1547
Another use from the Oxford English Dictionary is to indicate an obsolete word alongside the label Obs.
And it doesn't stop there, this Wikipedia page lists several other uses including chess where the dagger can be used to infer that a move resulted in a check and the double dagger a check mate, in cricket it indicates the wicket keeper and in physics a Hermitian adjoint.
So how do we go about inserting them into text?
The shortcuts are: Mac hold down the option key and press T. On Windows hold down the Alt key and type 0134.
Another option on a Mac is to go to 'Edit' and select 'Emoji & Symbols', you will find them both in the punctuation section. On a PC click on the start button and type 'charmap' to bring up the Character map dialogue box with all the character options displayed.