Artificial Intelligence journey at Monotype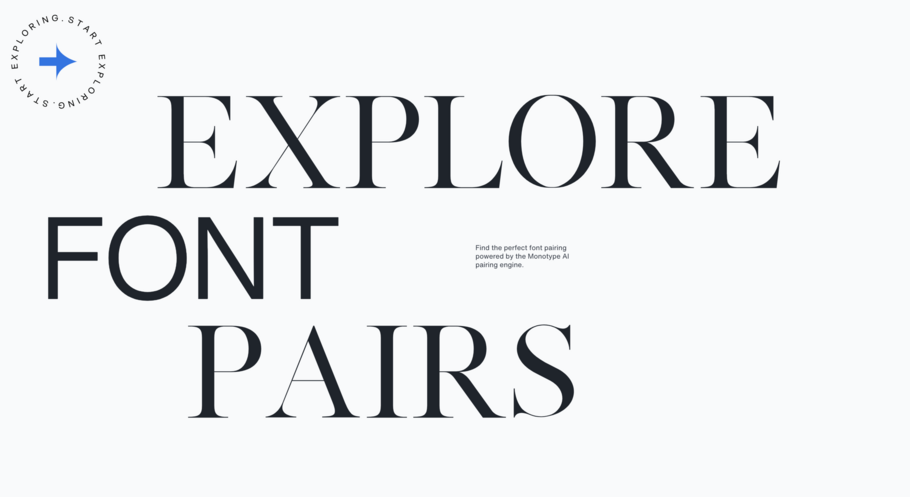 "
Finding fonts that fit well with a project can be challenging and time-consuming. Fortunately, AI and emerging technologies can make it much easier.
"
Our lives are becoming increasingly digital, and the part of our digital life that's grown the most in recent years is e-commerce. Whether ordering something from Amazon or browsing a clothing site for the perfect new shirt, it's getting easier and easier to find what we're looking for online. But as it stands, there are still some ways that search and discovery on many fonts-related e-commerce sites can be improved — such as by using machine learning to help inform their results.
Similarly, finding fonts that fit well with a project can be challenging and time-consuming. How do you know what kind of fonts you need? Fonts might look different depending on the type of media they will be used in. Finding the right font is not always easy, but fortunately, AI and emerging technologies can make it much easier.
Read more to discover how machine learning and AI are incorporated into Monotype offerings to improve browsing and font discovery.
Introduction to Machine Learning and Artificial Intelligence.
If you're an online shopper, you've likely encountered some form of machine learning or artificial intelligence without realizing it. With the amount of data e-commerce companies have on their customers, it's no wonder these cutting-edge technologies are increasingly being used to personalize the shopping experience.
In simple terms, Machine learning is a type of artificial intelligence that allows computers to learn from data without being explicitly programmed. So essentially, machine learning teaches computers how to learn independently. This also means that e-commerce companies can use machine learning algorithms to automatically improve their systems by making predictions or recommendations based on past behavior.
So, what does the future hold for machine learning in online shopping? We can expect it to play an even more significant role in making shopping more accessible and convenient for consumers. Retailers will continue to use it to gain insights into customer behavior and personalize the shopping experience. So, if you're an online shopper, get ready for an even smoother ride!
Discovery challenge in the Fonts domain.
There are countless typefaces worldwide, offering designers seemingly endless choices to suit almost any project. The Monotype Library alone gives designers access to tens of thousands of typefaces.
But finding a suitable typeface can be a challenge. Sometimes you might be seeking an alternative to a popular, ubiquitous typeface. Or maybe you're struggling to find the ideal combination of aesthetics and functionality — language support, character sets, etc. This is all incredibly challenging when you don't know exactly what you're looking for.
Improving discovery in Monotype.
Monotype's research team has created a set of AIs that ease the whole discovery experience. A few of them are:
Font similarity/Font alternates.
An AI-driven engine that can identify if two fonts are similar or dissimilar. This AI engine looks at the visual appearance of a font rather than the technicalities of the font. How similar are the two fonts to the eye of the viewer? This AI can also suggest alternates to a font if the original font is unavailable or doesn't fit the exact requirements.
Font classification.
Most typefaces can be classified into one of four basic groups: those with serifs, those without serifs, scripts, and decorative styles. Over the years, typographers and scholars of typography have devised various systems to categorize typefaces more definitively. A classification system can be used to identify, choose, and combine typefaces. While the four categories are inadequate for design professionals, dozens become self-defeating. Our AI engine can classify the fonts into 14 sub-categories based on the historical and descriptive nomenclature first published in 1954 as the Vox system.
Font moods.
While font classification is understood by font experts or people who deal with fonts regularly. Most of us want to use fonts based on their usage and the mood associated with the font. The mood of a typeface is the way the font is perceived by most people. This is not strictly defined as Font classification but mostly how the font feels.
WhatTheFont.
WhatTheFont uses deep learning to search our collection of over 200K font styles and find the best match for the fonts in your photo. It even works with connected scripts and when there is more than one font in an image. Just upload an image, click the font you want to identify, then check out the results.