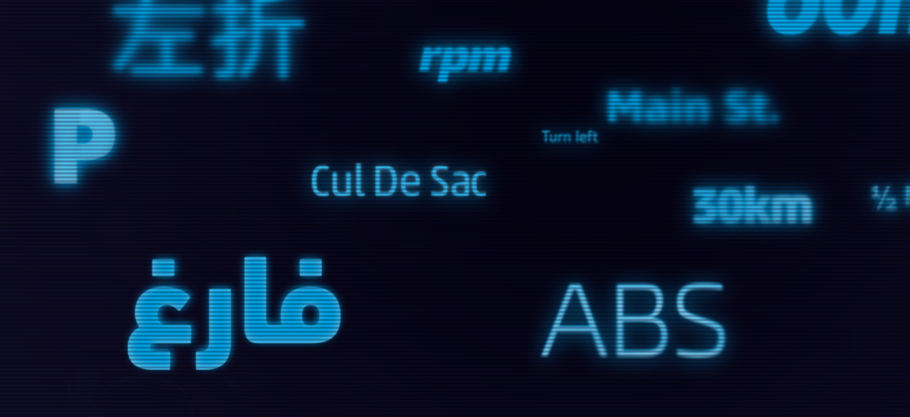 "
Fonts for cars must emit visual appeal and brand consistency, while being exceptionally legible and readable at a glance.
"
Absorbing information quickly is more than a convenience at 60mph. Fonts for cars must emit visual appeal and brand consistency, while being exceptionally legible and readable at a glance. This collection illustrates a sampling of typefaces that can be read easily to help keep drivers' eyes where they belong — on the road.

In designing the Avenir® typeface, Adrian Frutiger drew inspiration from both past and future. Frutiger added a touch of organic humanism to his design, freeing Avenir from the rigid geometric overtones of earlier fonts.
In 2004, Frutiger, together with Linotype's in-house type designer Akira Kobayashi, reworked the Avenir family to address on-screen display issues. The result was the Avenir Next typeface. The blending of geometric and humanist elements contributes to the Avenir typeface's high legibility, making it ideal for quick-glance environments such as automotive HMI panels and displays.

A relatively new font, the Burlingame® typeface is a sturdy design with open, clear shapes that offer outstanding legibility, especially in constrained digital settings. This font embodies a humanist, handcrafted quality, which was modified based on what was learned from automotive UI legibility research commissioned by Monotype, making Burlingame ideal for digital instrument panels in any vehicle.
The Burlingame typeface is a melding of traits pulled together in response to the needs of automotive displays: flat terminals, sharp corners, super-elliptical bowls, and generous spacing. Its simple shapes and deep triangular cuts also help ensure clarity and legibility at small sizes, especially on low-resolution screens.

Adrian Frutiger was a world-renowned type designer. His namesake font design is distinctive and ideal for wide variety of uses. Originally intended for airport signage, the Frutiger® typeface is very legible from a large number of distances and angles. A classical typeface, Frutiger combines the legibility of a humanistic sans serif font with the visually appealing geometric lines of a grotesque sans font.
The Frutiger typeface has been adopted by many corporations and governments for its modern, warm look. This font's openness makes it extremely visible, and its distinctive letterforms avoid blending into one another.

The Tipperary™ typeface is a monoline humanist sans serif font with clear, open letterforms. Its austere characters offer exceptionally quick legibility, perfect for digital UI displays. To create this font, many classic typeface designs were reinterpreted and combined. The result is a font which excels within the technological constraints of modern display screens while retaining the proportions and form that made it a favorite in print.
Tipperary's letterforms curve abruptly in an almost squarish geometry, making it one of the best fonts for quick-glance environments such as automotive gauges, displays, and interfaces.

The Daytona™ font was designed by Monotype's Jim Wasco with legibility in mind. It features sturdy, squared letters, which are based on humanist shapes and proportions. The Daytona typeface's letterforms are narrow, which maximizes space and promotes easy reading. Its rounded corners, open counters and simple character shapes make Daytona one of the most legible fonts in the Monotype library.
The Daytona typeface performs extremely well in nearly every on-screen environment, including automotive user interfaces, digital dashboards, and GPS devices.

In an unlikely meeting of adjectives, the Akko™ and Akko Rounded companion typefaces are routinely described as both "industrial" and "fancy," thanks to designer Akira Kobayashi's softening of what started out as an austere industrial concept. The name was derived from the first two letters of its famed creator's forename and surname.
Akko is a friendly yet very contemporary design, which is highly legible but stylish. The 'bare bones' skeleton of Akko's letterforms reduce visual crowding that occurs in other design genres.

Mayberry was initially designed to emulate the technical behavior of a font family called Tiresias™ for use in set top TV devices and user interfaces. Mayberry is a significant improvement in aesthetics and functionality over Tiresias.
Mayberry includes true italics and a wide range of weights to provide the highest quality and readability on low resolution devices, while also featuring a range of OpenType features that will appeal to creative professionals. Mayberry is a slightly condensed humanist sans serif which allows for more readable text in a narrower column. Open counters and upright stress help keep the design of Mayberry readable at low resolutions.

The Trade Gothic font family stands out as a staple of American graphic design work, in constant use since its release by Jackson Burke in 1948. Having also enjoyed use internationally, the designs were, for a time, even seen as a competitor to the Helvetica® family.
A 2008 version, named Trade Gothic Next, refined and expanded the classic collection, ushering it into a new era of popularity. This dissonance adds a bit of earthy naturalism to the appeal of the Trade Gothic designs and is one of the reasons many designers return to it.
Trade Gothic Next is the most legible of the Grotesque Sans genre. The design has an approachable feel with open forms and spacing that perform better for glance-based reading in interfaces.

The Slate typeface family melds superb functionality and aesthetic elegance into a remarkable communications tool. Few typefaces possess the beauty and power of this design.
Slate is the work of Rod McDonald, an award-winning typeface designer and lettering artist. At one point in his forty-year career, McDonald participated in a typeface legibility and readability research project conducted by the Canadian National Institute for the Blind (CNIB). There, McDonald learned which design traits were best suited to maximizing character legibility and text readability.
Slate is a stylized Humanist typeface offering a warm visual experience. Slate offers the user comfortable reading even in challenging technical environments.

A clear and compact design, Hendrik Weber's Unitext is an adaptable and efficient sans serif that lives somewhere between grotesque and humanist styles.
Unitext draws on extensive research into what design agencies need in a branding typeface, as well as designer Hendrik Weber's own experience creating custom fonts for companies. Understanding the popularity of sans serif typefaces used for branding – but also their shortcomings – Weber set out to create something that could be adaptable across different environments, but without foregoing friendliness. Readability was also an essential consideration.
Unitext is a new hybrid of type styles offering a contemporary, forward-looking appearance rooted in readability and futuristic elegance.
Perfect legibility. Unmatched design.
Steve Matteson, Creative Type Director for Monotype, curated this collection to illustrate a sampling of typefaces that can be read easily to help keep drivers' eyes where they belong—on the road. By selecting the right typeface for your dashboard or HMI, you'll help ensure your automotive display is highly legible and has a peerless design your audience will love.