Preparing for digital transformation: Three trends from Adobe Summit 2019.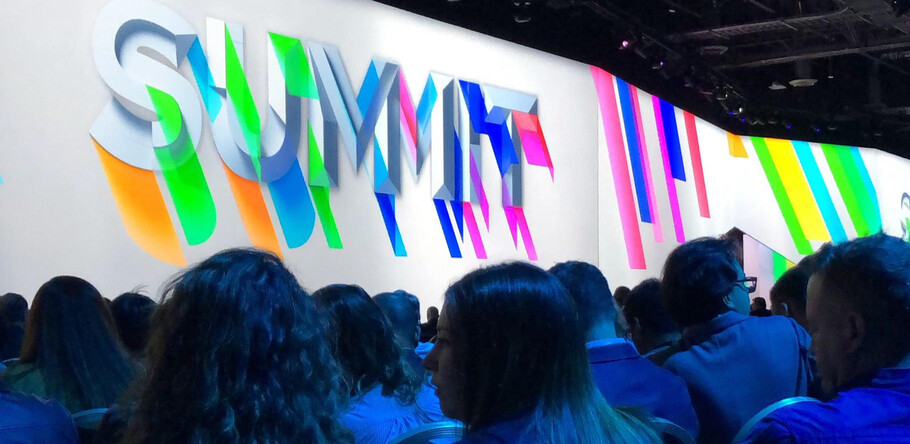 "
Focus on analytics and data, perhaps unsurprisingly, they believe this to be the foundation of a successful digital transformation.
"
Last week, thousands of marketers, advertisers, and creatives converged in Las Vegas for the Adobe Summit. Held at the Sands Expo Convention Center, the event featured a myriad of opportunities for training, networking, and sharing industry best practices, with tracks segmented across several verticals including financial services, media and entertainment, retail, travel, and more.
Monotype was on hand and was excited to be a sponsor of the event, meeting many like-minded marketing and creative leaders, giving away cupcakes (and eating them ourselves!), and sharing more about the recent enhancements to our Monotype Fonts platform.

Additionally, our team had a chance to attend several sessions, and noticed a few primary trends that we believe will be relevant to the brands and teams that we most often serve. Notably, while last year focused on ways to develop engaging content, this year, the conversation centered on how brands can develop a more accurate and effective distribution methodology.
Here are three other concepts that were most prevalent at this year's event.
Transforming your brand for a digital future
Many conversations at the Summit centered on ways for brands to become more agile and digitally-focused in order to build deeper, more meaningful relationships with today's consumers. Of course, for larger more traditional organizations, adopting a "digital-first" mindset can be quite challenging. 

In one session, entitled "Albertson's Digital Transformation and the Customer Experience," attendees learned how the second-largest supermarket retailer in the country evolved to address their customers' needs through digital communication. Angel Singh, Director of Analytics & Experimentation, and Paul Johnson, Director of Platform, Product Management, shared best practices for how to align teams and achieve goals iteratively and effectively:
Do:
Focus on analytics and data, perhaps unsurprisingly, they believe this to be the foundation of a successful digital transformation
Ensure that you are measuring what is right for your business and your customers (and not what you think you may want to measure based on outside influences)
Test everything. Create a culture of experimentation and try new things frequently that will expand your understanding of both your customers and your brand capabilities
Remember that some of the most impactful changes you can make won't be the "sexiest"
Don't:
Don't change too much, too quickly. Take an iterative approach so you can measure the performance of each variable and maintain realistic expectations
Don't mess with what is working and what is sacred to your brand. Some things may be worth saving in your current model, so just work to optimize them
Albertson's has 20 brands in its family, and the team has become focused over the last year on having more fun with their brand styles and communication. And clearly, they are seeing success with this process, with a 113% increase in e-commerce sales in the past year.
Delivering true customer experiences instead of simple transactions
Another primary theme that we noted at the event was how brands can utilize technology and data to create more relevant and engaging experiences for their customers. In one session, entitled "Commerce and Content: How Coca-Cola realizes the Promise of Branded Commerce," Todd Skidmore, the Senior Manager of eCommerce for the brand shared how Coca-Cola has gone beyond traditional commerce to offer unique and tailored touch points for its customers. 

Discussing the wildly popular "Share a Coke" campaign, which began several years ago but has evolved largely due to consumer demand, Skidmore noted how "Share a Coke" is an example of how modern marketing relies on a co-creation strategy between brands and customers rather than more traditional one-way communication. 

"Share a Coke" began with one product, a customizable bottle of Coca-Cola, and has evolved into an opportunity to connect the brand with the varied lifestyles of its consumer-base. Over the past few years, Coca-Cola has created bottles with logos of professional and collegiate sports teams, holiday bottles with gift tags (which are also associated with a donation to the Children's Miracle Network), and bottles associated to popular life events such as weddings so the brand can be present at all stages of their customers' lives. 

Additionally, Coca-Cola noticed that customers were trying to personalize their bottles with other types of phrases, including nicknames, couples' names, and greetings. As a result, they increased the character limit from 18 to 36 characters, and today 38% of the customizable bottles sold are using longer messages. As Skidmore told attendees, "commerce shouldn't start because you have a product to sell, it should start because you can meet or predict the wants and needs of a customer."
Consumer expectations are driving innovation across all industries
It's no secret that today's consumers have increased expectations of the brands they buy from. And it was clear at the Adobe Summit that this reality is true for all consumer industries. Still, one of the more interesting verticals being impacted by consumers' behavioral changes is media and entertainment, which is of particular interest to us as we work with leading brands such as NBC Universal, Playstation, Warner Brothers, and many more. 

In a session entitled "What's Old Is New: The Rise of Direct-to-Consumer Models in M&E," a panel of category leaders spoke about how the entertainment space is breaking traditional models and adopting a more customer-centric approach. First up was Michael Goldstein, a Principal in Adobe's Media, Entertainment and Communications Digital Strategy practice, who addressed changes to advertising in the M&E space, including the growing need for mobile-first digital advertising. Today, 52% of marketers and agencies believe developing better ad experiences is a challenge, while only 25% of consumers have a positive view of mobile video ads (compared to 43% in traditional television). 

At Monotype, we are helping brands address this issue with our Content in Motion product, which helps brands create short-format video ad units at scale, optimized to mobile environments. 

Next up was Domenic DiMeglio, EVP, Distribution, Marketing & Operations, CBS Interactive, who spoke about CBS' journey to providing compelling experiences to digitally-native and cord-cutting audiences. The challenge, according to DiMeglio, is not so much getting customers to try your experience. For CBS, utilizing tentpole events like the Super Bowl and the Grammy's has worked very well in attracting trial users. 

The challenge comes with retaining and growing those relationships. With so much competition for eyeballs, media brands need to have a system of content that includes live events, tentpole franchises, and a library of compelling content. They need to provide all of this at a reasonable price and with the same level of quality as traditional television…which as one can imagine is really difficult. Fortunately for CBS, they have been able to achieve this balance and have noted immense growth on their CBS Interactive portal. 

Finally, Giles Richardson , Vice President, Digital Journeys, at T-Mobile spoke about the exceptional growth and success of the communications provider. Boasting nearly 80 million customers and growing, as well as a 0.9% churn rate, the "Un-carrier revolution," as Richardson called it, began when CEO John Legere decided that he wanted to disrupt an outdated industry. 

According to Richardson, over the past 6+ years the company has grown simply by listening to its customers. They got rid of contracts, allowed customers to upgrade their phones whenever they wanted to, partnered with media brands like Netflix to give bundled access, eradicated data roaming, so on and so forth.
Summarizing Summit
If we had to distill the key themes down to a single takeaway, it would be this: It's not about "digital-first," it's about "customer-first." And brands that are able to open dialogue with their customers, co-create experiences with them, and provide real value to their lives are the ones that will succeed now and into the future.

If you missed us at Adobe Summit, and want to learn more about how we can help you optimize your brand and better engage your customers, get in touch today.