Five takeaways from Brand New Conference.
This year, like many of you, we were excited to be back at the Brand New Conference hosted by our hardworking friends at UnderConsideration LLC. It felt good to reunite in person for a 2-day meetup of some of the most influential voices in design and branding, and witness captivating presentations, marvelous work, and of course some terrific type. Read on for some threads we picked up on during the first day.
1. Branding experts gonna brand, and rebrand, and rebrand.
A pattern we picked up on in many talks on Day 1 was the concept of living, breathing identities that are meant to be reimagined, refreshed, and even crowdsourced – almost continuously.
Nermin Moufti, creative director, strategist and co-founder of Field of Practice, showed off the evolution of the identity for Typeforce, a showcase of type-based art from Chicago + beyond which she co-chairs. The identity is reimagined with each event.
"
Typeforce is an identity meant to show up, spark joy, and then take a backseat.
"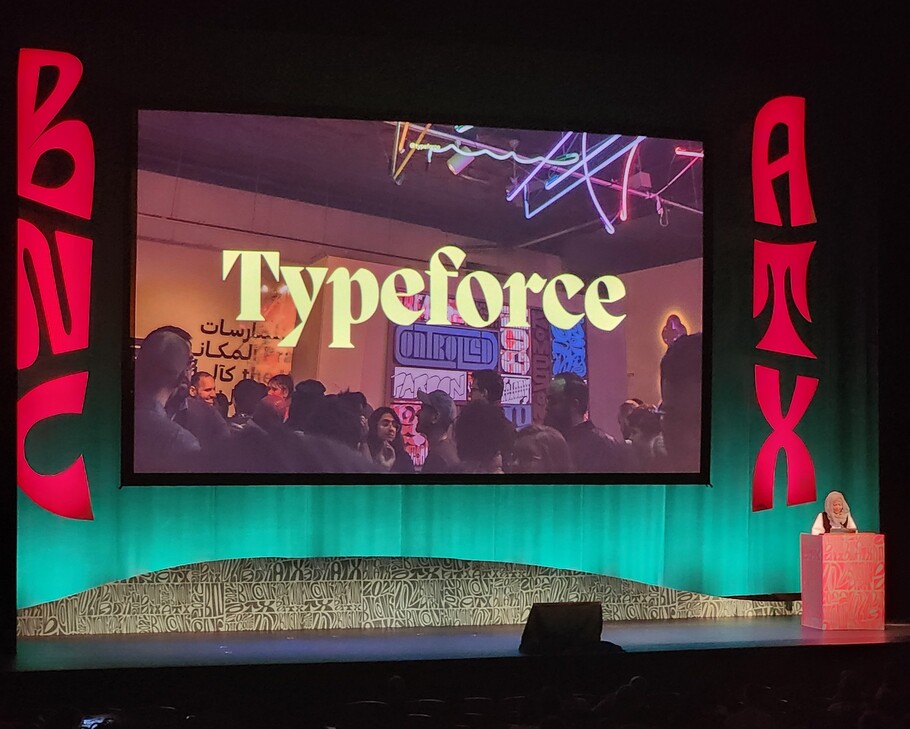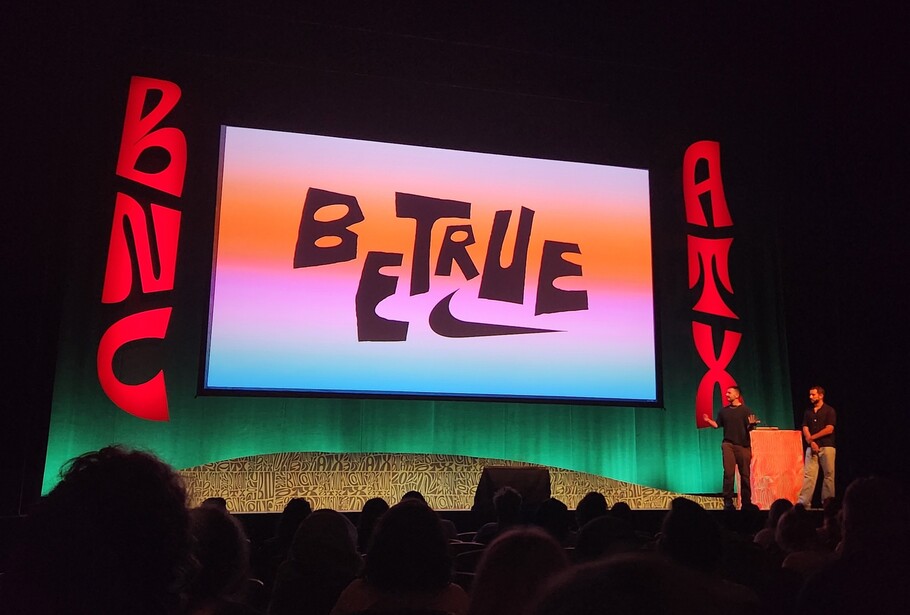 Felipe Rocha, Founder and Creative Director of PORTO ROCHA, had a similar perspective on his agency's design for Nike's Be True campaign.
"
My favorite thing about this project was is that the identity was made to be redesigned.
"
2. Be bold.
Another through line we observed was an emphasis on big, bold brands. Whether pushing the edge with experimental type, cheeky messaging, or scrappy TikToks, many spoke about the importance of having attitude and taking risks.  
This sentiment was present throughout Alex Center's presentation and in all the work he showed off. A Brooklyn-based designer and founder of the award-winning branding company, CENTER, their identity work for Chassie, a Bronx-based furniture company, stands out amongst other furniture brands with wild type that's a sturdy example of "organic mod" style called out in our 2022 trends report (Siri, play Aphex Twin).
"The most beloved brands are the most bold and courageous."– Alex Center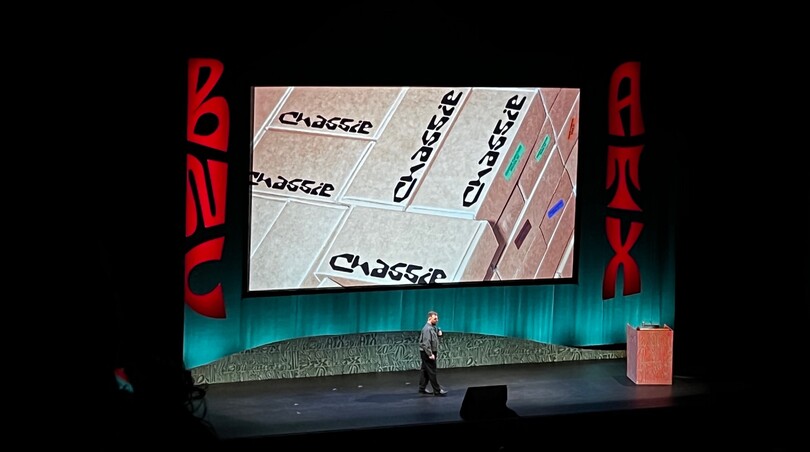 Nadya Okamoto, the 24-year-old Co-Founder of August, a lifestyle period brand working to reimagine periods to be powerful, makes upwards of 50 TikToks a day iterating based on their performance.
"
Our brand is about being fun, bold and experimental, if something doesn't work, we just don't do it anymore.
"
3. Great work comes from happy people.
It was encouraging to hear multiple founders truly prioritizing work-life balance in an industry that's often characterized by long hours and a tendency to sweep "self-care" aside in favor of winning pitches or perfecting the work. 
Alex Center read off a manifesto to a cheering audience including a passaged that said, "People first, people second, work third… Leave work at 6. the very latest 7. Don't make it 8."
When Nadya Okamoto was asked how she manages her own company, speaking engagements, having energy to ideate and so much more, the recent Harvard grad answered, "I sleep 10 hours a night."
Finally, PORTO ROCHA gave us a sneak peek into Design Threads, a research report that looks at the design industry as a whole and asks tough questions, including those about work-life balance and burnout. In order to get the report done they shut down commercial work for a week in order to focus on the research. When they asked participants which emoji would represent 2022, majority said the face melting emoji in part because of the overwhelming state of what it means to be a designer right now.
"
Technology is great because now I'm working from home and closer to my family and that's amazing. But I feel like I'm working now more than ever though. It's like not leaving my office at all. There's no nine to five, it's just like nine to twelve.
"
4. Be inclusive – not performative.
It's 2022 calling, do you know where your DE&I initiative is? In recent years we've watched brands aim to get more inclusive, some jumping on the PRIDE bandwagons for a few weeks, while others are slowing down to reflect and enact real change.  
PORTO ROCHA, founded by two queer Latinos, presented 5 key goals they're working towards, many of which focused on inclusivity and representation in design.
We want designers to have a seat at the table.

We want to connect brands with people and culture in meaningful ways.

We want to find our sweet spot of:

Design & culture and business & strategy

Craft and scale

High-quality and accessibility

Iconic and utilitarian

We will always be a design led company. Not a business that happens to sell design.

We want to prove that queer and Latino immigrants can run a global design agency in NY.
Maureen Raisch, a CLIO award-winning brand designer and illustrator with a focus in the pro sports industry. She currently works on the brand experience team for the National Football League and recently came out as trans. During her presentation showed off her work for the NFL's presence at the 2022 NYC Pride parade and shared insight into what it was like to transition while at the NFL (she was greeted with smiles).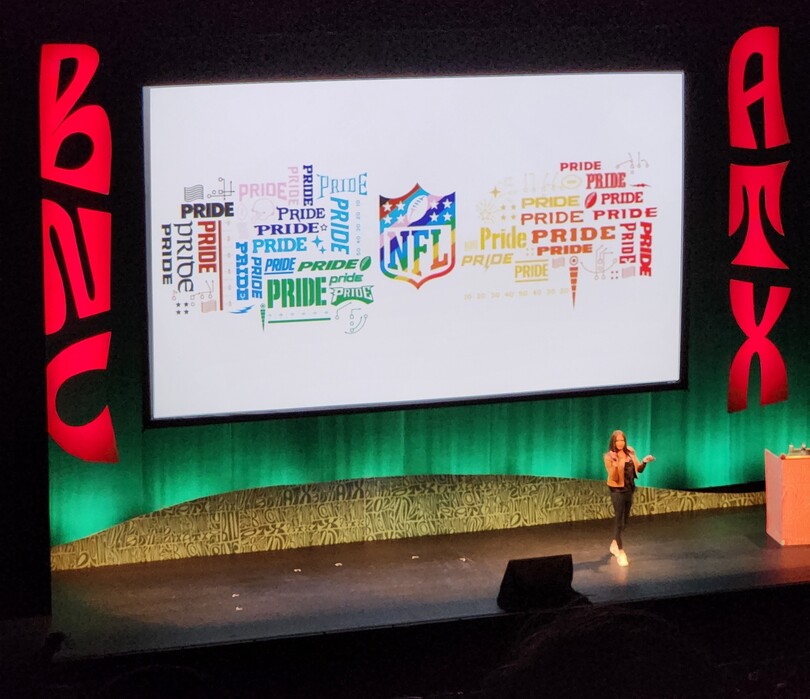 5. It all starts with type.
We're biased, but we were thrilled to see so many projects, identities and campaigns that started with hand lettering, sketches, inspiration from street signs, and so on. Keep an eye out for a post covering all things type @ Brand New Conference soon.