Meet Tom Foley, newest member of the Monotype Studio Team.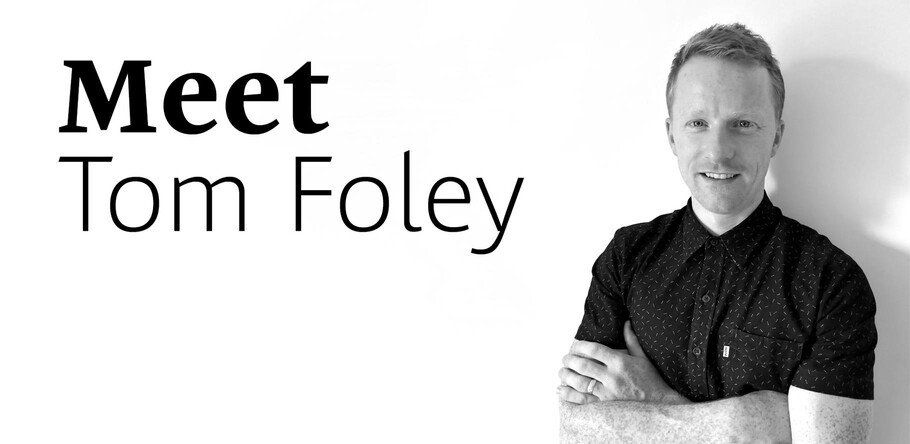 "
Type is possibly one of the most difficult crafts to learn, because a good typeface is about detail, function, and almost being invisible.
"
We'd like to introduce the newest member of the Monotype team, Tom Foley. As Creative Type Director, Tom will lead the Studio team in London. He took a few minutes to talk about fonts, exciting challenges in type design, and why he loves DIY home renovation.
How did you become a type designer?
Quite by accident! I studied graphic design and did my thesis on Irish typeface design history as part of my MA. The only way to respond to this was to design a typeface, so it was a very organic way to start. I worked as a graphic designer for a few years after graduating and did some amateur typeface design, and eventually found myself doing it full time.

My first 'real' typeface design was called Nib, and ended up being used for heritage plaques that appear all over Dublin.
What drew you to type as opposed to some other kind of brand asset?
I've had an interest in type since an early age. My uncle was a sign painter and he did many of the signs around where I grew up, so I would always be reminded of that when I went for a walk. The notion of being slightly obsessed with lettering came quite early. 

I also found out later that several relatives in my dad's family had been stone masons. This all meant that the idea of making a living from type and lettering was a reality. No one ever said to me that I shouldn't go to art college because you can't build a life that way.

I also enjoy the challenge. Type is possibly one of the most difficult crafts to learn, because a good typeface is about detail, function, and almost being invisible. That's a very difficult thing to do!
What do you think are the most challenging aspects of type design?
In the current moment, it's the need for type to be all things at once. These days, type is asked to do an awful lot of heavy lifting for brand recognition and as a functional asset, so that's a big challenge.

There's also a lot of new typefaces around, which makes it increasingly difficult to create innovative and interesting designs. That's a good thing and a bad thing, though, because it pushes designers to try something new.

Lastly, type as a technology has never had to respond to so much change. Type has to work on so many new platforms and be accessible and useful to huge audiences across traditional and new mediums. All things together make it a very challenging and exciting industry to work in.
What emerging type technologies are you most excited about?
There is a lot of technological developments that are having an impact on the type industry. I'm interested to see how new specifications and formats, like variable fonts, will find their place alongside existing formats. Variable fonts offer a lot of possibilities to type designers and users. How this plays out, I'm not sure. If variable fonts simply help to improve optimization and performance on the web, that would already be a great step forward.

Beyond the use of typefaces in new technologies and platforms (in AR/VR, for example), I'm interested in the way type is created. Typeface design software has in the past lagged behind tools for other creative specialisations, which were generally more intuitive for designers. This is improving, especially with apps such as Glyphs, which is opening up type design to a wider audience of novices and general design practitioners. Maybe we'll see new collaborative tools for the production of typefaces. Perhaps machine learning can streamline the production process, freeing up designers to focus on creative aspects. Who knows, but the possibilities are very exciting. 

It's worth remembering, though, that technological developments need to respond to user expectations, which will inevitably influence the way typefaces and font technology are made, delivered, and sold. We're already seeing this with the emergence of subscription based services and simplified licensing models.
"
In terms of real life influence, I think context is a big factor in defining my approach to design - as much as history and legacy.
"
Who is your biggest influence as a type designer?
My favorite typeface designer is Bram de Does, a Dutch designer who sadly passed away in 2015. A gifted lettering artist and calligrapher, he produced really innovative typefaces like Lexicon and Trinité. I'm fascinated by his ability to translate calligraphic, handwritten forms into type systems in a way that feels very natural. 

A close second, certainly, would be Adrian Frutiger, but I think he's everyone's favorite.

In terms of real life influence, I think context is a big factor in defining my approach to design - as much as history and legacy. With that in mind I think it's fair to say that my biggest influence as a designer working in the type industry has come from the many talented mentors, designers, account managers, and clients I've had the opportunity to work with.
What's your biggest design pet peeve?
This is the kind of question that can get you in trouble! Mostly I just want to see designers (myself included in that) taking chances and pushing boundaries, rather than stripping away personality and following trend. This is easier said than done, especially in commercial contexts, but it's something that should always inform some part of the designer's process, if possible.
What do you do in your free time?
I've spent the last couple years doing a lot of DIY home renovation. Several of my siblings are builders, so when I got into design I became known as 'Mr. Soft Hands,' but I love manual labor. My flat is in an old Victorian building, so there has been a lot of restoration, sanding of floors, and projects like that. 

What else? My wife has her own business, so I spend a lot of time helping her. She's a textile designer with her own brand and I enjoy helping when she's running a market stall or has design needs. And, of course, I sketch for about an hour a day.
What are you looking forward to working on at Monotype?
I'm very much looking forward to working with the many talented designers and engineers here at the Monotype Studio. The prospect of contributing to the output of such a great bunch of people is very exciting. I'm mostly known for branding work - lots of functional, workhorse sans serifs - which I do love to design, but if given the chance maybe I'd like to try a multi-script typeface with a handwritten feel.