Five takeaways from Brand Talks San Francisco.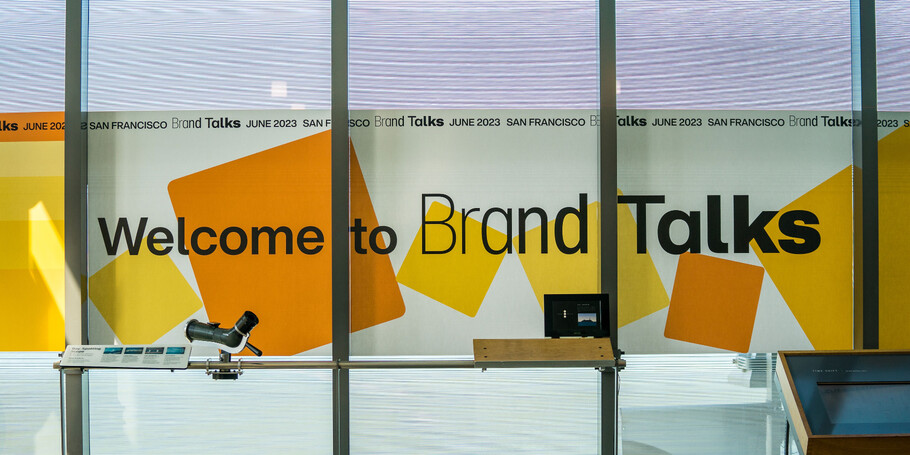 "
A strong community can drive growth, it's not just a fluffy marketing tactic.
"
Silvia Oviedo Lopez, Head of Content and Discovery at Canva.
Last week, Monotype descended on San Francisco for our first in-person Brand Talks event in the golden city since 2019. Our friends at Canva and COLLINS delivered thought-provoking, inspiring presentations to a packed room overlooking the northern waterfront. Read on for our thoughts following the event. 
1. No

 matter your background, income, or education, you should be empowered to design. 
Monotype's Jay Loo kicked off the evening with the story of his own introduction to typography and design which was not through art or design school, but through graffiti. Silvia Oviedo Lopez, Head of Content and Discovery at Canva, followed up with the chronicle of Canva, whose purpose is "to empower the world to design." Canva's values also include taking "the 1% pledge," in which they dedicate 1% of their time, profit, equity, and product to doing good. As part of that, the platform is free for educators and students and is currently home to over 130 million monthly active users, creating over 200 designs per second!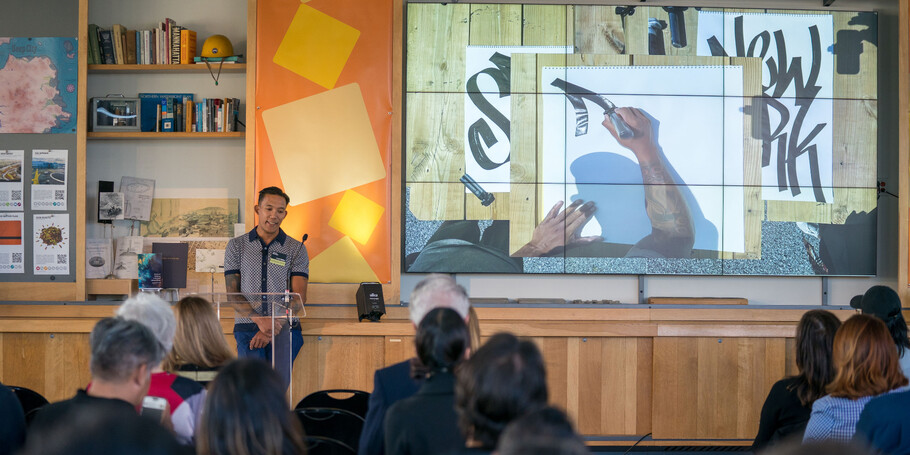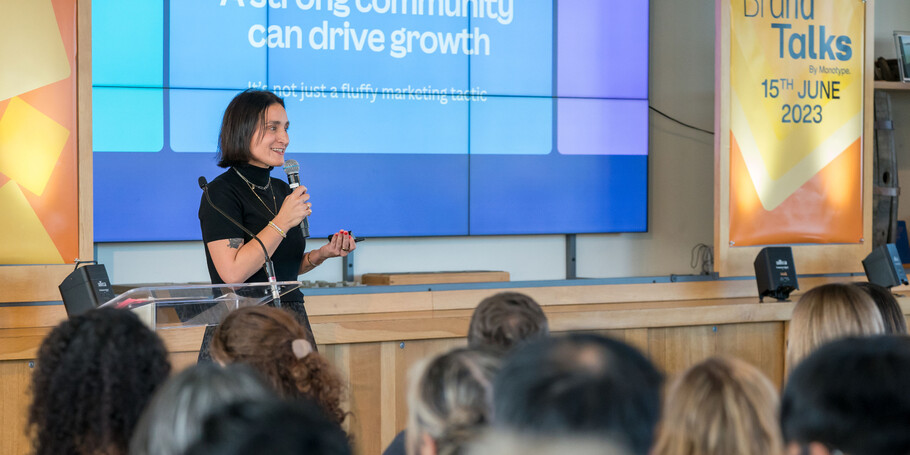 2.

A strong community can drive growth. 
Lopez went on to emphasize the value of Canva's massive community and their dedication to keeping the community happy and inspired. "A strong community can drive growth, it's not just a fluffy marketing tactic," said Lopez. Like many other brands, Canva wants to ensure they're part of their community's conversations, make complex things simple, and make what seems difficult, accessible.
The second session was the brand story for Freeform, delivered by Michael Di Leo, Managing Director, and Emily Sneddon, Senior Designer, at COLLINS, the team behind Freeform's recent rebrand. When Freeform came to COLLINS in 2018, they needed a fresh identity that communicates how the TV network tells diverse stories and supports emerging talent. Freeform's audience, primarily Gen Z, has "restless, fluid energy" and is not coming of age in a linear sense; they're always in a stage of growth. Freeform needed a visual identity that represented that. Di Leo and Sneddon walked the audience through their process which included months of research, multidisciplinary strategy work, and wildly creative approaches to the identity, with a motion-heavy logotype that was always twisting and morphing in on itself.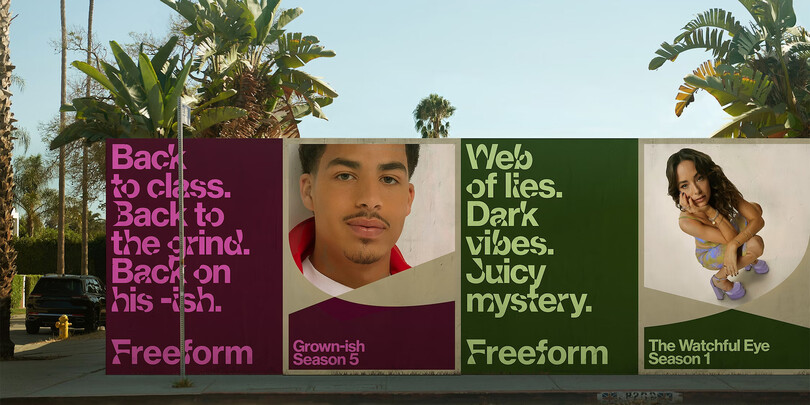 3. 

Build great products for real people.
Lopez shared how back in 2016 Canva's founders were working to secure funding in San Francisco and were told by investors that there was "no market for accessible design." But Canva's team saw the need for accessible design tools, and were determined to build a product that people actually wanted to use. Canva obviously overcame those challenges but their attention to customer needs remains laser-focused, Lopez mentioned that if they receive a score lower than 9 or 10 from customers, they dig in on those pain points to improve the score. Similarly, COLLINS worked tirelessly to deliver something to Freeform that could be rolled out simply. A motion-heavy, modular brand identity with many moving parts, meant COLLINS had to think about how Freeform's various teams would actually use the brand assets in their day-to-day. Along those lines, COLLINS brought in Monotype to develop a variable font meant to be used primarily for animations, giving Freeform the tools to create motion assets on their own at the ready.   
4.

Stay focused; but also, agile. 
We're all familiar with the ongoing challenge of staying focused in a world of distractions and priorities while remaining adaptable. Both Canva and COLLINS shared examples of how they stay focused on their "north stars" while remaining flexible when distractions like AI, or technical requirements arise. COLLINS used a research-heavy approach to their redesign for Freeform, but instead of wasting time with mood boards, they got straight to sketching when it came time for concept development. Their multidisciplinary teams started with rough sketches instead of wasting time on fully fleshed-out concepts and mood boards. Similarly, Canva has already launched over 10 products with AI, because they moved quickly. In fact, their first text-to-image feature was built in only 12 days.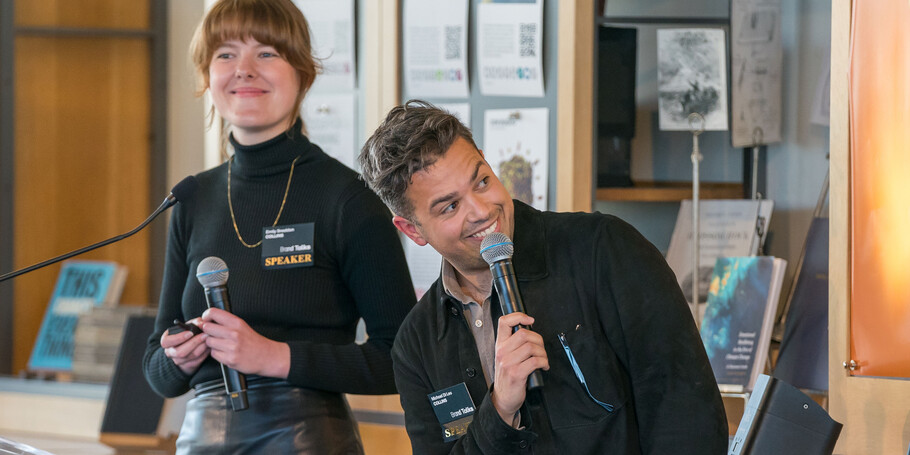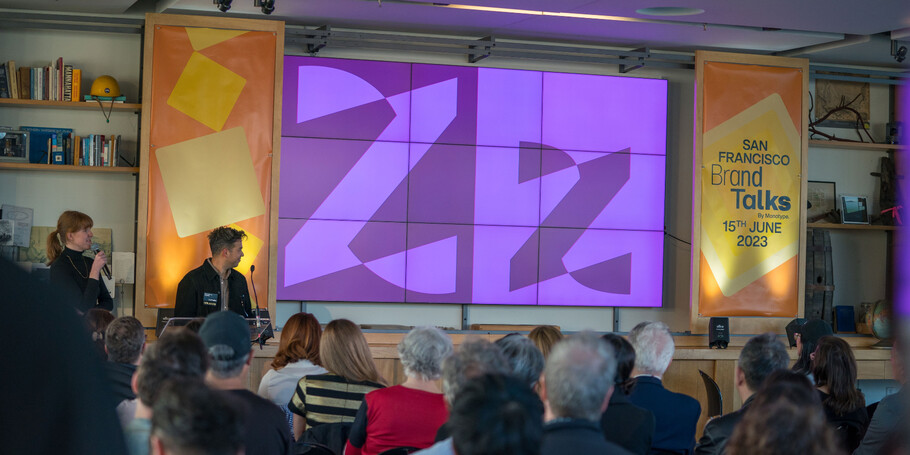 5.

AI can't replace the intricacies and nuance of human-led design.
Speaking of AI, while it's undoubtedly changing the ways we approach creative work, it's increasingly clear it can't replace human-led design and brand strategy. COLLINS' presentation demonstrated the magic that comes from a team working closely together in a trusted space where no idea is too wild. In the Freeform case, designers were able to take expertly led competitor, audience, and historical brand research as a foundation to spark inventive ideas. Sneddon said one of the reasons the project went so smoothly is that "everyone felt included and as part of the process," and from the first meeting, everyone had a chance to get attached to something about the project. Until there's a future where AI can conduct research, join in brainstorms, and think outside of the models it was built upon, human-led design will prevail. 
Thanks again to our speakers for sharing their inspiring stories. To stay up to date with future Brand Talks events and all things Monotype, sign up for our newsletter.