Creative Characters Ep. 20. Adam Weiler.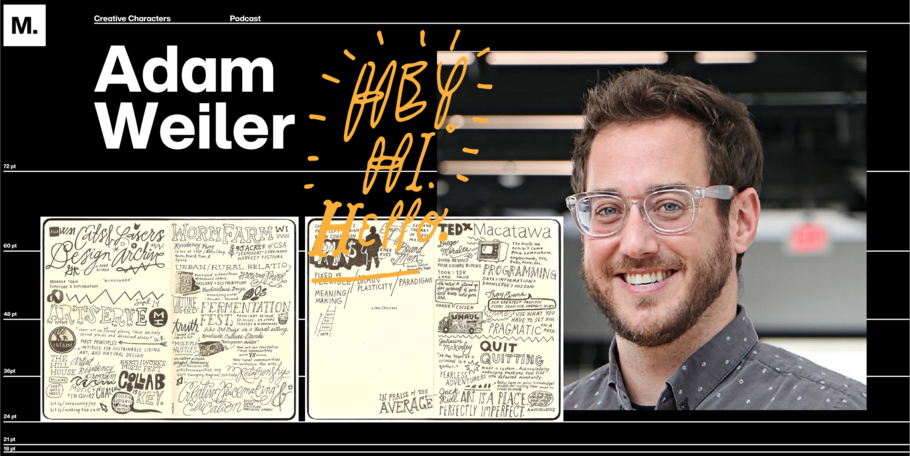 "
During my senior year I discovered design and that was like a bowl of cool water in the middle of the desert, it was the language that I had been looking for.
"
On Creative Characters, we meet the people and personalities behind the brands, campaigns, and designs we love. You can listen to the podcast on Apple, Spotify, Google Podcasts, and wherever quality podcasts are available.
In this week's episode, Monotype Type Director, Terrance Weinzierl has an inspiring conversation with designer, educator, and design thinker, Adam Weiler, who currently leads the social innovation program at Steelcase, a furniture company founded in Grand Rapids, Michigan.
Weiler shares his perspective on design thinking, strategy, his complicated relationship with the internet, and the meandering it took to find his place in the creative world.
"I would say my college years were spent wandering a bit in the desert. I wanted to be an aerospace engineer, then got really interested in physiology and anthropology and ended up with a degree in visual studies and math. I always loved creative problem solving. That's the theme that runs through both of those, the qualitative side of an aesthetic experience and the quantitative sort of anchoring and the hard numbers of math were really alluring," Weiler says. "During my senior year I discovered design and that was like a bowl of cool water in the middle of the desert, it was the language that I had been looking for. We just didn't have the program at the time to jump into it professionally in college."
That wandering and lack of exposure to design as a possible career option is what inspired Weiler to start Ambrose, an after-school program in downtown Holland, Michigan where students could explore their place in the world through workshops in screen printing, hand lettering, and other avenues.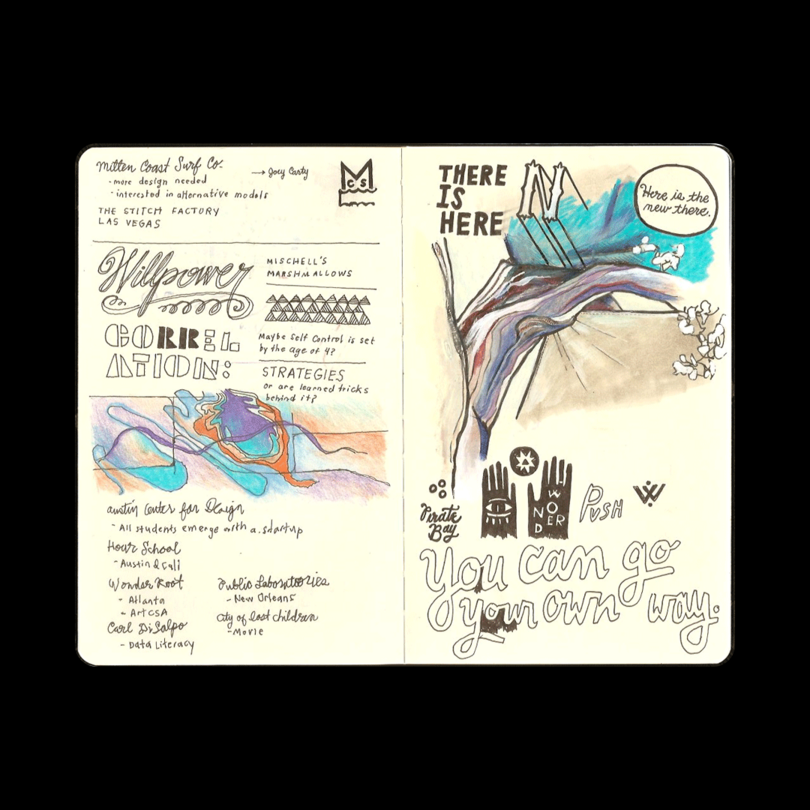 Ambrose went a step beyond the internet in that it gave kids a tangible, collaborative way to try new creative outlets and career possibilities together, in-person instead of isolated at home in front of a computer (or more likely smartphone) screen.
"It's one thing to have a mental connection to a concept or a skill set. It's another thing to practice, exchange, and to be gritty together as you're practicing critical making."
While the internet has clearly opened worlds and transformed access to opportunities, the two discuss the flip side as well, which is the overwhelming mass of information flooding our eyeballs on a day-to-day basis.
"There's the potential for the Internet to be this beautiful, vibrant thing that connects and helps build communal health in a really great way. And the flip side of that is it also has the potential to be disconnecting and disassociating of our body or our experience or our geographies. The internet is weirdly both an empathy machine and an apathy machine."

As a long-time design thinking coach, Weiler has a wealth of experience community building, running strategy for social services and using empathy and curiosity as the foundation for creative problem-solving.
"
One of the things that drew me to design was this question of being an effective problem solver. 'How do I make something that, aesthetically, is compelling and that functionally works?'
"
Weiler also started a firm in Grand Rapids, Michigan, called Public Agency, that fuses design thinking and equity frameworks. There, he collaborated with community leaders to develop and run workshops focused on social services such as building compelling library programs for students during the pandemic.
Now at Steelcase, Weiler heads up the social innovation team working to identify opportunities that align with their impact to help make our communities better. Last year Steelcase launched their social innovation lab to proactively identify education initiatives that address issues of equity or wellbeing exacerbated by COVID. They also ran a global study examining the benefits, unseen benefits, and setbacks of working remotely. While there are obvious positives, such as eliminating commute times, there are also potential losses of creativity and collaboration due to isolation.
A question we have all been examining over the past 18 months or so, is "what is the role of the office?" While many companies are settling on hybrid workforces that mix working from home and the office, Weiler (who is working in the office under a strict safety protocol), makes an analogy to what makes bees effective pollinators.
"
Part of what makes bees beautiful is that the path that they take isn't direct, their paths are wandering, making the environment more fruitful as they're pollinating.
"
Similarly, being back in the office has allowed Weiler to wander and meet hundreds of colleagues he wouldn't have met otherwise, giving him a broader picture and understanding of the work that Steelcase is doing.
To learn more about the great work Weiler is doing at Steelcase, visit https://www.steelcase.com/socialinnovationlab/.