Creative Characters Ep. 15: James Horwitz.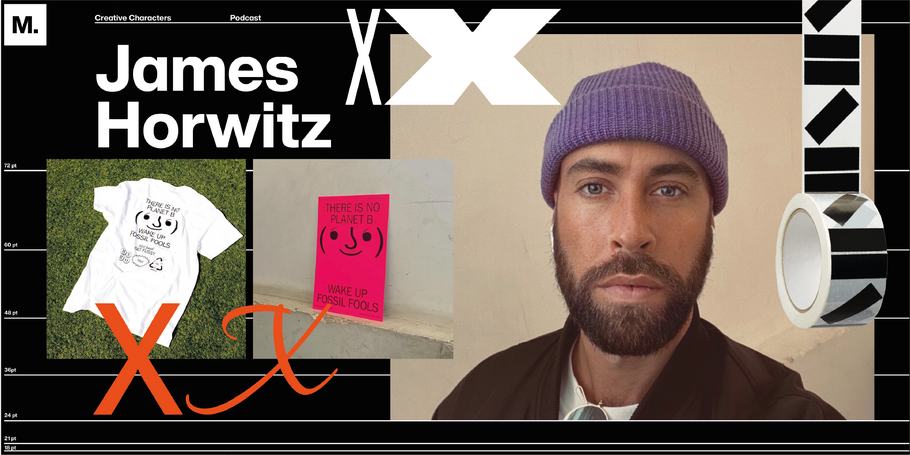 "
There's a lot of factors that help frame the successes of a project, but one of the most important is whether you create the foundations for a brand to build on top of.
"
On Creative Characters, we meet the people and personalities behind the brands, campaigns, and designs we love. You can listen to the podcast on Apple, Spotify, Google Podcasts, and wherever quality podcasts are available.
This week, Creative Type Director Charles Nix talks to James Horwitz, founder of the London-based design agency Two Times Elliott (IG: @twotimeselliott). Two Times Elliott featured heavily in Monotype's 2020 Type Trends report, thanks to its inventive use of bold type, and even a quick glance at their portfolio reveals an agency working at the cutting edge of modern design. James spoke with us during a London heatwave and shared the lessons he learned from founding a design agency, his approach to guiding clients through the creative process, and the impact of Instagram and social media on branding and design.
"For me, a brief isn't necessarily a list of deliverables," Horwitz says."In reality, it is our job to try and create a framework that provides longer-term success than the immediacy of delivery. And I think this is something that's a big part of the misconception about the role of a designer, especially within a brand-based studio. I would, say our output is extremely varied, but at the core, it's brand and an exercise to educate a client beyond the list of deliverables.
"I think it's important that we aren't simply known as someone who can bring a visual solution to life. There's a lot of factors that help frame the successes of a project, but one of the most important is whether you create the foundations for a brand to build on top of. It's that metaphor of, if you don't have the foundations done correctly, you may build a beautiful house and it may sit there for a couple of years. But then you start to get subsidence and the walls fall down and you get probably very angry wives or husbands and kids falling through the holes in the floor."