What's on tap for Adobe MAX 2019.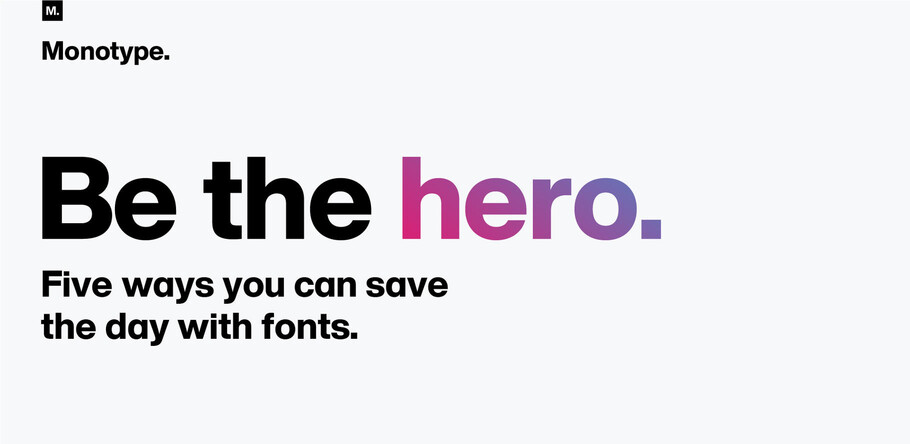 "
Find out how to thread the needle between something that distinguishes your visual identity from the competition without going too far afield.
"
Adobe MAX is right around the corner! Here's a quick look at what we have planned for this year's conference.
In Monotype's breakout session at Adobe MAX, Monotype Type Director Charles Nix and Senior Creative Director James Fooks-Bale will explore how fonts can enhance designs, helping to create experiences that are unique, recognizable, and engaging.
Charles was part of the Helvetica Now team and the designer behind the award-winning Hope Sans, so he knows a thing or two about how fonts can have a life and personality of their own. James oversees the development of Monotype's brand as its Creative Director.
Together, they will guide attendees through the crucial steps every creative needs to take when kicking off a new project, designing for an important product launch, or working on a brand refresh. You'll even get a sneak peek at the new Montoype.com, a major component of our own brand overhaul.
They'll focus on five key elements fonts can support:
Amplify and express emotion. Your fonts are your voice. Fonts can be quiet or loud, strange or serious, old fashioned or shockingly modern, calming or disruptive. See how fonts can help establish the tone and personality of a product, brand, or project, and why it's essential to understand how and why certain fonts convey certain emotions.
Recognizable, readable & legible. Fonts today have to perform in a huge range of environments, from tiny watch screens to huge billboards, with countless physical and digital use cases in between. Charles and James will outline what to look for when selecting fonts fonts that can handle the rigors of the modern world.
Take chances! Brands today are competing for attention in more places than ever, and a thoughtful font system is one way to stand out (in a good way, of course) among the competition. Find out how to thread the needle between something that distinguishes your visual identity from the competition without going too far afield.
They have to work. Fonts are more than just beautiful designs—they're software, and like any software, they need to be well-engineered, reliable, and up to the task of modern digital environments. See what goes into engineering today's fonts, and why it's important to use fonts you can trust.
Flex as needed. Fonts are not a one-and-done decision, but rather a system of designs that should grow and adapt over time as new opportunities and challenges arise. New products, shifting audiences, and global expansion can all require fresh designs and, quite often, adding new fonts to mix.
In addition to Charles and James' presentation, be sure to stop by the Monotype booth (801), where we have several exciting activities planned.
We'll be running our font quiz for the third consecutive year, with a fresh batch of free, custom-designed T-shirts for anyone who takes the quiz. Don't sit on this one, T-shirts always run out!
Mini sessions in our brand-new Monotype Theater, with exciting, top-secret giveaways for a handful of lucky attendees
An "inspo wall" featuring live hand-lettering on request from Monotype Studio type designer Kel Troughton
The unveiling of our first-ever Type Champions awards!
Charles and James' breakout session take place Monday, November 04, from 1 PM to 2:15 PM. Register today and we'll see you there!