Announcing the 2020 Type Champions!
Monotype is thrilled to introduce the recipients of the second annual Type Champions Award, a program that recognizes brands for their creative, innovative, and memorable use of typography in developing and maintaining their brand identities.
After an open nomination period and an extensive review process, the following brands have been chosen as our 2020 honorees:
Actual Source
Adidas
Australian Centre for the Moving Image
Baemin Vietnam
City of Helsinki
Duolingo
IBM
MoMA
Naturalizer
Studio Dumbar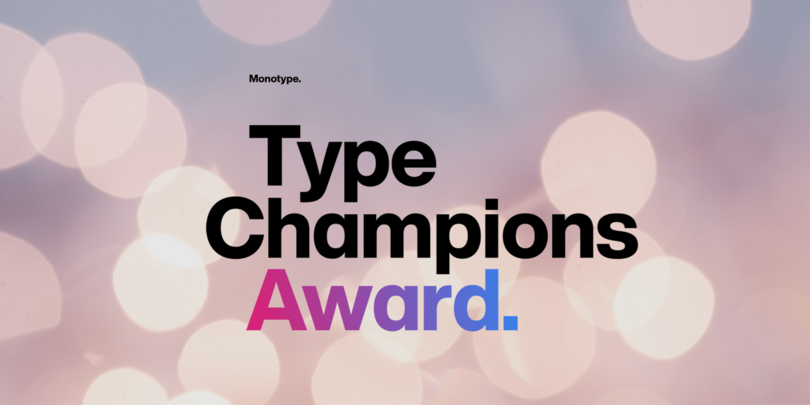 The Type Champions Award is sponsored by Monotype, but could not exist without the collaboration of our panel of global branding and design experts. This group includes:
Abbott Miller, Partner, Pentagram
Alejandro Paul, Type Designer and Founder, Sudtipos
Andy Payne, Global Chief Creative Officer, Interbrand
Bobby C. Martin Jr., Co-Founder, Champions Design
Blake Howard, Co-Founder and Creative Director, Matchstic
Brett Zucker, Chief Marketing Officer, Monotype
Brian Collins, Chief Creative Officer and Founder, COLLINS
Charles Nix, Type Director, Monotype
James Fooks-Bale, Creative Director, Monotype
Jenn Hilliard, Senior Manager, Brand Development & Strategy, Rocket Mortgage
Josh Miles, Chief Marketing Officer of SMPS and Host of Obsessed Show
Kirsten Dietz, Founder and Partner, Strichpunkt Design
Kristine Arth, Founder and Principal Designer, Lobster Phone
Mohamed Gaber, Founder, Kief Type Foundry
Nicole Johnson, Associate Director User Experience, Iconmobile Group
Patrick Märki, Managing Director, KMS Team
Perrin Drumm, Head of Publishing, A24
Rodney Abbot, Senior Partner, Lippincott
Sherina Florence, Creative Director, Ogilvy
Brand Identity for the Age of Adaptability
Agile. Adaptive. Future-proofed. Whatever terminology you use, this year has challenged creative teams to rethink how to build meaningful brand identities. Many of this year's Type Champions exemplify the need to adapt to new environments and consumer preferences.
Download our new report, "Reimagining Brand Identity for the Age of Adaptability," to learn more about three distinct characteristics that will define success for creative professionals in the coming years, including:
Accelerated digital transformation. Brand experiences have shifted online at a record pace, driven by consumer behavior.
Humanized brand identity. In a time of anxiety, consumers want brands to align with their values and communicate authentically.
Distributed creative collaboration. Forced into remote work by circumstance, many organizations are recognizing the longterm benefits and employees are advocating for balance as the economy reopens.
—
Thank you to everyone who nominated, promoted, and otherwise supported this program in 2020. The final list of award recipients represents a wide array of industries, regional coverage, and uses of typography, and we acknowledge that there are many other brands, institutions, and organizations of all sizes that are championing the value of typography worldwide. We look forward to continuing to find and celebrate all organizations who elevate design across brand identity!
If you have any questions or would like to connect and learn more, please email us at [email protected].
From our experts.
"
The 2020 Type Champions Award will celebrate the companies and designers that have found creative ways to use type to create authentic relationships with consumers.
"
James Fooks-Bale, Creative Director at Monotype