Monotype Receives Multiple Award Wins and Recognition From Distinguished Design and Creative Organizations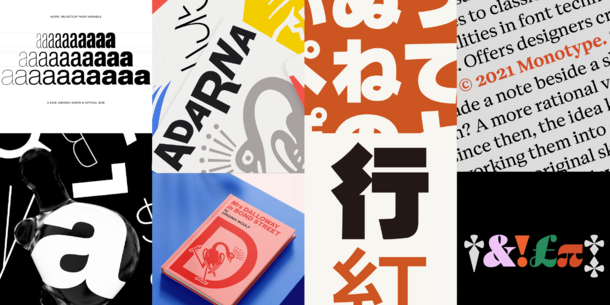 Monotype Receives Multiple Award Wins and Recognition From Distinguished Design and Creative Organizations
Innovative Designers and Imaginative Typeface Designs Earn Recognition from Fast Company, Design & Art Direction, Red Dot and Communication Arts 
WOBURN, Mass., Dec. 7th, 2022 - Monotype today announced design award wins and recognition from Fast Company's Innovation by Design Awards, Design & Art Direction (D&AD) Wood Pencil, Red Dot Design Awards and Communication Arts' Typography Competition for 2022 and 2023. The awards showcase Monotype's diverse collection of typefaces featuring some of the world's premier type designers. 
"Awards are great. Period. But they're also great for drawing attention to the creativity and details of really superb typefaces like Helvetica Now Variable, 耐克365 / Nike365, Cotford, Shorai™ Sans and Touvlo," said Charles Nix, executive creative director at Monotype. "These are some of the world's best typefaces from designers who are true masters of their craft. It's wonderful to see them recognized on a global scale. Type is such an integral part of brand identity. Hopefully these awards will put still more creative eyes on these outstanding fonts." 
2022 Fast Company's Innovation by Design Awards 
Monotype was named a finalist in the Graphic Design category in Fast Company's 2022 Innovation by Design Awards for its typography project, Helvetica Goes Variable: 1 Million New Styles.  
Helvetica Now Variable offers more than 1 million new Helvetica styles in one state-of-the-art font file, enabling designers, brands and consumers to create infinite shades of expression, incredible typographic animations, and ultra-refined typography. Helvetica Now Variable is not merely a continuation of the 2019 release of Helvetica Now—it unlocks new modes of typographic expression with untold depth, dimension, and possibility. 
"A common theme among this year's Innovation by Design honorees, which range from healthcare interfaces to autonomous driving technology, is permanence," said Brendan Vaughan, editor-in-chief of Fast Company. "The products that leaped out to our editors and judges went against our quick-fix consumer culture, while also manifesting a more inclusive vision of design." 
Now in its 11th year, the Innovation by Design Awards features a range of blue-chip companies, emerging startups and hungry young talents. It is one of the most sought-after design awards in the industry. 
2022 D&AD Wood Pencil 
Nike and Monotype were awarded the 2022 D&AD Wood Pencil, which identifies the best of the year in advertising, design, craft, culture and impact. Honored was 耐克365 / Nike365, Nike's first Chinese typographic identity created by the Nike Shanghai Studio and Monotype. This included 8,503 Chinese characters designed to stand out through both ultra-heavy weight and condensed typeset, two uncommon and difficult features for the complex Chinese written language.  
This award underscores Monotype's global reach, providing services for creatives all around the world, with uncompromising standards and creativity. 
Since 1962, the D&AD Pencil celebrates the best-of-the-best in design and advertising. This globally recognized award is the ultimate creative accolade and remains the pinnacle of many careers as the work inspires others to study, debate, copy and reference its excellence.  
2022 Red Dot Design Awards 
Three of Monotype's creative typefaces were awarded the Red Dot Award in the Brands & Communication Design category. Helvetica Now Variable, Cotford and Shorai™ Sans all received distinctions for high design quality. Judged by international industry leaders, these awards further showcase Monotype's authentic font selection and creative performance. 
Cotford taps into modern trends and future possibilities in font technology with its 21st-century design, while Shorai™ Sans is a geometric, intellectual-looking sans serif opening new horizons in Japanese typography. 
The Red Dot Design Award is one of the world's largest design competitions. The distinction, "Red Dot," is universally recognized for outstanding design quality. 
2023 Communication Arts' Typography Competition 
New to the Monotype Studio, Touvlo was named a winner in the 13th annual Communication Arts Typography Competition. Touvlo is a zestful, modern interpretation of a classic genre, skillfully capturing the spirit of early British grotesque typefaces while letting its own lively personality and energy shine. 
Of 1,112 entries submitted to the competition, 137 projects were chosen, which highlighted the best uses of typography, new typeface designs, calligraphy and hand lettering.
The Communication Arts awards are one of the most-coveted awards in the industry and are judged by designers from around the world. 
To learn more about Monotype fonts visit our website.
Creatives can explore the recognized fonts at the following links: 
###
About Monotype 
Monotype creates brands that matter with type, technology, and expertise. The company partners with leading foundries to deliver the broadest inventory of high-quality typefaces in the world. Further information is available at www.monotype.com. 
Follow Monotype on Twitter, Instagram and LinkedIn. 
Monotype is a trademark of Monotype Imaging Inc. registered in the U.S. Patent and Trademark Office and may be registered in certain other jurisdictions. All other trademarks are the property of their respective owners. 
©2022 Monotype Imaging Holdings Inc. All rights reserved. 
Contacts
Charlotte Simcock 
Public Relations, Monotype 
[email protected] 
 
Alice Broughton 
ThoughtLDR for Monotype – UK 
[email protected] 
 
Tanja Koschade 
Koschade PR for Monotype – Germany 
[email protected]
Harry Green 
ThoughtLDR for Monotype – France 
[email protected]