Monotype, Adobe Fonts and the ever-evolving font landscape.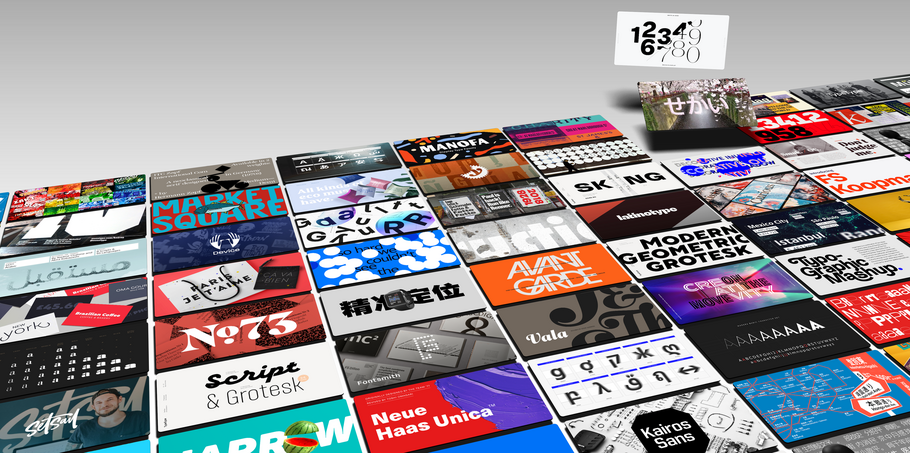 "
As a partner of Adobe, we love that there are hundreds of Monotype fonts at the epicenter of the Creative Cloud workflow.
"
By now you've heard that Adobe has changed the name of its Typekit service to Adobe Fonts. Essentially, Adobe is getting out of the business of fonts as a standalone offering and has wrapped these fonts into its Creative Cloud subscription applications.
As a partner of Adobe, we love that there are hundreds of Monotype fonts at the epicenter of the Creative Cloud workflow, including designs like Arial, FF Dax, FF Scala, Times New Roman, Rockwell and Unitext. Our goal is to get our fonts in the hands of as many creative professionals as we can, wherever they are designing.

Adobe says that if you want to use Adobe Fonts in print or web, you're covered. Sounds great - especially for the individual creative professional. But, many of our enterprise customers have asked how this will impact the work they are doing with Monotype. The reality is that Adobe Fonts is not an enterprise-ready service. So, while it gives individual creatives a nice boost, it doesn't offer all the features and capabilities that enterprise creative teams really need. We think it's important to make some distinctions as to where the value begins and ends for Adobe Fonts. Let's explore that.
Enterprise workflows!
First, Adobe Fonts is only licensed for use through individual Adobe IDs, and sharing of account logins is not permitted. This means that web projects (previously called "kits") can only be created, edited, published and maintained by a single user, and are unavailable to be accessed or edited by a larger creative team. Users cannot package the fonts with a project to be transferred to another user or computer.

This presents a significant disruption to the creative workflow for enterprise and agency teams alike. We believe it may actually create more work over the long term, because individual team members will have to replicate each other's font lists, just to ensure that projects appear as they should when shared.
Limited reach for your brand and campaigns
Adobe Fonts is a good option for an individual designer that wants to license fonts for desktop and web applications, but the service doesn't allow users to license fonts for other enterprise applications, like mobile apps, servers or in AR/VR applications. Therefore, if a designer chooses a font from Adobe Fonts for a campaign and then decides the campaign needs to reach beyond the basic print and web touchpoints, they will have to contact the foundry who owns that font to see if they offer rights for other use cases. Otherwise, the brand is going to look inconsistent across different mediums. Managing this process is costly in both time and money. Not to mention, it can lead to a fairly broken consumer experience. Investing in a consistent brand experience is the foundation of brand success.
"
Investing in a consistent brand experience is the foundation of brand success.
"
Do you know who is using your fonts?
Any web fonts used for projects through Adobe Fonts are hosted by Adobe, rather than by the brand using them. Therefore, enterprises are unable to host web fonts on their own servers, meaning that they have no control on how a third-party serves up these web fonts in their ads and campaigns. And brands who rely on their agencies to manage and host web pages will soon see disruption too, as Adobe Fonts will no longer enable agencies to host web fonts on behalf of their clients.
Font continuity?
Finally, there is also a lingering question on what would happen if one of Adobe's many foundry partners were to remove its fonts from the Adobe Fonts library. Adobe has removed indemnification protection, which means all licensing and font management responsibility falls on each individual creative. Designers that use those fonts would have no recourse if they were to be removed from the library.

While this might not have a significant impact on designs that don't find their way into commercial production, this could prove to be a major headache for an enterprise or agency working on a branding project or promotional campaign. If Adobe's foundry partners were to remove any font from the inventory, it would cause chaos for those responsible for font management and licensing.

We at Monotype live and breathe fonts, day in and day out. We understand not only the importance of the aesthetics and usefulness of the IP itself, but that we have to be able to extend our reach and solve the problems that enterprises face when it comes to working with fonts. After all, what good is a beautiful new car if you don't know how to drive it, where to park it, how to fuel it, how to insure it, and so forth? The same goes for fonts.
Enterprise workflows: Monotype Fonts does that
Keeping with the car metaphor, with Monotype Fonts, brands and agencies get the luxury car and one of the best warranties in the business. Monotype approaches enterprise-level challenges differently, with all of the brand stakeholders in mind.

Monotype Fonts allows teams of just about any size and make-up to access a wide variety of fonts for all their projects. Team leads can restrict font access for certain users based on what they need, but they don't have to worry about overcoming the challenge of individual licenses or user IDs. Monotype Fonts also allows team leads to adjust user access as roles and responsibilities are redefined.

We understand the creative marketplace is constantly changing and moving. Brands and agencies often need to bring in freelancers or other design assistance, or those folks may become part of the core team. Monotype Fonts offers customers the flexibility to accommodate that movement, and add on different rights as needed. Being able to do it through one service makes it easy - and removes uncertainty, doubt and any surprise expenses down the line.
Our fonts are literally everywhere, and you can host them!
Monotype Fonts has more than 150,000 fonts, ranging from classics like Avenir, Frutiger and Helvetica to newer designs like Between, Kairos, Madera and Neue Frutiger World. They have all been battle tested to work across virtually any consumer touchpoint. With Monotype Fonts, creative professionals get unlimited desktop use of these fonts, and a much simpler way for enterprises and agencies to license the fonts they need – desktop, web, mobile apps, embedded, servers and more. Furthermore, brands and agencies have the ability to host the fonts they license themselves, giving them greater control over how web fonts are delivered in their digital ads and campaigns.
Monotype Fonts is friendly to other fonts and software…
Monotype Fonts' inventory is made up of Monotype's vast library of global fonts, and our goal is to add the ability for enterprises to include their own custom or proprietary fonts, over time. This means that brands and agencies get all the goodness of Monotype Fonts, for all of the fonts they have licensed. Monotype Fonts also offers indemnification protection on any font delivered through the service, providing peace of mind for users.

Monotype Fonts was designed with the design workflow in mind. Designers can easily discover, download and start using fonts, regardless of where they sit within an organization and which software platform they choose. And designers are never far from help if they need guidance or advice on what fonts to use. Monotype Fonts offers both technology and expertise from some of the best minds in type design and engineering to help creative professionals find the best font for their needs.
"
Mosaic was designed with the design workflow in mind. Designers can easily discover, download and start using fonts, regardless of where they sit within an organization and which software platform they choose.
"
We are passionate about fonts. They are the lifeblood of any creative campaign or brand identity. And whether you are a creative individual building the next brand in Creative Cloud, or part of an enterprise looking for a better way to manage, distribute, discover and create visibility into all of the fonts in your brand system, Monotype can help.
To sum things up:
If you are a looking for an enterprise-ready, battle tested solution to discover, manage, and distribute fonts throughout your organization, partner network and freelancers, Monotype Fonts will allow you to do that.
If you care about brand consistency, getting the most out of your investment and future proofing your brand - Monotype Fonts can do that.
If you are looking to solve the problems you have encountered when it comes to ensuring you have the rights to use fonts everywhere, you want to control who in your organization can use them and you don't want to be hamstrung by using those fonts in a single creative environment - we are the only ones to do that too.
How much are you willing to invest to ensure your brand doesn't break?
If working with type across your entire enterprise is important to you, check out why Monotype Fonts is your best bet.