New research reveals the French are more emotional about fonts than the British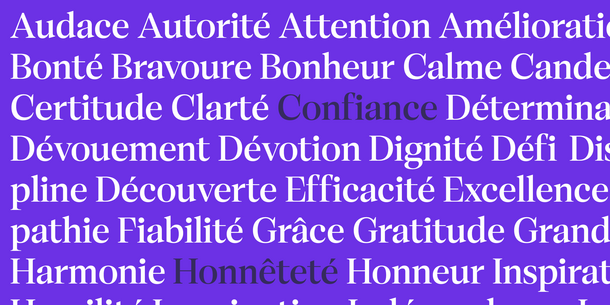 New research reveals the French are more emotional about fonts than the British
Research by Monotype finds significant differences in the way French and British people respond emotionally to fonts

French respondents had greater emotional response than their British counterparts

Identifying the right typeface can help brands and designers stimulate a more positive response from audiences
Paris, 3 April 2023- Monotype, one of the world's leading font and technology specialists, today released an in-depth study on the power of different fonts to convey an emotional response. The research was conducted in the UK and in France, and it found that the French have more emotional responses when viewing typography than their British counterparts. The findings highlight both the power of typography to convey different "feelings" – and significant national differences in emotional response to type.
Monotype partnered with applied neuroscience company Neurons to conduct the research in France and the UK-  testing out different font shapes and their impact on experiences, associations and emotional responses. Participants were presented with three contrasting typefaces that are not currently in use by brands: FS Jack, a non-humanist font; Gilroy, a non-geometric font; and Cotford, an indolent serif font.
Each typeface was applied to three types of stimuli: individual words, a sentence using these words and a sentence containing these words in reference to a brand.
Respondents rated the combinations on a range of emotional measures, such as sincerity, memorability, trustworthiness or confidence.
The research findings confirmed the hypothesis that typography, even in the absence of colour, logo, movement or any other traditional visual identity element, plays a crucial role in eliciting an emotional response from audiences.
Marie Boulanger, Brand Designer at Monotype, who conducted the research, said, "It's long been agreed that brands rely on typography to convey feelings such as trust and reliability. We wanted to put this assumption to the test and quantify the emotional value that typography can bring to brands and their audiences." 
The main findings of the research can be summarised as follows:
- The right typography influences brand recognition
- Typography provides a sense of security to consumers
- Typography gives brands a competitive advantage
Respondents in France reacted differently to typography than those in the UK and in general, typography provoked stronger emotions amongst consumers in France.
For Trust, there was a clear response - France felt more confidence (14%), honesty (5%) and sincere (8%) emotions/motivations towards the word, whilst the UK found it more innovative (9%), prominent (11%) and memorable (7%).
For Quality, France found the word more honest (11%), relevant (8%), sincere (8%) and trustworthy (10%), whilst the UK found it more innovative (4%), prominent (19%) and memorable (15%).
Finally, for Innovation, France found the word more innovative (9%) than the UK, but scores lower on all other emotional and motivational responses (2%-13%).
This leads us to believe that 'quality' and 'trust' have a greater emotional connection in France than in the UK. Innovation stands out as very important in the UK, whilst in France it is not perceived as honest at all.
Damien Collot, Creative Director for Monotype in France, said, "The differences between the results in France and those in the UK show how two geographically similar cultures can react differently to the same words presented in different typefaces. It demonstrates how important font choice is for brands and the necessity for brands to adapt design to the cultural differences of audiences in different countries."
"Language, typography and culture are intimately linked," added Marie Boulanger. "The reason for national differences in the way people respond to the same typeface may be explained in part by cultural memory. France has a distinctive design history and because of this, a particular font may evoke a Proustian response in French people that is quite different to the one British people experience. With such a rich and vibrant heritage and contemporary typographic culture, it is not surprising to encounter a great sensitivity to typography in France. "
Thomas ZoëgaRamsøy, founder and CEO of Neurons said, "when we localise design for different regions, we always have to consider the cultural and linguistic associations and responses to that design, so it makes sense to expect the same when adapting typefaces. But taking into account the fact that we're comparing responses from neighbouring countries, the differences between the results are quite surprising and show that we have only just scratched the surface on the relationship between type and emotion. This illustrates the importance for design-led firms to look beyond the change of language when developing localisation strategies."
These findings are part of an ongoing research project. Monotype is currently exploring the potential to develop the findings into tools to aid design choices by creatives and brands. Future research will also further explore the impact of typography in different scripts and cultures in countries such as China, Japanand the United States.
Access the full findings here "Why Fonts Make us Feel?" here: https://www.monotype.com/neurons 
Method:
All data in this report was collected by Neurons and Monotype as part of a survey on the emotional impact of typography. The French research was conducted online in October 2022 with 150 participants, aged 18-50 and living in France, with an equal gender distribution. The UK research was conducted online in November 2021 with 400 participants, aged 18-50 and living in the UK, with an even gender split.
About Monotype
Monotype creates brands that matter with type, technology, and expertise. The company partners with leading foundries to deliver the broadest inventory of high-quality typefaces in the world. Further information is available at www.monotype.com.
Follow Monotype on Twitter, Instagram and LinkedIn.
Monotype is a trademark of Monotype Imaging Inc. registered in the U.S. Patent and Trademark Office and may be registered in certain other jurisdictions. All other trademarks are the property of their respective owners.
©2021 Monotype Imaging Holdings Inc. All rights reserved.
Public Relations & Media Contacts: 
Charlotte Simcock 
Global Public Relations, Monotype 
[email protected]
Harry Green
ThoughtLDR – FR 
[email protected]
+33 (0)6 6070 3821