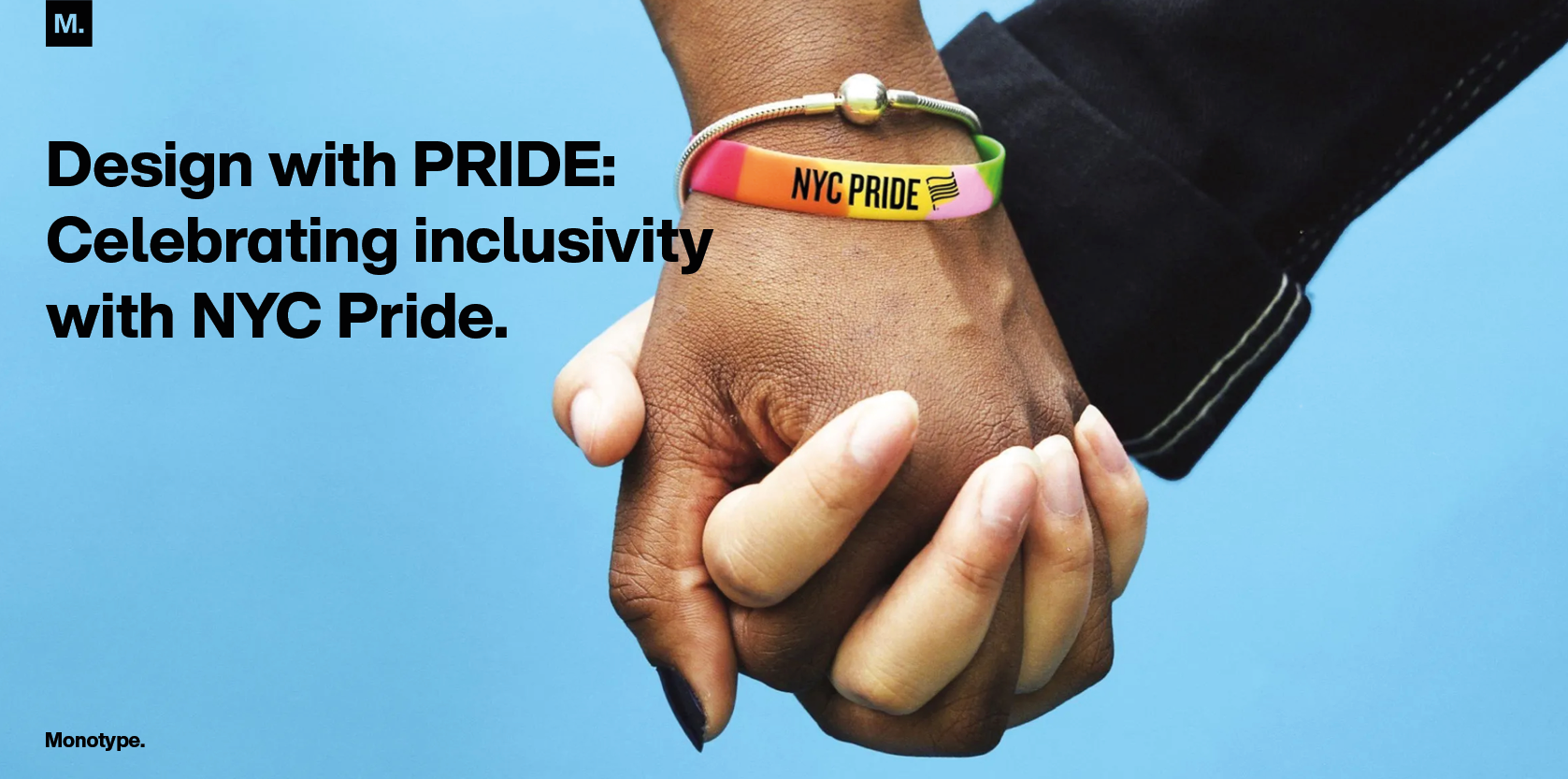 June 22nd @ 1PM BST UK - 1PM EDT America

1 hr.
Webinar - Design with PRIDE: Celebrating inclusivity with NYC Pride.
Can you have a movement without a typeface? Uncover the story behind the NYC Pride rebrand, its mission to inspire, and learn how such an iconic typeface plays a fundamental role for their event. 
Join Lippincott, NYC Pride and Monotype for this interactive webinar. We examine how Lippincott and Monotype captured the spirit of the organization's home city, and how the new design celebrates and unifies the power of the LBGTQIA+ community. We explore how design choices can invigorate themes like accessibility & inclusivity and discuss how to apply them in your next project.  You'll discover:
A behind-the-scenes look at the new NYC Pride rebrand. 

How to champion inclusivity and diversity through design. 

Unlock a new design philosophy — how font choices can support accessibility for your audience.
Speakers:

Christal Sih
Lippincott
Christal is a design director based in Lippincott's New York office. Her experience spans industries, having worked with clients including AIG, Boeing, ShopRite, Gumption Coffee and more. Christal specializes in creating brand systems and branded experiences. Her work encompasses multiple disciplines including logo, identity system design, illustration, art direction, motion, 3D design and digital design. 

Dan Dimant
NYC Pride
Dan joined the Executive Board of NYC Pride as Media Director in 2020. His professional career in Marketing, Media, and Advertising/Communications at leading firms including WPP and Publicis Groupe spans more than a decade. Dan began volunteering with Heritage of Pride in 2015 as a member of the March Committee. In his time as a volunteer, he worked closely with the Development Committee and was instrumental in developing and growing the organization's merchandise program.
Emilios Theofanous
Monotype Studio
Born in Cyprus, Monotype Creative Type Director Emilios Theofanous, has a soft spot for quality Greek and multilingual typography. Since joining Monotype, he has worked on multiple custom and Library projects. Prior joining Monotype, he collaborated with international foundries and contributed to large-scale projects such as Source Serif Greek Italic for Google Fonts and Adobe.

Jenifer Lehker
Lippincott
Jenifer is a partner in design based in Lippincott's New York office. She specializes in the creation and activation of visual identity programs, bringing brands to life across experiences. Jenifer has created programs for clients such as Better Homes & Gardens, McDonald's, Meredith and Zoetis, including pro bono work for GLAAD and Lincoln Center for Performing Arts. Her work has been featured in leading design publications and books, and has received numerous awards.