Do you need a Monotype Fonts free or paid subscription?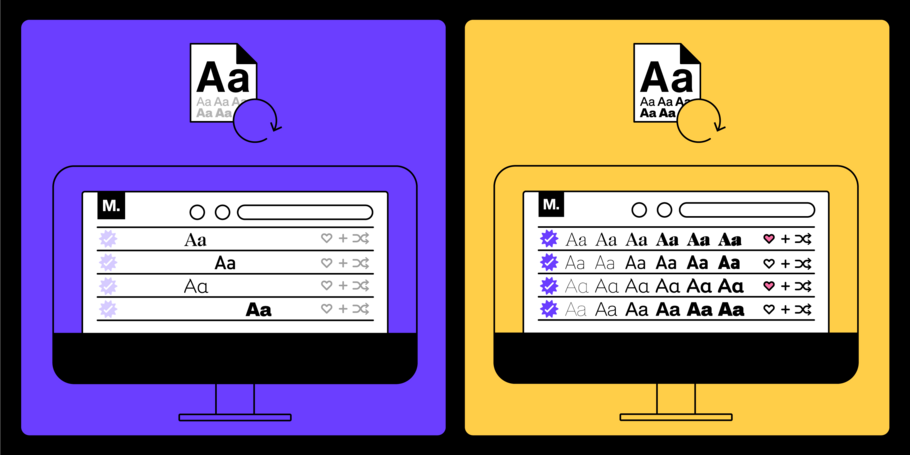 Find out which one is best for your font needs.
Hi,
Are you looking to sign up for Monotype Fonts but unsure which plan is right for you?
From a free subscription to a paid plan, we have an option for every team and creative. Here's a quick comparison between our free subscription and paid subscriptions.
Free Font Subscription

Paid Font Subscriptions

A great basic option for designers working on a small portfolio of projects or who aren't planning on using fonts commercially. Perfect for those looking to expand their topographical expertise without breaking the bank. A  free subscription is the best no-cost way to check out Monotype Fonts.

Top benefits include:

Free lifetime membership to Monotype Fonts

Access to a base inventory of

 

fonts - option to upgrade to the extended inventory.
Limited font management features to organize a small number of projects

These plans are best for those looking to create multiple design projects and promote work commercially. If you're working in a team, a paid subscription is the better fit.

Key features include:

Commercial licensing rights for the fonts you choose to use in branding and advertising

Unlimited access to Monotype Fonts

Full feature f

ont management tools to organize by lists, folders,

and

tags

, and more

The option to create as many prototypes, mockups, and pitch decks as you need

CTA: Get freemium

CTA: See plans

Whatever you choose, Monotype is here to support you with high-quality fonts.
Sign off:
Yours in type,
The Monotype Team.
The main differences between a freemium and a paid subscription

What each plan offers creatively and functionally

Which options might be better for you
Do you need a Monotype Fonts free or paid subscription?
N-4-6223
Digital