Printer imaging solutions.
Universal Font Scaling Technology (UFST) with MicroType compression fonts.
UFST is the only font rendering system for PDL printers that provides 100% bit-for-bit font metrics, trademarks, and backward compatibility that is critical for an enterprise print environment. UFST SDK provides all UFST components, rasterizers, font metric files, and font data for your evaluation.
UFST is used worldwide on both SFP and MFP printers to provide PCL/PostScript core font rendering technology
Core focus: High-quality type for printing and control panel display

100%

font trademark compatibility, an Absolute HP compatibility requirement

Multilingual/globalized support for world scripts

Font file size of MicroType compression: 80 fonts in 840KB and 181 fonts in 1,603KB

Provides advanced capabilities for control panel displays and UI

Supplied in ANSI C source code and designed to be both modular and flexible

Highly portable code that can be run out of the box directly on a variety of platforms or ported to any desired platform with very little development effort

A wide range of base and optional features allows the flexibility to create a font scaling subsystem optimized for the needs of the target application

Minimal overall code size with only necessary features conditionally compiled into the UFST subsystem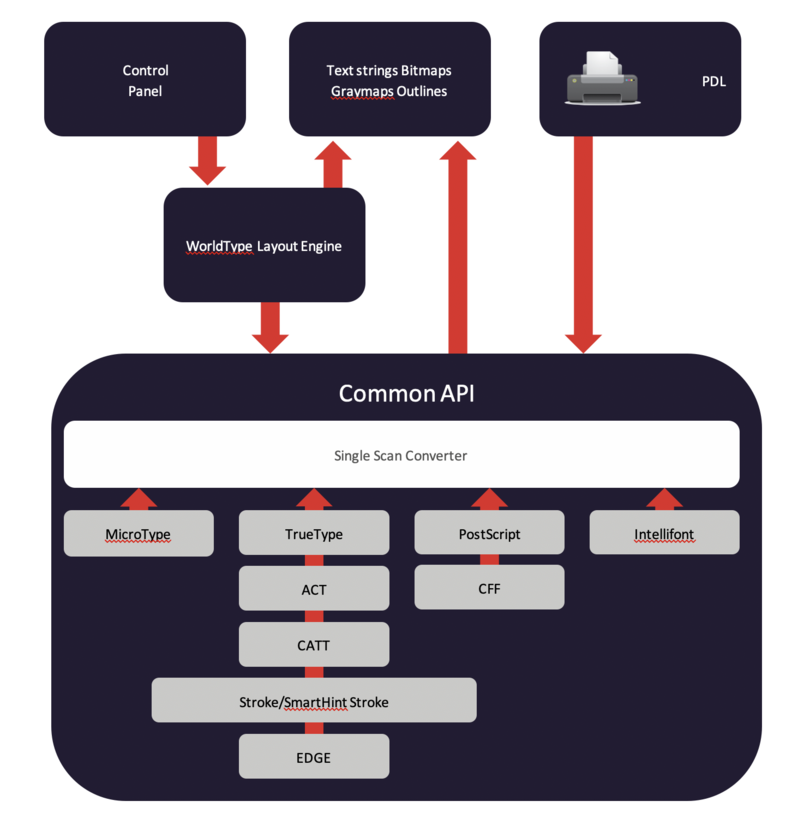 PDL Support
HP PCL

Adobe PostScript

Adobe PDF

XHTML

XPS
Font Support/Font Renderer
MicroType

TrueType: including *ACT and **CATT fonts

OpenType

PostScript Type 1

Stroke: including ***SmartHint-enabled stroke fonts

CFF

Intellifont

Edge Graymaps
Font Standards
HP PCL 6

80 Fonts + HP 13 + Vista 8

Adobe compatible PS3

136 fonts + Vista 8

PCL/PS Dual Emulation

181 fonts + HP 13 + Vista 8

Andale WorldType Collection

Asian Solutions – MS Windows and PostScript

XHTML

Thermal Printer Market Solutions

Additional Latin and Non-Latin Fonts Available
*ACT = Asian Compression for TrueType, Monotype's proprietary compression format that reduces the file size of any TrueType font by up to 60%.
** CATT = Compact Asian TrueType, Monotype's proprietary compressed fonts that work with any TrueType rasterizer.
*** SmartHint is a Monotype's proprietary Stoke Font which generates high-quality legible bitmap outputs through intelligent stroke reduction.