Printer imaging solutions.
Andale and WorldType collections.
Andale and WorldType Collections fonts are the best solutions for print workflows from non-Windows environments that don't allow blank characters. This Unicode-compliant font is provided in 4 separate font data sets to support regional character differences between Japanese, Korean, Simplified Chinese, and Traditional Chinese.
For non-Windows printing applications like Mainframe, SAP, and Linux

Wide character and language coverage that's Unicode 3.1 compliant with 49,199 encoded characters

4 different fonts (Andale Mono WT J,

Andale Mono WT K, Andale Mono WT S, and Andale Mono WT T) support regional character differences

De-hinted font data provided in 10MB for each font; hinted data is also available in 20MB for each font

Font Metrics: Fixed pitch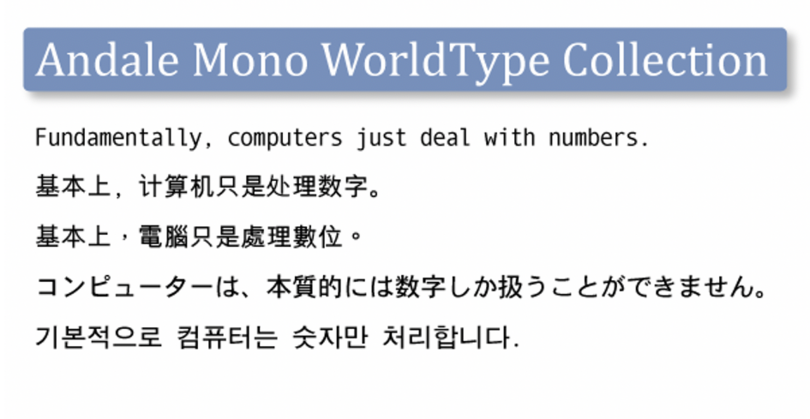 Unicode language covers all of the languages that use the following scripts:
Aboriginal

Arabic

Armenian

Bengali

Canadian

Cherokee

Cyrillic

Devanagari

Ethiopic

Georgian

Greek

Gurmukhi

Han (Chinese, Japanese, Korean ideographs)

Hangul

Hebrew

Hiragana

Kannada

Katakana

Khmer

Lao

Latin

Malayalam

Mongolian

Myanmar

Oriya

Sinhala

Syllabics

Syriac

Tamil

Telugu

Thaana

Thai

Tibetan

Yi