Monotype Launches a New Foundry Program, Designed to Empower and Scale the Type Community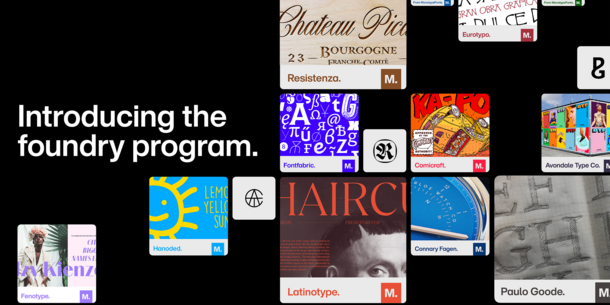 Monotype Launches a New Foundry Program, Designed to Empower and Scale the Type Community
The Foundry Program gives type foundries and type designers greater visibility and an enhanced royalty model
Over 1,000 foundries and type designers have already signed up to the Foundry Program pre-launch
WOBURN, Mass., 17th August 2023 – Type and technology specialist Monotype® has launched the Foundry Program - dedicated to empowering and scaling independent type foundries and type designers around the world. Over 1,000 foundries and type designers have signed up to the Foundry Program pre-launch.
Two years in the making, the Foundry Program has been launched by Monotype to further support the type design community with increased visibility to customers, a range of analytics tools and marketing features. The Foundry Program is free to join and designed to help partnering type foundries and type designers realize the full value of their creative IP. It includes an enhanced royalty model intended to provide Monotype's type partners with a consistent, scalable revenue stream.
Monotype offers an unparalleled library of fonts including many of the world's most iconic typefaces from over 4,500 independent type designers and foundries. These typefaces have the potential to be seen by over 100 million potential customers comprising designers, creatives and users through Monotype's ecommerce platforms including Monotype Fonts. Monotype Fonts is the leading font license and management platform in the industry offered 'as a service'.
Examples of Monotype's customers and partners include Canva, Shopify, Picsart, Toyota, Nike, H&M, Samsung, Microsoft, Adidas, Ford, Tencent, Fuji PTC, Duolingo and Alibaba.
Partnering foundries and type designers on the Foundry platform will gain a dedicated, brandable page on MyFonts and Monotype Fonts, a new "business hub" analytics dashboard, self-service tools to easily upload and manage type designs, educational assets, and additional marketing support.
John Roshell, Design Director at Comicraft said, "Comicraft was honored to be one of the first few foundries included in the Monotype Fonts service, and since then it has become a wonderful option for our customers to be able to "try before they buy", and design with the freedom of knowing that the licensing is covered. As part of the Foundry Program, we look forward to using the new reporting tools to gain new insights as to how customers like to use our fonts, and how best to expand and improve our catalog in the future."
Luciano Vergara, Founding Partner of Latinotype said, "The equipment, technology and partnership with Monotype have been an important part of our success and we are excited to join the Foundry Program."
David Kerkhoff, Founder of Hanoded said, "When I first started out as a fledgling foundry called Hanoded with just a few fonts to my name, Myfonts and Monotype embraced me and nudged me in the right direction. I am honored to be part of the Foundry Program and look forward to a fruitful and creative partnership."
Monotype's network of independent type foundries and type designers has grown over 30% over the last 3 years. In a 2022 Monotype survey of 433 independent type foundries, half the respondents (50%) revealed that the royalties paid to them by Monotype represented 50% or more of their total revenue. For almost a quarter of foundries (24%), Monotype royalties represented 75% or more of their total revenue.
The Foundry Program will help the independent type community respond to rapidly changing customer needs and wider trends in the design software industry. 
While the market for quality type is strong and growing, common customer challenges include time spent searching for fonts across different websites; managing tens - sometimes hundreds - of individual perpetual font licenses; sharing fonts and forecasting the total cost of type within the business; and ensuring brand consistency globally. As a result, many companies now prefer to access an extensive library of quality fonts via a single end-user license agreement.
Mary Catherine Pflug, Director of Partner Product and Operations at Monotype said, "After two years of extensive research, planning, user experience design, foundry platform development, and testing, we're tremendously excited to launch the Foundry Program globally. Over 1,000 independent foundries and type designers have already signed up for the program pre-launch. As part of the program, their fonts are included in Monotype Fonts to reach more customers, they benefit from new marketing, merchandising, and business analytics tools, and earn additional income from our new royalty model designed for fonts sold in our subscription offerings. Our goal is to grow the market for high-quality independent type and make sure that the people and businesses creating type are rewarded for the value they bring to commerce, culture, and creativity."
Ninan Chacko, CEO of Monotype said, "Monotype is committed to raising the value of typography across the world. Providing enhanced tools, technology, insight, education, and support for our foundry partners is critical to this mission. We are thrilled to launch the Foundry Program to help get their typefaces in the hands of even more creative professionals around the world."
More information on Monotype Foundry program here.
For foundries with questions about joining the Program contact us.
About Monotype
Monotype creates brands that matter with type, technology, and expertise. The company partners with leading foundries to deliver the broadest inventory of high-quality typefaces in the world for our customers. Monotype Fonts is the leading font management platform in the industry and combines the world's largest collection of award-winning type, the expertise of the most sought-after foundries and type designers and trusted and secure font management — all under a single agreement.
Further information is available at www.monotype.com.
Follow Monotype on Twitter, Instagram and LinkedIn.
Press Contacts
Charlotte Simcock
Corporate Communications & PR for Monotype – Global
[email protected]
Lauren Lovell
ThoughtLDR PR for Monotype - US
[email protected]
Alice Broughton
ThoughtLDR PR for Monotype – UK
[email protected]
Harry Green
ThoughtLDR PR for Monotype - France 
[email protected]
Tanja Koschade
Koschade PR for Monotype - Germany
[email protected]