Monotype Completes Acquisition of Leading Japanese Foundry Fontworks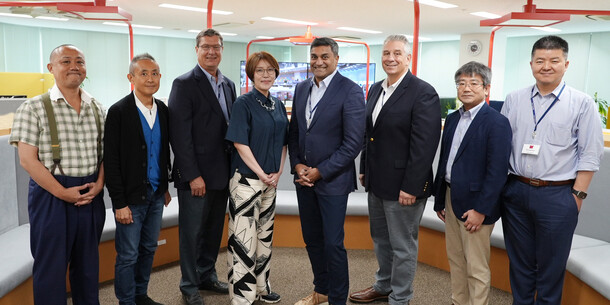 Monotype Completes Acquisition of Leading Japanese Foundry Fontworks
Image (Left to Right): Masakii Sato, COO of Fontworks, Akira Kobayashi - Creative Type Director for Monotype, Jaco Uys - Chief Financial Officer for Monotype, Ai Harada, CEO of Fontworks, Ninan Chacko – CEO for Monotype, Ben Semmes – COO for Monotype, Fuminobu Satoh – General Manager Japan for Monotype, Yujie Chen – Managing Director APAC for Monotype
Acquisition's completion follows Monotype's earlier announcement of its intent to acquire in July 2023 
Fontworks' 73 employees and type catalogue of more than 1000 fonts, join the Monotype family
TOKYO, Japan Sept 1st 2023 – Monotype, a global leader in type design and technology, today announced the successful completion of its acquisition of Fontworks, renowned provider of premium Japanese typefaces and services. This follows Monotype's earlier announcement in July of its intent to acquire the Fontworks business from SB Technology Corporation; a listed company on the Tokyo Stock Exchange. 
With the completion of this acquisition, Fontworks' extensive font inventory, industry expertise, and dedicated team will enable Monotype to continue to meet the growing demand for high-quality Japanese typefaces from creatives and customers worldwide. 
Fontworks' catalog of more than 1,000 fonts is now part of the Monotype library, which houses one of the world's largest and most comprehensive collections of type. Fontworks' catalog includes 'new-classic' Japanese typefaces such as Tsukushi™ and Matisse™- some of Japan's most recognized fonts in media and gaming. In addition, the acquisition includes Fontworks' type services LETS™, mojimo™, and  FONTPLUS™.   
The Fontworks acquisition will give Japanese customers extended access to Monotype's collection of multiscript and acclaimed Latin typefaces, including popular fonts like Gotham™, Chronicle™, Benton Sans ™, and Akzidenz-Grotesk™. 
 
By combining Fontworks' extensive Japanese font catalog with Monotype's advanced delivery and patented technologies, brands targeting the Japanese market are given a powerful solution ensuring both visual appeal and technical excellence. As the backbone for efficient font delivery, Monotype's patented advanced compression technology ensures that intricate Japanese characters will be delivered in the smallest file sizes without compromising clarity. 
 
The now combined expertise, resources, and services of Monotype and Fontworks further cement Monotype's position as a leading provider of type solutions on a global scale, and signal Monotype's commitment to delivering unmatched type solutions, support, and innovation to customers in Japan and across the world. 
 
Akira Kobayashi, 2022 Type Directors Club Medal winner and Creative Type Director at Monotype, said, "It is an exciting day when we can officially welcome the Fontworks team into the Monotype family. We look forward to working together in Japan and across the globe. Together we will do amazing things." 
Ninan Chacko, CEO at Monotype said, "We're pleased to announce the completion of Monotype's acquisition of Fontworks. Their brand is synonymous with Japanese type and innovation - and as part of Monotype, Fontworks' talented team, market expertise, and catalog will become an integral part of our global type solutions." 
About Monotype  
Monotype creates brands that matter with type, technology, and expertise. The company partners with leading foundries to deliver the broadest inventory of high-quality typefaces in the world for our customers. Monotype Fonts is the leading font management platform in the industry and combines the world's largest collection of award-winning type, the expertise of the most sought-after foundries and type designers and trusted and secure font management — all under a single agreement. 
Further information is available at www.monotype.com.  
Follow Monotype on Twitter, Instagram and LinkedIn 
Monotype® and Akzidenz-Grotesk® are trademarks of Monotype Imaging Inc. registered in the U.S. Patent and Trademark Office and may be registered in certain other jurisdictions. Fontworks®, LETS®, mojimo®, and FONTPLUS® are trademarks or registered trademarks of Monotype Imaging Inc. in the United States and/or other jurisdictions. Gotham® and Chronicle® are trademarks of The Hoefler Type Foundry registered in the U.S. Patent and Trademark Office and may be registered in certain other jurisdictions. 
Press Contacts 
Charlotte Simcock 
Corporate Communications & PR for Monotype - Global 
[email protected] 
 
Shoko Sugita 
PR for Monotype - Japan 
[email protected]  
Alice Broughton 
PR for Monotype - USA + UK  
ThoughtLDR 
[email protected] 
Harry Green  
ThoughtLDR for Monotype - France  
[email protected]  
 
Tanja Koschade   
Koschade PR for Monotype - Germany   
[email protected]