Monotype Announces New Collaboration with Canva Launching Type Curriculum on Canva's Education Platform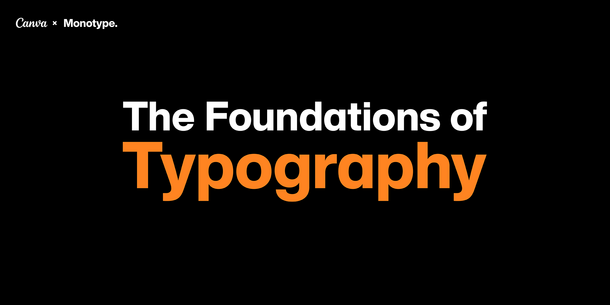 Monotype Announces New Collaboration with Canva Launching Type Curriculum on Canva's Education Platform
Co-Authored by Monotype and Canva, classes in the Canva Education Library provide resources including lecture topics, in-class discussions, and activities geared to engaging students around design. 
Five module series includes Type 101, Type All Over the World, The Psychology of Typography, Type and Branding, and Design Thinking.  
Builds on the Canva x Monotype relationship announced in March 2023 which made more than 1,100 curated fonts available to Canva's global users.
WOBURN, Mass., 23rd October 2023 — Today, Monotype, a global leader in type technology announced an expanded relationship with Canva, releasing a new five-part educational curriculum to help students realize the impact of typography and design. The new educational series offers guided modules on topics ranging from psychology of fonts and branding to cultural impacts and perceptions with specific focus on communication.  
Monotype offers typography expertise to Canva's global design community, guiding creators in their understanding of fonts' capabilities and impact. Canva has become a go-to resource for teachers and students worldwide, helping them design projects and collaborate to push ideas forward. The Canva x Monotype educational series is now available to all educator and student users on the platform. 
"As more people in more places participate in the design economy, understanding the role that typography plays in visual communication is increasingly important," said Bill Connolly, Senior Director of Partnerships and Community at Monotype. "Type engages across cultures, it elicits emotion and expresses identity for brands, cities, and individuals. We're honored to put this five-part type curriculum in the hands of millions of students and educators worldwide, alongside our innovative partners at Canva." 
Charles Nix, Monotype Executive Creative Director and coauthor of the education series, shared that "Typography helps shape the meaning of language. It accentuates, clarifies, modifies, persuades, and entertains. These courses will reveal the power of type to a whole new generation of designers around the world."   
The five separate modules will each include lecture topics, in-class discussions, and activities geared to engaging students in an exploration of design.  
These modules comprise:  
Canva's announcement also includes collaborations with NASA and the New York Times and other partners to support Canva's 'Canva for Education' lesson suite.
Canva for Education provides K-12 teachers and students free access to Canva's full suite of visual communication tools, combined with extra features designed just for the classroom.
See Canva's official announcement here. 
###  

About Monotype
Monotype helps create brands that matter with type, technology, and expertise. The company partners with leading foundries to deliver the broadest inventory of high-quality typefaces in the world.   
Follow Monotype on Twitter, Instagram and LinkedIn.
Monotype is a trademark of Monotype Imaging Inc. registered in the U.S. Patent and Trademark Office and may be registered in certain other jurisdictions. All other trademarks are the property of their respective owners.  
About Canva
Canva is a free-to-use online visual communications and collaboration platform which aims to enable everyone and anyone to design, by simplifying the design process. With a simple drag-and-drop interface, users can create social media posts,  presentations, posters, videos, logos and more, without technical expertise. Canva is home to a global design community that spans more than 190 different countries, with more than 200 designs created every second.  

Media Contacts
Charlotte Simcock 
Corporate Communications & PR for Monotype – Global 
[email protected] 
Lauren Lovell
ThoughtLDR for Monotype - US  
[email protected] 
Alice Broughton 
ThoughtLDR PR for Monotype - UK    
[email protected]   
Harry Green  
ThoughtLDR for Monotype - France  
[email protected]    
Tanja Koschade   
Koschade PR for Monotype - Germany   
[email protected]