Monotype and Shopify Expand Access to Typography in Digital Environments with the help of Publicis Sapient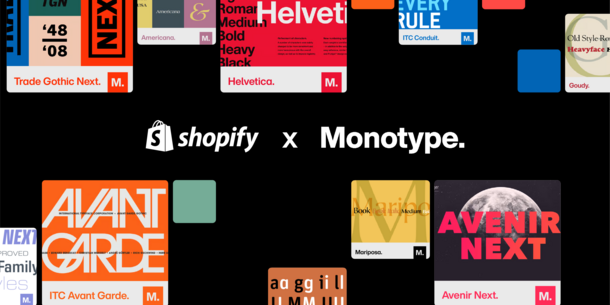 Monotype and Shopify Expand Access to Typography in Digital Environments with the help of Publicis Sapient
Creatives can now access subscriptions to Monotype Fonts directly online, while Shopify merchants can deploy thousands of unique fonts across the commerce experience.
 
WOBURN, Mass., April 3rd, 2023—- Monotype and Shopify announced a collaboration that will modernize access to typography for creative and retail professionals globally.

Beginning immediately, Monotype Fonts, the company's flagship solution for font discovery, expertise, collaboration, and management, can now be licensed directly through a Shopify integration. The company worked closely with Publicis Sapient, a digital business transformation company, to bring the project to life, leveraging its scale and expertise in designing digital commerce experiences.
Increasingly, brands and design teams are looking to remove barriers to creativity and prefer to access creative assets and expertise at the point of creation. With this partnership, creative professionals will now be able to choose subscription packages that fit their unique needs and access a library of tens of thousands of world-class fonts, solving a range of typographical challenges. Additionally, foundry partners that distribute fonts through Monotype Fonts and MyFonts will now be empowered to deliver their designs to new audiences. This integration supports a stronger marketplace for buying and selling fonts, delivering greater security, performance, and accessibility.
"We are proud to be one of the earliest digital goods providers to platform with Shopify's best-in-class infrastructure," said John Sims, VP Digital Experience, Monotype. "The result will not just be good for us and our customers, but for our industry as we make type more accessible in emerging channels. This is truly a collaborative story, as we could not have successfully completed this project without the support and expertise of our partners at Publicis Sapient."
"We are absolutely thrilled to bring Monotype's vision to life on the world-class Shopify platform," said Sudip Mazumder, SVP and Retail Industry Lead at Publicis Sapient. "This solution is going to transform how creative communities access typography globally without any barriers."
Type at the intersection of culture and commerce.
In a "digital-by-default" era, brands are delivering products and services through often fragmented customer experiences. Ensuring brand consistency and a strong visual identity is more important than ever, yet having access to high-performance creative assets can be a challenge for designers and brands.
As part of this partnership, 2,000 fonts are available to Shopify customers directly within the Shopify platform, offering a range of styles, characteristics, and language support.
"Shopify is committed to enabling retailers of any size to grow and to be successful. Ensuring that our customers have the creative work they need to realize the potential of their branded stores is critical, and by partnering with Monotype we are solving a key challenge for digital retailers," said Jim Reynolds, Agency Partnerships Lead at Shopify.
Shopify partners will now receive access to Monotype Fonts.
Today, Monotype and Shopify are also announcing an expansion of their existing partnership, making Monotype Fonts available to Shopify's global agency network. This program will allow Shopify agency partners to prototype design work using tens of thousands of unique typefaces, as well as exclusive access to thought leadership and curated design events.
"The Monotype agency partner program has proven to remove the friction that often exists within the design process," said Aline Daeschner, Sr. Director Agency Partners, Monotype. "We're excited to extend these benefits to the Shopify agency partner network, placing type front and center within the commerce experience, and empowering more creatives to do their best work."
To learn more about Monotype's agency partner program, including how your agency can gain access to popular fonts, visit our website.
About Monotype
Monotype creates brands that matter with type, technology, and expertise. The company partners with leading foundries to deliver the broadest inventory of high-quality typefaces in the world. Further information is available at www.monotype.com.
Follow Monotype on Twitter, Instagram and LinkedIn
Monotype is a trademark of Monotype Imaging Inc. registered in the U.S. Patent and Trademark Office and may be registered in certain other jurisdictions. All other trademarks are the property of their respective owners.
©2022 Monotype Imaging Holdings Inc. All rights reserved.
About Shopify
Shopify is a leading provider of essential internet infrastructure for commerce, offering trusted tools to start, grow, market, and manage a retail business of any size. Shopify makes commerce better for everyone with a platform and services that are engineered for reliability, while delivering a better shopping experience for consumers everywhere. Proudly founded in Ottawa, Shopify powers millions of businesses in more than 175 countries and is trusted by brands such as Allbirds, Gymshark, Heinz, Tupperware, FTD, Netflix, FIGS, and many more. For more information, visit www.shopify.com.
About Publicis Sapient
Publicis Sapient is a digital transformation company. We partner with global organizations to help them create and sustain competitive advantage in a world that is increasingly digital. We operate through our expert SPEED capabilities: Strategy and Consulting, Product, Experience, Engineering and Data, which combined with our culture of curiosity and deep industry knowledge, enables us to deliver meaningful impact to our clients' businesses through reimagining the products and experiences their customers truly value. Our agile, data-driven approach equips our clients' businesses for change, making digital the core of how they think and what they do. Publicis Sapient is the digital business transformation hub of Publicis Groupe with 20,000 people and over 50 offices worldwide. For more information, visit publicissapient.com.