Monotype & Canva Announce Partnership.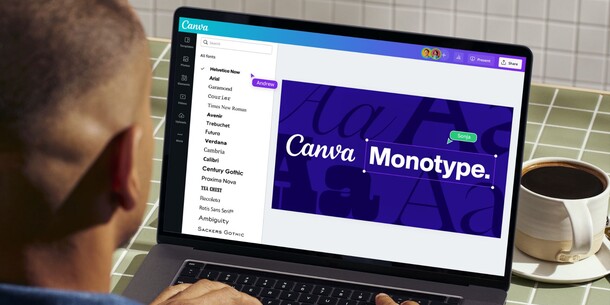 Monotype & Canva Announce Partnership.
Adding over 1,100 curated fonts to the Canva platform. 
Providing greater global access to creativity and design. 

WOBURN, Mass., March 6, 2023—Today Monotype, one of the world's leading font and technology specialists, and Canva, a design platform with more than 110 million monthly users, announced a partnership to make over 1,100 curated fonts available to Canva's global design community.
This partnership will provide high-quality and iconic type to businesses, designers, independent creatives, and individuals — empowering them to create beautiful designs and experiences using the emotive quality of type to reinforce their storytelling and creativity.
The selection, curated by Monotype's Executive Creative Director Charles Nix, will include type classics you would expect, like Sabon® and Helvetica®, but also new standards like Gotham® and Recoleta.  

In addition, there will be an expansive variety of fonts like Cotoris, Snell Roundhand®, and Grand Cru that evoke emotions, celebrate occasions, and tell stories through their designs. And there are hundreds of designs for global scripts like Arabic, Devanagari, Thai, Japanese, Korean, and Chinese.

"Design has continued to permeate all aspects of our lives, and as people create in digital, print, and more, they've continued to gain more appreciation for the power of typography to help them express themselves in new ways," said Mike Matteo, SVP Global Channels and Alliances, Monotype. "Our partnership with Canva puts high-quality fonts into the hands of more than 100 million people and will influence billions of designs. It's really taking the best of creativity and technology— bringing the power of type to the world."

"We're thrilled to partner with Monotype to bring a curated selection of their font library to Canva's global design community," said Jared Ben, Content Partnerships Lead at Canva. "We're working to ensure that the best content is accessible on Canva, and this partnership with Monotype, who have set the standard for font design worldwide, reinforces our commitment to empowering users with the highest quality design tools and resources."

This curated font library will be fully available in Canva's platform over the next month, and the partnership between Monotype and Canva will extend into collaborative content and education, expanding the availability and knowledge of typography for Canva users, from marketers to small business owners and beyond.

Canva's mission is to empower everyone in the world to design anything and publish anywhere. From Fortune 500 to small businesses, visual communication has become a universal need for organizations in the way they communicate and collaborate, market their products and services, grow their businesses and engage their teams and communities. Canva brings the entire visual communications process into one seamless, collaborative platform. Everything is in one place including images, colors, logos, templates, brand kits plus a library of 100 million content ingredients, and now a wealth of classic fonts. Videos, websites, presentations, posters and interactive graphs can be designed and published in a matter of minutes, and in February 2023 Canva reached a milestone of 15 billion designs created on the platform.

Monotype is an organization of over 750 people across the globe who share an obsession with typography, love of design, and passion for technology and innovation. Our library of more than 40,000 typefaces showcases many of the world's best-known foundries and type designers alongside timeless classics including Helvetica®, Avenir ®, Gotham, and DIN. Our custom typefaces can be seen around the world, whether it's Johnston100 throughout the London Underground or "All Together" on the packaging and marketing for M&Ms.
About Canva
Canva is a free-to-use online visual communications and collaboration platform which aims to enable everyone and anyone to design, by simplifying the design process. With a simple drag-and-drop interface, users can create social media posts, presentations, posters, videos, logos and more, without technical expertise. Canva is home to a global design community that spans more than 190 different countries, with more than 200 designs created every second.
About Monotype
Monotype helps create brands that matter with type, technology, and expertise. The company partners with leading foundries to deliver the broadest inventory of high-quality typefaces in the world. 
Follow Monotype on Twitter, Instagram and LinkedIn. 
Monotype is a trademark of Monotype Imaging Inc. registered in the U.S. Patent and Trademark Office and may be registered in certain other jurisdictions. All other trademarks are the property of their respective owners.
Contacts 
Charlotte Simcock 
Head of Global Public Relations, Monotype 
[email protected] 
Aisha Belagam 
Havas Formula for Monotype – U.S. 
[email protected]  
Alice Broughton 
ThoughtLDR for Monotype – UK 
[email protected] 
 
Tanja Koschade 
Koschade PR for Monotype – Germany 
[email protected]
Harry Green 
ThoughtLDR for Monotype – France 
[email protected]