Monotype Fonts Adds New Partners, Features and Resources to Make Creatives' Lives Easier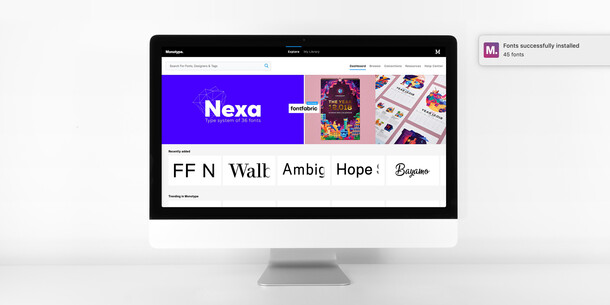 Monotype Fonts Adds New Partners, Features and Resources to Make Creatives' Lives Easier
Font Discovery and Management Platform Reaches Milestone of 36,000 Available Fonts, adding brands such as Logitech, Bridgestone, and Wendy's.
WOBURN, Mass.—(BUSINESS WIRE)—Monotype today announced new features, customers, partners and milestones for its flagship Monotype Fonts solution. Over the past year, the platform has added fonts from more than 120 partners, new features that enhance discovery, and access to typographic assets, support and expertise for creative teams.
Monotype Fonts empowers designers and the broader creative community to find, manage, share and license the world's most complete library of fonts. The solution directly caters to the growing need for designers, creatives and brands to deliver high-performing creative assets across a broad range of channels and media.
Monotype Fonts now includes 36,000 fonts from Monotype and many other industry-leading foundries. User sessions have risen 100% year-over-year, as leading global brands—including ByteDance, Bridgestone, Funimation, Logitech, Nike China, Nippon Seiki, Signa, and Wendy's—are among the most recent companies to choose Monotype Fonts for their digital-forward branding needs.
Typography and Expertise at Creatives' Fingertips
In today's digital ecosystem, it is imperative that typography and creative assets perform across environments, international borders and remote teams. Monotype Fonts removes barriers to working collaboratively so brands can maximize productivity and creativity.
Every font in Monotype Fonts is covered by a single license agreement, helping brands simplify and centralize their font licensing. Therefore, they can lower their risk of improper font use and increase the efficiency of their creative operations, enabling creative teams to focus more on designing meaningful brands and less on administrative paperwork.
The Monotype Fonts platform offers use cases for desktop, digital campaign and app development, comprehensive global rebranding and more. Creatives benefit from thought leadership from the Monotype Studio, a team of world-class type designers and engineers who are uniquely equipped to help solve design challenges facing modern brands.
New Features Designed by Creatives, for Creatives
Building upon enhancements incorporated earlier this year, Monotype Fonts has several new functionality updates:
Improved search capabilities across visual properties and typographic filters. Search by popular type, style tagging, and recommended alternatives help creatives take advantage of Monotype's world-class library.
Support for 10 additional font plugins including the Adobe Creative Cloud Suite, Figma, Sketch, Pages, Keynote and more.
Enhanced web font support, including faster downloads, better page view tracking, and more powerful sub-setting options.
Numerous feature enhancements, such as search by variable font formats, ungated access to the help center and resources page, and font discovery by language.
Multi-company login (coming soon), streamlining account access management and collaboration by enabling designers to be invited to different company accounts with one login.
"As brands compete for consumer mindshare in an increasingly noisy marketplace, unique creative design is one of the best ways they can differentiate," said Noam Shore, Monotype's director of product management. "Typography is one of the most essential elements of a recognizable brand identity, and creative teams require solutions like Monotype Fonts to discover, manage and activate their fonts. It's exciting to see our platform continue to grow and deliver for our customers and partners on their creative journeys."
To learn more about Monotype Fonts visit our website.
About Monotype
Monotype empowers creative minds to build and express authentic brands through design, technology and expertise. Further information is available at www.monotype.com. Follow Monotype on Twitter, Instagram and LinkedIn.
Monotype is a trademark of Monotype Imaging Inc. registered in the U.S. Patent and Trademark Office and may be registered in certain other jurisdictions. All other trademarks are the property of their respective owners.
©2021 Monotype Imaging Holdings Inc. All rights reserved.
Contacts
Bill Connolly
Public Relations, Monotype
[email protected]
Michelle Millsap
Havas Formula for Monotype – US
[email protected]
Alice Broughton
ThoughtLDR for Monotype – UK
[email protected]
Tanja Koschade
Koschade PR for Monotype – Germany
[email protected]