Custom Typeface for Bridgestone, Designed by Monotype, Wins 2021 Good Design Award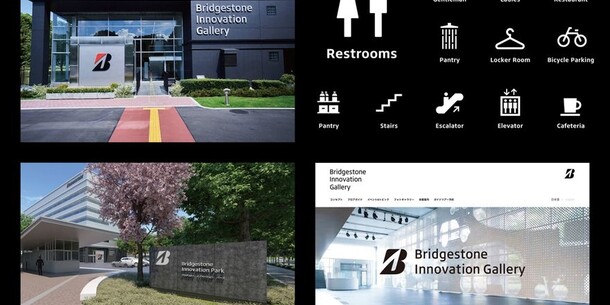 Custom Typeface for Bridgestone, Designed by Monotype, Wins 2021 Good Design Award
Brand-Identity Defining 'Bridgestone Type' Honored With Renowned 'G-Mark' of Good Design
WOBURN, Mass., Oct. 20, 2021—Bridgestone Type, a custom font designed by Monotype for Bridgestone, was unveiled today as a winner of the 2021 Good Design Awards. The prestigious program, established in Japan in 1957, admires and recommends excellent designs that realize life, industry and society are full of richness and sustainability.
As a global leader in tires and rubber, Bridgestone is continuing its journey to become a sustainable-solution company that provides social and customer value. Its brand identity plays a critical role in realizing this vision as the face of its innovations in technology, business and design. Transitioning from the disjointed use of various typefaces across its global subsidiaries, Bridgestone turned to Monotype to unify its corporate voice, leading to the creation of a bespoke corporate font, Bridgestone Type.
"Bridgestone Type celebrates the value and impact fonts play in making an industry-defining brand," said Akira Kobayashi, creative type director at the Monotype Studio, and lead designer of Bridgestone Type. "We're honored to have been involved in this project and are certain this is a brand identity that will be long-lived."
Monotype crafted Bridgestone Type in eight weights with four normal and four condensed weights to ensure readability, visibility and legibility in any environment. Though versatile, the custom-designed font is also one that retains its individuality in any environment. In addition, the font was carefully crafted so that the messages its letters, numbers and symbols convey maintain a human-like temperament, aligning with Bridgestone's promise to supply "solutions for your journey" for people around the world. Bridgestone Type is already in use across corporate logos, website and printed collateral, with plans to expand broadly across various media now and into the future.
"Bridgestone Type embodies Bridgestone's design principles. This is the first step in reconstructing Bridgestone's identity in a unified manner," added Kohei Sakamoto, Art Director at Bridgestone. "We're grateful to Monotype for its expertise in bringing this to life, and to the Good Design Awards for recognizing the impact of our vision."
The Good Design Awards have been the sole, comprehensive design evaluation and commendation system in Japan for over 64 years. To learn more, visit www.g-mark.org.
About Monotype
Monotype creates brands that matter with type, technology, and expertise. The company partners with leading foundries to deliver the broadest inventory of high-quality typefaces in the world. Further information is available at www.monotype.com.
Follow Monotype on Twitter, Instagram and LinkedIn.
Monotype is a trademark of Monotype Imaging Inc. registered in the U.S. Patent and Trademark Office and may be registered in certain other jurisdictions. All other trademarks are the property of their respective owners.
©2021 Monotype Imaging Holdings Inc. All rights reserved.
###
Public Relations:
Bill Connolly
Public Relations, Monotype
[email protected]
Michelle Millsap
Havas Formula for Monotype – US
[email protected]
Alice Broughton
ThoughtLDR for Monotype – UK
[email protected]
Tanja Koschade
Koschade PR for Monotype – Germany
[email protected]