What do you get when you use free fonts?
Fonts carry your brand's message. Opting for free or open-source fonts can affect how your customers and website visitors experience your brand.  
Some free and open-source fonts are very high quality, but it's not unusual for free fonts, especially, to be first-draft outputs from inexperienced designers, which can result in an unpredictable experience for your audience depending on what device they're using. Similarly, open-source fonts (such as those available on Google Fonts) are always at risk of modification or deletion, which can also cause inconsistencies.  
Free and open-source fonts also come with security and performance risks. File downloads could carry embedded malicious (or simply broken) code, resulting in security issues and slow page load times. The accessibility of free and open-source fonts makes it easy for hackers and scammers to replicate your site and use your brand. Aside from that, these free font providers offer no protection from copyright infringement issues, so you'll be entirely on your own if you encounter any problems.
---
Fonts that make your brand unique.
Not all fonts are created equal. High-quality fonts offer complete character sets and comprehensive language support for thousands of beautiful fonts, allowing your brand identity to be distinctive and appreciated across the globe.  
Type designers understand the needs of graphic designers and brands alike, creating elegant and highly functional fonts across every touchpoint in a brand's portfolio. They work hand-in-hand with engineers who thoroughly test fonts to work smoothly in all situations. This collaboration produces reliable fonts with wide-ranging digital properties, ensuring you avoid breakdowns. 
The quality of these hand-drawn fonts communicates your message loud and clear: crisp and clean on a huge subway ad, dynamic and consistent on websites and apps, and elegantly legible on smaller physical products.
---
Licensing made easy.
Licensing can be tricky, which is the number one reason designers go for open-source fonts. Different fonts are engineered and optimized for other use cases, and each of these use cases comes with its license structure. You need to know which font goes where and ensure the fonts you're using are approved for whatever you create. 
Paying for a font subscription provides a sophisticated solution to this issue: a good font service allows you to choose and use the best fonts for your projects. It can empower your organization to classify your fonts the way you'd organize any cluttered space: in a single, central location with clear labels and customizable groupings (with the ability to determine which team members can access which fonts).  
In this case, what's good for you is suitable for the brand—using better fonts leads to more effective and more memorable designs. Thoughtful licensing gives you the freedom to explore new ideas without worry.
---
Save time with easy-to-use tools.
On top of all the security issues, free fonts are challenging to use, too. In many companies, fonts are stored and shared within a loose structure. File names aren't clear, permissions aren't always explicit, and communication between locations is an ad hoc adventure. Creatives waste hours each week rifling through font files, hoping to choose the right ones. 
Paying for a font subscription frees time for creatives to do what they do best: design. Your chosen font subscription service should enable seamless prototyping and easy, access-controlled sharing across all creative authoring applications. It should let you see who's using fonts and how, providing you with the visibility required to avoid issues stemming from improper usage (e.g., infringement).
Frequently Asked Questions
Are Google Fonts free for commercial use?
Yes. Google Fonts is a library of open-source font families and APIs designed for personal and commercial use. Google Fonts are available for Android, iOS, and the web. While Google Fonts tend to be high-quality, building a unique brand using Google Fonts can be difficult due to its limited offering and their ubiquitous use.
Are free fonts reliable?
Google Fonts are pretty reliable, but beyond those it depends on where you get your free fonts. There have been reports of font-related security exploits, including a zero-day exploit that takes advantage of vulnerabilities in the Adobe Type Manager Library that allows a hacker to take control of an infected machine remotely. Some free font websites also contain confusing links to potentially insecure downloads.
Are Adobe Fonts free?
No. Adobe Fonts is a subscription-based library that is packaged with a Creative Cloud subscription. However, Adobe Fonts only hosts their web fonts, meaning your web page loading times and performance may be slower than if you hosted the fonts yourself. Adobe also has limited agreements with foundries, so there are fewer options for you - both in the total number of fonts, weights and styles. Fonts are sometimes removed from Adobe with no warning. Moreover, you can only use the Adobe desktop app to sync fonts, so you can't use Adobe fonts in non-Adobe applications.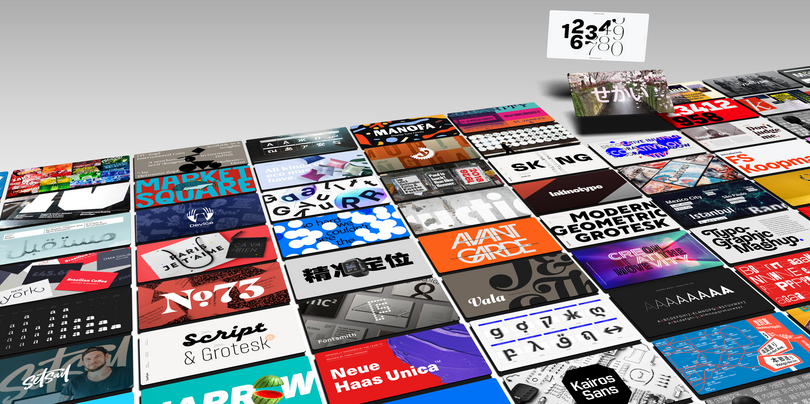 With the largest collection of award-winning type as well as access to the world's most sought after foundries and type designers, Monotype Fonts enables creative professionals to spend less time on administrative work, and more time on designing meaningful brand experiences.
Key features
The world's best fonts, type designers and foundries.
Trusted and secure font management.
Integrated with the tools you use everyday. 
Controlled annual cost.