Type Connection: Monotype Showcases Growing Subscription Library and AI-assisted Font Pairing
at Adobe MAX 2023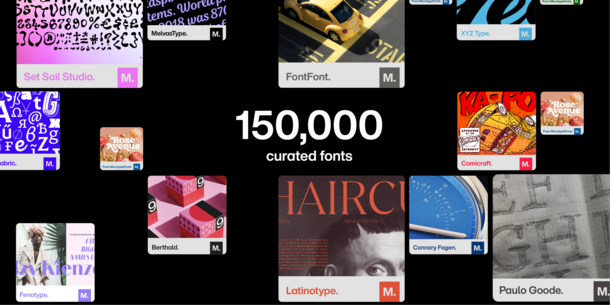 Type Connection: Monotype Showcases Growing Subscription Library and AI-assisted Font Pairing
at Adobe MAX 2023
Monotype Fonts subscription platform reaches milestone of 150,000 high-quality fonts from over 1,400 foundries. 
Monotype offers an exclusive preview of a new AI powered search engine for type selection at Adobe Max. 
Monotype invites Adobe Max attendees to visit "The Type Connection" an AI-powered booth experience to find their perfect font match. 

WOBURN, Mass., Oct 11, 2023—Today, Monotype, a global leader in type design and technology, announced that Monotype has over 150,000 high quality fonts available from over 1,400 partner foundries on its font subscription platform.   Monotype made the announcement during its participation at the highly anticipated Adobe MAX 2023 event in Los Angeles (10th -12th October 2023).  
Monotype is an organization of more than 850 people across the globe who share an obsession with typography, love of design, and passion for technology and innovation.  
Adobe MAX is the world's leading creativity conference, bringing together top-notch creative professionals, designers, and industry experts to explore the latest advancements in design, technology, typography, and digital innovation. 
Mark Cokes, Director of Product Marketing for Monotype said, "The Monotype Fonts platform now offers not only a high-quality catalogue of over 150,000 fonts from over 1,400 high-quality foundries around the world, but also provides intuitive search tools to make finding the right fonts simple and effective for creatives and designers."  
At Adobe Max, Monotype also showcased its Monotype Foundry Program focused on empowering and scaling independent type foundries and type designers around the world.  Over 1,400 foundries and type designers across six continents have signed up to the Foundry Program since its launch in August 2023. 
Marie Boulanger, Brand Designer at Monotype and Sara Soskolne, Senior Typeface Designer at Monotype co-presented a session on 'Mastering the Art (and Science) of Font Selection' on Tuesday October 6, 2023, at 13.00 PDT. The presentation covered ways to pair fonts with confidence and the power of AI-enabled font pairing tools and delved into the science behind why different typefaces evoke different emotional responses.  
Marie Boulanger, Brand Designer at Monotype said, "Typography is at the heart of design and creative connection and we're looking forward to sharing our passion and expertise in typography with Adobe MAX attendees. Our mission at Monotype is to inspire creatives and enhance their creative process by making the world's best type even easier to discover and design with." 
Attendees at Adobe Max are invited to step into the world of fonts at the Monotype booth (P102) where Monotype curated work from its type foundry partners to give attendees a unique and immersive experience.  Attendees are invited to play the 'Type Connection', using Monotype's unique AI-enabled font pairing technology to find perfect font matches. 

For more information about Monotype and its participation in Adobe MAX 2023, please contact our media team below. 
More information on Monotype's Adobe Max Session here  
More information on Monotype's AI Code of Ethics here 
 
###  
Note to Editors:  
For more information or to schedule an interview, please contact the media contact listed below.  
High-resolution images and additional materials are available upon request. 
About Monotype:   
Monotype helps create brands that matter with type, technology, and expertise. The company partners with leading foundries to deliver the broadest inventory of high-quality typefaces in the world.   
Follow Monotype on Twitter, Instagram and LinkedIn   
Monotype is a trademark of Monotype Imaging Inc. registered in the U.S. Patent and Trademark Office and may be registered in certain other jurisdictions. All other trademarks are the property of their respective owners. 

Media Contacts. 
 
Charlotte Simcock 
Corporate Communications & PR for Monotype – Global 
[email protected] 
Lauren Lovell
ThoughtLDR for Monotype - US  
[email protected] 
Alice Broughton 
ThoughtLDR PR for Monotype - UK    
[email protected]   
Harry Green  
ThoughtLDR for Monotype - France  
[email protected]    
Tanja Koschade   
Koschade PR for Monotype - Germany   
[email protected]