Creative Characters Ep. 6: Chris Do.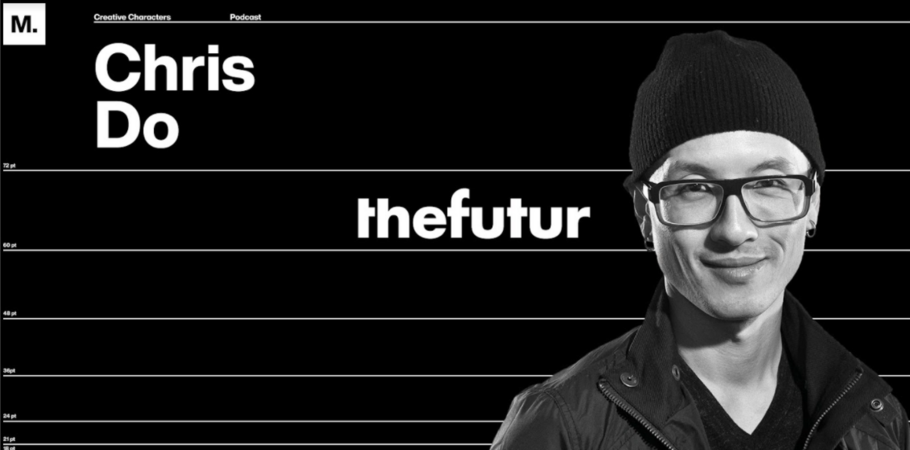 "
This is an opportunity to change for those that are brave enough to move forward. And luckily though, as long as you have a computer, electricity, and the internet, there are a lot of resources out there.
"
On Creative Characters, we meet the people and personalities behind the brands, campaigns, and designs we love. You can listen to the podcast on Apple, Spotify, Google Podcasts, and wherever quality podcasts are available.
Our guest in episode six was Chris Do, award-winning designer, CEO and Chief Strategist of Blind and the founder of The Futur—an online education platform that teaches creatives how to make a living doing what they love. Chris shared his vision for helping one billion people build meaningful careers, and discussed what the future holds for creative work.
When asked about the origin of his big, audacious goal to help one billion people, Chris recalled a talk given by Brain Games host Jason Silva, who challenged society to redefine "billionaire" to focus on the amount of people an individual can help rather than the amount of wealth one could accumulate. 
What is the future of us?
Of course, helping that many people is a lifelong endeavor, and before you can do it you have to first determine what your passion is. What are you good at? What should you spend all of your working hours pursuing? "It is kind of tough to read the label from inside the jar," Chris said in the episode. "And if you haven't had some help or been exposed to enough things, you could still be looking for it late into your forties, fifties, and beyond. And it's totally okay if that's your case."
What does he suggest people can do to find their individual passion? "Look into your past, look at all the things you did in your free time, when nobody was watching, what did you do? What did you stay up all night for? What did you wait in line to see, do, or buy? It's a really good clue as to what you would do if you didn't have to worry about money."
For Chris, educating people, especially the creative community, has ignited his fire. His team at The Futur produces an enormous amount of content, includes courses in skill growth and business management, how-to guides for common design challenges, and comprehensive videos like this one, which dive into questions that many people struggle with, like how to go from a freelancer to an entrepreneur?
We first met Chris because of his passion for typography. In 2019, he sat on our inaugural panel for the Type Champions Award, a program celebrating businesses that elevate the value of type in their brand experience. Type and lettering has been something Chris has gravitated toward since his childhood.
"[Growing up], I was fascinated by the graphics on skateboards more than the decks or the pros who were riding them," he recalled. "I was enamored with people who did street art and would do hand-lettering via an airbrush on t-shirts at the fairgrounds."
Now, he produces programming dedicated to the use of type in branding, including this very popular crash course.
Because of Chris and his team's appreciation for the art and science of typography, we've long wanted to collaborate with him. And today, alongside this episode, we're very excited to announce something very special. We've opened up the hood and let Chris hand-pick and curate a set of his all-time favorite, can't-live-without typefaces. And together we're making them available to the creative community with a great discount. 
Chris created three font bundles (Master, Studio and Essential) that each include a combination of timeless and remastered classics, to suit the needs of designers for every application from posters, websites, identity systems, presentations and videos. These typefaces are versatile, thoughtfully designed, and will serve you for a lifetime.
You can learn more about each bundle by visiting our MyFonts site here. 
Creative Characters Ep. 6: Chris Do.
FS-1-4586
Agency, Branding