Monotype Fonts Launches to Give Brands Exclusive Access to Award-Winning Typography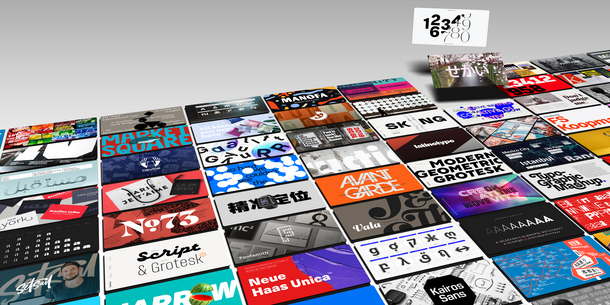 Monotype Fonts Launches to Give Brands Exclusive Access to Award-Winning Typography
Formerly known as "Mosaic," Monotype Fonts is a revamped, all-in-one solution that provides brands access to high-performing fonts through a simplified process.
WOBURN, Mass.—(BUSINESS WIRE)—Monotype today announced the launch of Monotype Fonts - the only on-demand font service designed by creatives, for creatives, making it easier than ever to find, manage, share and license fonts. With the world's largest collection of award-winning type and more than 50,000 unique fonts, and 30,000 typeface designs, as well as a single agreement and central point of access to the world's most sought after foundries and type designers, teams are now empowered to use fonts limitlessly. Monotype Fonts enables creative professionals to spend less time on administrative work, and more time on designing meaningful brand experiences.
Known previously as Monotype's Mosaic, the service has undergone several notable upgrades this year: combining the extensive type design expertise of the Monotype Studio, fonts from a curated set of premier foundry partners, and new innovative features that solve challenges for increasingly distributed creative teams.
The world's largest and most diversified inventory.
Designing with fonts should be: Simple. Innovative. Empowering. Monotype is dedicated to the art and craft of typography, and passionate about inspiring memorable design. With Monotype Fonts, enterprise brands can tap into the extensive expertise of the Monotype Studio, our team of world-class type designers and engineers. This includes the Studio's curated collections, inspirational content, and early access to new releases - such as the recent launch of Futura Now, the most definitive version of the family that defined modern typography.
Monotype Fonts is more than just Monotype's Fonts.
Monotype Fonts includes Monotype's library of over 14,000 notable designs as well as a collection of the world's most renown independent foundries and type designers. Users can expect to find access to new releases, and a wide variety of trend-setting options including contemporary designs, iconic classics, and hidden gems. Monotype Fonts covers 90 percent of the world's spoken languages, so wherever or however your business operates, you'll have the assets you need to be successful.
Every font in the library is covered by a single license. Use these fonts for anything, from early prototyping to sprawling digital campaigns to a global rebrand. No double-checking licenses and paperwork, no pausing the design process to chase down approvals.
"Modern branding requires an 'always-on' approach, while design teams are tasked with flexing identities to an ever-changing set of digital channels, regional locations, and consumer preferences," said James Fooks-Bale, Monotype's Senior Director of Brand. "In a remote world, especially, designers need creative assets that perform, and tools that allow them to collaborate without administrative burden. Monotype Fonts gives brands unparalleled access to award-winning content and fonts, curated from the top foundries around the world. This service does the heavy lifting for font discovery, management, and licensing, so brand designers can spend more time building brand experiences for today's consumers."
Built by designers, for designers.
Monotype works with the best type designers, brands, agencies, and creatives in the world, and that experience and expertise is hardwired into Monotype Fonts. Today's creative teams are operating in remote environments, and this service brings the best design expertise to you wherever you are.
"As a designer, I know how fragmented the journey can be to finding great type," said Jamie Neely, Monotype's Director of Product Design. "I also know how frustrating it is to find that perfect typeface… only to be met by confusing licensing options and unpredictable fees. We're tremendously excited to share Monotype Fonts and to feature type from the world's leading foundries alongside our own Studio. Everything is covered by the same license and the same pricing. We hope this makes our newly-remote world a little easier to navigate and understand—for both brands and foundries."
Monotype Fonts solves challenges that modern creatives face, including:
Fonts that perform. Monotype has vetted every typeface in the Monotype Fonts system, making sure the files perform as expected and that the supporting software has been professionally developed, so you can trust that they will work in any digital environment you may be operating.
Integrated with the creative tools you use. Your teams can work seamlessly with auto-activation into creative programs like Sketch as well as Adobe® InCopy®, InDesign®, Photoshop® and Illustrator® software, even when you're offline.
Optimized font management. Third party fonts are now automatically organized and grouped by family. Existing tags and AI metadata enable search results to more closely align with the characteristics and mood described in the search field. For administrators, reporting helps quickly see licensing consumption.
The modern and simple UX delivers a much needed improvement to the font management experience, making it easy to classify, access, share and track the fonts you use every day.
Localized experience across the entire workflow. From Monotype Fonts to the Monotype App, all touchpoints support the needs of native speakers of English, French and German.
Improved search. Type-ahead search and faceted filters have been introduced to help creatives quickly understand the variations available for each family - weights, styles, and other options can be easily delineated. Users can also search by designer or foundry, as well as by defined classifications or genres.
Monotype Fonts makes the entire font workflow more simple. From discovery and design ideation to licensing and commercial distribution, this upgraded service gives your creative team access to use the world's best typography. And it helps your administrative team sleep better at night knowing that you've got the rights to deploy the best fonts across your brand identity system.
To learn more about Monotype Fonts, and how it can reduce burden and enhance creativity for your teams, visit our website.
Contacts
Bill Connolly
Public Relations, Monotype
[email protected]
Michelle Millsap
Havas Formula for Monotype
[email protected]
Courtney Glymph
ThoughtLDR for Monotype – UK
[email protected]
Tanja Koschade
Koschade PR for Monotype – Germany
[email protected] ###